A niche blog is a great way to earn extra income as either passive income or a full scale online business. I'll show you how to start a niche blog that actually makes money.
"Once a blogger, always a blogger."
Yes, once you have your formula down to start, scaling and selling a blog you want to do it for the rest of your life.
Who am I?
I've started several blogs, scaled and sold them for decent profits. I've sold 2 different niche sites for over $250,000 in a span of 1 year. That was all being done as part-time work and during my first foray into niche blogs.
Read more about my approach to learn more and a bit more about the motto of Financial Wolves.
Those two sites were my first blogs ever created. I've learned a lot along the way… I'm still learning a ton.
At the end of the day, I want to help others make money to live a more flexible lifestyle. There's a ton of ways to make money in today's age.
It won't be easy. I created an image that will sum up what it takes to be a niche blogger quite nicely…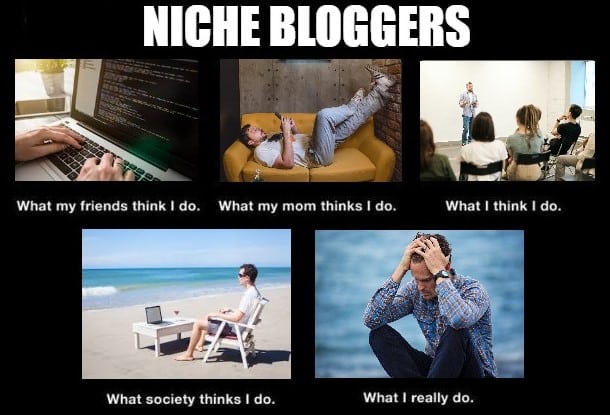 I'm here to provide some of my favorite lessons learned along the way. This will help you start your site in the right way to capture real results.
Steps to Start a Niche Blog to Make Money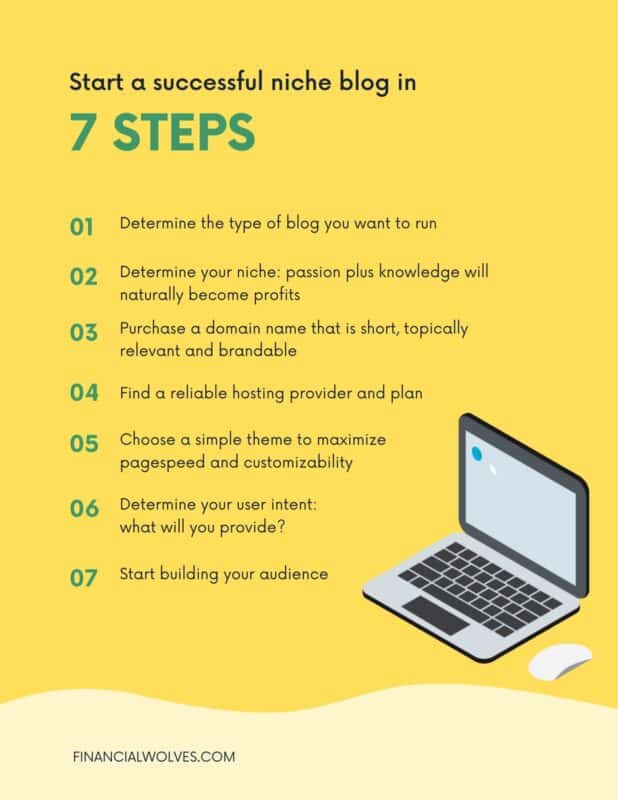 Let's get into some of the rights steps to take to build a niche blog that will be positioned for the best possible success.
#1 – Determine the Type of Blog You Want to Run
There are a ton of pros and cons to blogging that you need to weigh before getting started. Not to determine whether or not you want to blog. But to determine what cons are going to be the toughest to overcome for you.
The cons of blogging will tell you exactly what will be most important for you to attack and ultimately will determine the type of blog that you want to run.
These are the types of blogs that you should consider:
Personal blog: A personal blog is one that has your face and name all over it. You are building a tribe of people that want to hear from you.
Business or branded blog: A branded blog incorporates a strong logo and design. Think of sites like NerdWallet.com. A branded site needs strong credibility. You'll likely have less personal branding and messaging associated with it.
News oriented blog: This is a tough game to play in, but if you have a knack for finding viral content you can get away with it.
Affiliate blog: An affiliate blog is different than other blogs. Of course, you will have affiliates no matter your blog type, but an affiliate blog solely focuses on user buying intent articles to drive conversions and revenue.
Media blog: You likely have a media blog if you already use other channels to post and publish content. A great example of this is with vlogging. Your main platform is YouTube but you'll need a side site to publish some other written content or give people more about you.
Content is everywhere so you need to stand out and have a definitive plan.
Generally speaking, I believe there are 2 forms of content out there: informative and newsworthy.
Informative Content
Informative content is rich material that is generally evergreen. Evergreen means that it is not time-based material. You should be able to pull up a piece of evergreen content 3 years in the future and it will still be relevant.
Examples of informative content include:
How-to
Guides
White papers
Case studies
Resources
For a niche blog, I'd recommend focusing on high-value SEO content that is informative and evergreen in nature. It's a very competitive world out there.
You need the highest return on investment type content you can get early on. SEO is just that. Plus, this type of content will provide the best longevity for profitability.
Newsworthy Content
Newsworthy content is shorter in nature. It usually involves breaking content or data-backed information that no one has heard of or seen before.
Generally, news-oriented content is time based and not evergreen.
Some examples of newsworthy content include:
Videos
Press releases
Surveys
Data-based studies
With newsworthy or viral content, you can build links much faster these tend to be "linkbait" or "egobait" type pieces as they are controversial and worthy of a link.
A ton of news-oriented sites rely on ad arbitrage or virality to generate display advertising revenue.
Develop Your Content Strategy
With your blog, you want to consider what you will dominate in the type of content. Informative will have long-lasting results while newsworthy content will have mini-virality spikes.
It may take longer to build an audience.
You can sprinkle in newsworthy content to drive traffic and backlinks to your informative and buyer intent content. This can be very effective in building an audience.
See Related: How to Become a Content Creator
#2 – Determine Your Niche… Passion and Knowledge Become Profits
I created a list of several untapped niche markets that you may want to consider. This will help get your brainstorming session brewing.
The most important part of finding a niche is to incorporate three principles:
What are you good at? / What do you know?
What do you like? / What motivates you?
What actually makes money? / Where is there an opportunity?
Here is an image, Venn diagram that helps explain all this.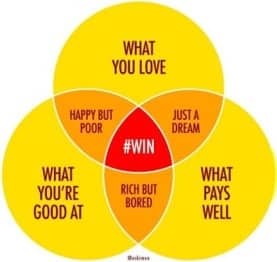 Here are some questions to ask about your interest level on the subject:
Can I write about my topic without getting bored?
Do I have a strong passion for my topic?
Do I have enough knowledge about my topic?
Will my blog's tone be powerful enough to captivate my audience?
If you find something you know, love and pays well, that's perfect! That's only the first step.
Broad or Specific Niche?
Now, ensure the subtopic or "niched down" option within that industry is growing.
Second, ensure that your subtopic always has the optionality to go broad. Unless your "niched down" topic is growing extremely fast.
If your sub-niche is growing fast, it may at some point become its own standalone industry.
It's a bit of a judgment call on your end but always keep the door open for you to be nimble during your journey.
Here are some questions to ask yourself regarding a broad or specific niche:
Where I want to be 5 years down the line?
Is there an audience for my topic today? Will there be an audience tomorrow? 10 years from now?
Can I blog for 6-10 months without worrying about income from my blog?
The most important part about the broad vs. specific niche decision is determining your conversion event.
You need to know what the purpose of your blog is upfront.
Are you producing content solely for display advertising? That will take a ton of time to earn decent income.
Are you going to be an affiliate marketing website? Well, you'll need some pillar posts to sell your affiliate partners.
How about a course or digital product?
Well, whatever you do you need to build content around that conversion event. If you don't you'll simply have a mix of low-quality, unqualified readers for your blog. It's something I learned when I achieve 100,000 monthly pageviews in less than 6 months.
Start specific or "niched down" with your blog. Then, slowly move to broader opportunities once you have authority.
See Related: 9 Best Laptops for Bloggers and Vloggers
#3 – Purchase a Brandable Domain Name
When starting a niche blog, now is not the time to skimp on using some sort of free option. While appealing, you should NOT use some sort of free domainname.wordpress.com for a niche blog.
First, that is not brandable and memorable. You also lose credibility.
Second, you should not create a niche website if you want to cut corners. Think of it like this…
Is it worth it to save $200 on a $1 million opportunity?
Niche blogs offer a great risk/reward as a side hustle. For about $70 of upfront costs, you can tap into a 7-figure opportunity. Click To Tweet
I use GoDaddy to buy my domain names and hold them there. They have a ton of options for buying and selling domains. If you don't need to use the domain and want to simply hold onto it, they make it easy in one easy dashboard.
Here are some of my favorite tips and criteria for finding the right domain name:
Is the name memorable and unique?
Find something that is short and simple. No one likes looking at a domain name like "VeganDogFoodforFamilies.com" or something similar. Short is sweet.
Consider an SEO oriented domain that includes a keyword in the domain name. An example of this would be MoneyMagnet.com or MoneyMogul.com. You don't want to over SEO your domain name like "BuyNewFences.com". That is not brandable and looks spammy.
In addition, I use a tool like Namemesh to come up with an SEO friendly domain name. I like using tools to spur my ideas.
Want to learn more? Check out this piece on how to come up with a blog name.
#4 – Find a Reliable Host
I'd rather pay up for hosting at the beginning and build a strong base where I can have the freedom to scale as many sites as I want.
A good starter option is Bluehost. You can start a blog or niche website simply for $3.95/month and you'll get a free domain name along the way.
It's so simple to set up a WordPress site on Bluehost. Here is a step-by-step guide to help.
I've also include steps below after the video.
It's a small fee to host a website and get started on your online journey that could lead to six-figure or even seven-figure income.
It's a risk/reward that I'd take every single time I was given the opportunity.
If the niche doesn't work and I'm out of the cost for $50 for an entire year to run it, that's okay. At least I tried.
In every situation where I've started a niche blog, it's ended up paying off 5x, 10x and even 100x my invested capital.
Hard to get those types of returns anywhere. Even in the stock market or real estate. Here are some steps to follow with signing up for hosting.
Choose the Right Hosting Plan
With Bluehost, I purchased the Plus hosting plan so I would be able to add unlimited websites. I knew that if I was good at one site, I'd likely want to do it again.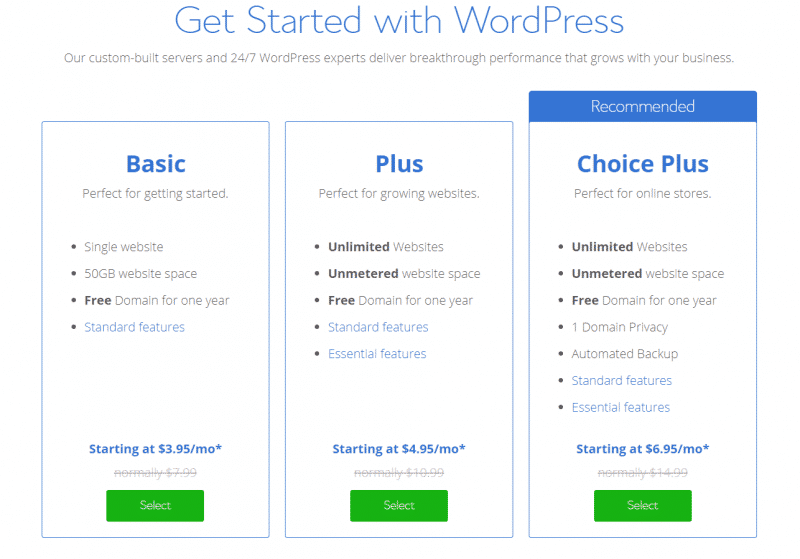 The good news is that you'll get a free domain name no matter your hosting plan.
Integrate Your Domain Name
You can either input a domain name you already own (like through Godaddy). Or, choose a new domain.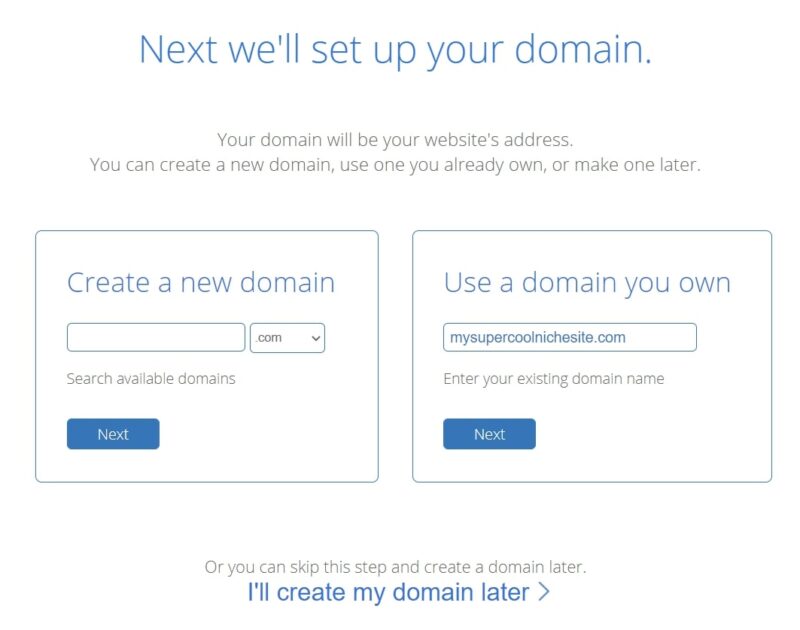 Checkout
Sorry Bluehost, but we don't need these package extras. Let's keep it simple to just the hosting.
Here are the settings I'd recommend that you have enabled for your blog.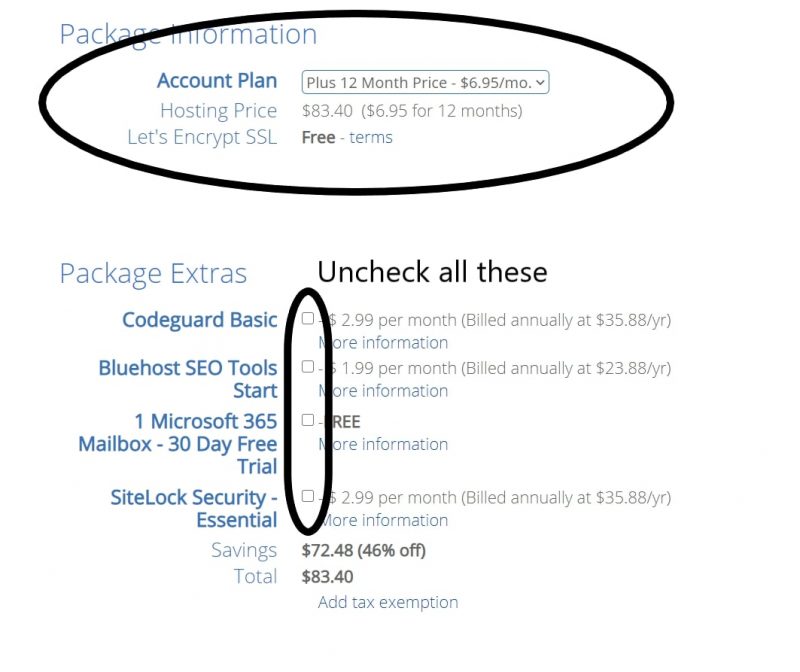 So ensure that you do things right by choosing a blogging platform like WordPress and a branded domain name to build your business.
Without that, your site simply won't have the credibility it truly deserves.
Plus, for only ~$80 for an entire year you can host multiple websites and build a small online media company. It's a tiny price to pay for a massive opportunity.
START YOUR NICHE BLOG WITH BLUEHOST
#5 – Choose a Simple Theme
I cannot stress this enough. There is a ton of noise out there with themes. People promote clunky and junky themes simply because they have a favorable affiliate program.
Those are simply not worth the trouble. They will cause more headaches than you can imagine.
Selecting the Theme
With a blog or niche site, we want lean and clean. With a niche blog, content is our product. So, we'll end up loading in tons and tons of variations of content within any given blog post.
That entails things like video, infographics, charts, pictures, tables and so much more.
To get our point across, we need to deliver juicy content that helps people make better decisions.
Remove excess bloat in themes like sliders, featured images, flash and javascript. Your product is content. So make sure it's visible in a simple concise manner.
The themes I use and recommend is the Genesis Framework by StudioPress. Taking a look at a simple theme for blogging, this one seems to fit the bill: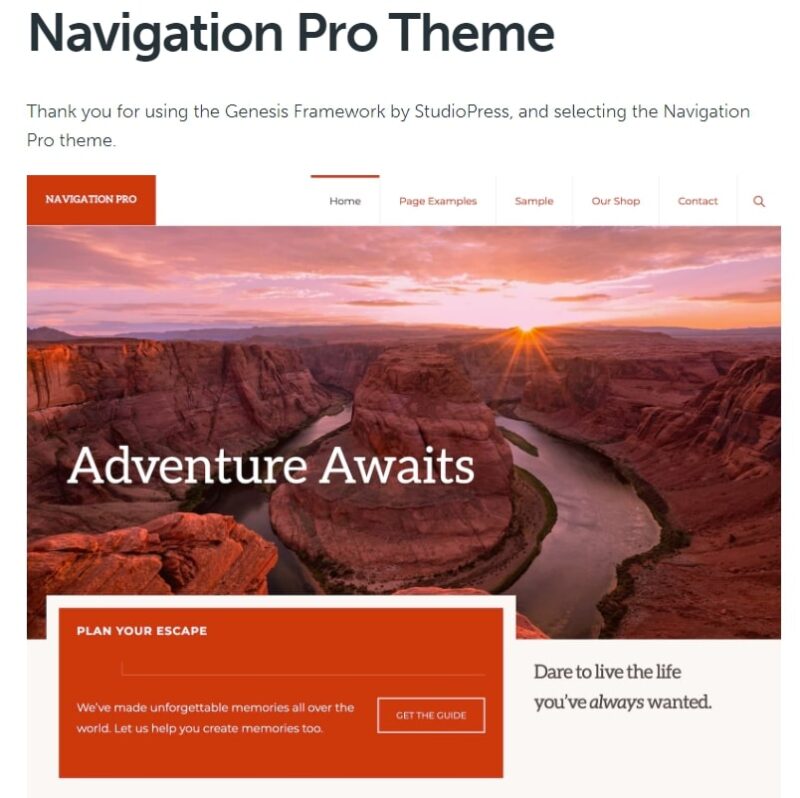 Import Theme Into WordPress
It's pretty to get any theme into WordPress and get it going. That's what makes it the best platform for blogging.
You should be able to access your WordPress pretty easily either through the login or through Bluehost.
Under Appearance -> Themes. You'll get to a dashboard like this:
Then, you'll need to upload your theme to your WordPress.
With StudioPress Genesis, the theme like the above called Navigation Pro is a Child theme. You'll need to first upload the framework of Genesis as a .zip file.
Then upload the child theme. WordPress will automatically prompt you to upload a child theme.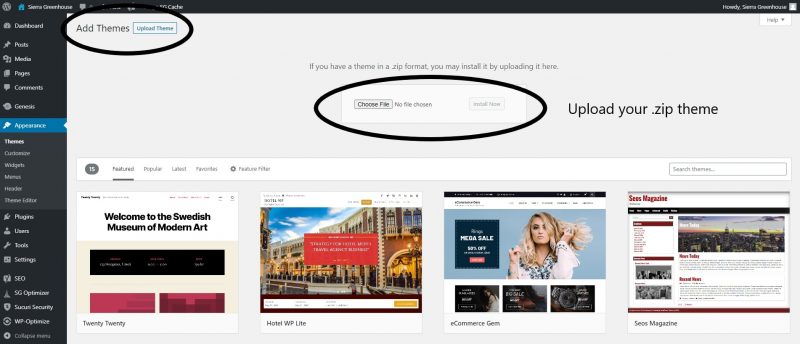 From there you'll have your setup all situated, you'll need to edit headers and menus to tailor the navigation to your liking.
I recommend keeping things easy to understand and navigatable.
See Related: Are Blogs Still Relevant?
#6 – Determine User Intent
If you want to differentiate your blog from being good to being great, you should master your revenue event upfront.
Will a majority of your revenue rely on online course sales?
Do you want your site to be a membership site?
Or, are you solely in it for affiliate conversions?
Do my blog posts match my eventual conversion event?
All of this matters a ton for how you build your website. I suggest that you should build your site from the bottom of your funnel and work backward.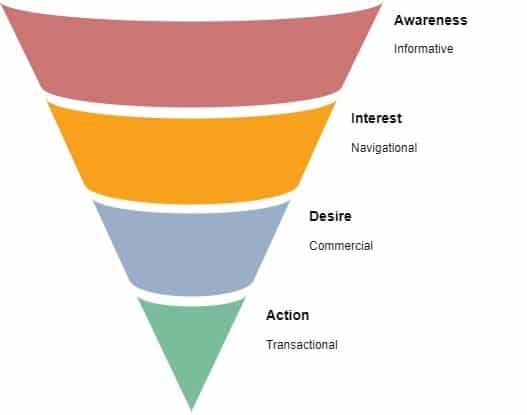 An example of building at the bottom of the funnel would be starting with "Action or Transactional" content…
Let's say you are an affiliate for a niche about fences.
Start your with your revenue event "Cheap Fences to Buy" or "Buy a Fence Fast Shipping." A desire type post would be something along the lines of "Best Fence Companies" or "Best Fences for Urban Homes."
Then, you'd want to have pages like drive organic traffic to that page and also promote that page.
All pages higher up on the funnel, you'll want to capture your audience as an email lead.
Finally, move that audience towards that transaction event.
If you can nail down this funnel along with a content strategy, you'll have no problem making money with your niche site.
To determine what you want to sell, you can sign up for an affiliate network like FlexOffers or Maxbounty. Both of these are free and have thousands of brands that you can partner with.
#7 – Build an Audience
An audience is crucial. Without it, you will not have sustained success or a sustained business.
When it comes time to sell your niche blog, a buyer will see right through that.
I'm a firm believer that any website you create no matter if it is solely for display advertising or course conversions, you should always be capturing leads.
It's so important to keep your customers internal and to have them keep coming back to you.
You can learn the exact tips and tricks that I used to grow my email list by 550% in my free course.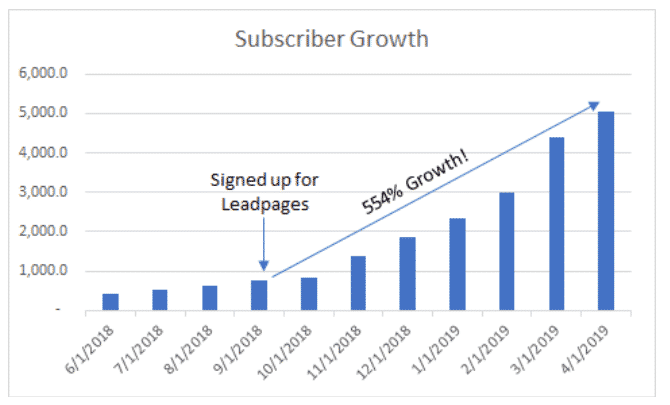 Want to join the club and start building a blog that actually makes money?
Sign up for my free email course highlighting the very exact secrets I used to grow my email list rapidly.
I'll send you the exact tips in a step-by-step way to help you build an audience and grow your earnings online.
The benefits of growing my email list were tremendous. This resulted in the following:
More pageviews,
More engagement and
Overall more growth.
Leads to… more profit.
Okay so having an email list is great, but where do you get the people that actually want to join your list?
Well, as a blogger, you need to focus on the highest return on investment (or return on time) traffic strategies first.
Focus on traffic strategies that actually work
Far too many. And I mean far too many people starting a blog focus on the lowest return on investment traffic sources first.
Here are some of my favorite traffic sources that actually drive results.
SEO: Specifically, strong keyword research as I mentioned above. Check out this video I did on competitor keyword research. There is a ton to unpack that I've highlighted in my free audience building course.
Influencer Collaboration: Bloggers are like rappers or musicians. Collaborating helps everyone around the table. Think about different DJs and how they appear on EVERY single song. They do it because it's a tried and true method of cross-promoting. Any blogger that thinks they don't want to work with you because you are a competitor simply doesn't understand it.
Pinterest: Pinterest is an image search engine. It's great for traffic opportunities and clicks as people search to find an image that corresponds to a link.
YouTube: YouTube is extremely powerful. The data I've seen on the traffic is very very quality. Readers from YouTube spend a significant amount of time on my site. While it doesn't result in a ton of clicks, that's fine. It's a great way to increase interaction and high-quality content. Check out my YouTube channel if you are curious.
Quora: Quora is powerful. Not on YouTube level but close. Why? Think back to the conversion event strategy I mentioned above. With Quora, you can target exactly what a person is asking up and down the AIDA funnel. Give me a follow on Quora if you want to see how I use it to my advantage.
Reddit: Reddit traffic is not as high quality but it's pretty straightforward to get it. You need to be careful what you share and always ensure you provide value.
Stop thinking that Twitter or Facebook will get you instant traffic right away. It won't.
There is a place for those channels but until you have a massive following, it's a low return for your blog.
Set achievable goals to obtain over time. Once you target $10 in affiliate revenue per day, move to $100 per day and so on. Keep pushing the limits and testing.
If you hit a point of growth where you'd like to sell, you can list your site on Flippa or Empire Flippers.
Selling a site is never easy because you put in a lot of work and you don't want to see it get completely adjusted or rebranded. There are certain niches where it makes sense to sell rather than hold.
START YOUR NICHE BLOG WITH BLUEHOST
See Related: 13 Best Books on Affiliate Marketing
Conclusion
A niche blog can be a ton of fun to build and scale. You'll learn so much along the way. Not just things about online marketing and websites, but topics relating to your niche.
If it is a true passion, it will help you grow as a person along the way. Niche blogs make for a great online business.
You can do things like working from Amsterdam and enjoying a sunrise with a coffee.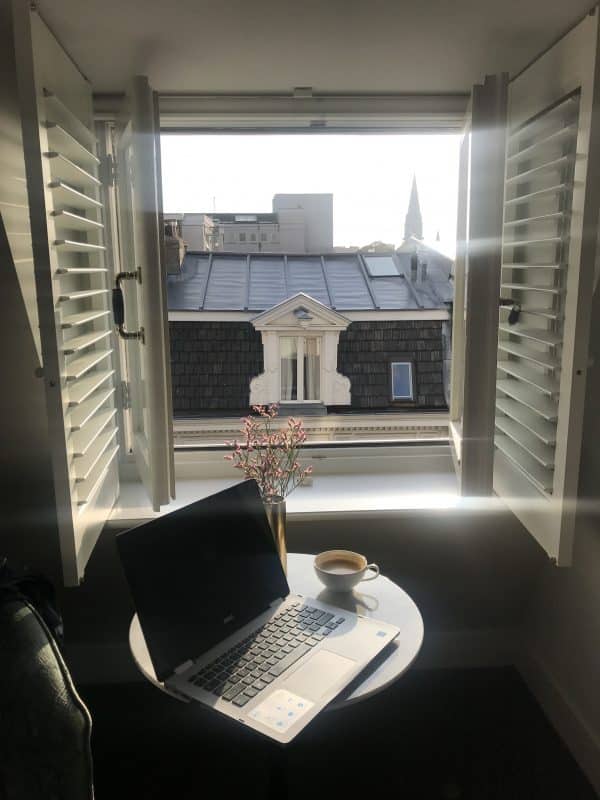 Once you get your strategy and repetition down pat, you'll open the door to other opportunities to make money online like starting with website investing and so much more.
START YOUR NICHE BLOG WITH BLUEHOST
Are you ready to start a niche blog? If you have any questions, please reach out to me via the contact form. I'd love to help.
Related Resources
Follow me on Facebook, Pinterest, YouTube, and Twitter.