Yes, it is possible to make over six figures online. Does it happen overnight? Absolutely not. I believe that nearly anyone can make money online.
Making money online is a marathon, which is why it is important to start today.
If you don't start now, you never will. It's easier now to make a living online than ever before.
I'll show you exactly how.
How I earn money online
My name is Kyle and I run a handful of blogs in different niches. I'm a bit of a money nerd, but I like helping people.
Recently, I created a six-figure blog in less than a year and a half.
I eventually sold the site for $200,000. That's not all. I still run a handful of websites in a variety of niches.
These niches have helped me become savvier with the way I think about the online world. I'm here to help you learn the exact steps on what it takes to start making six figures online.
Making a living with websites is a lot of work. It's satisfying work.
By making money online, you can live with a number of benefits that others working the normal 9-5 will not achieve.
I use Personal Capital to monitor my cash flow and income. It's completely free to use and they have a slick net worth tracker.
This has been a gamechanger for me since I have too many side hustles to stay organized. It keeps all my income and expenses in one place.
So, if you are interested in making good money online, read on. We have a lot to cover.
Why you need to start making money online
Making money online will open a number of doors to your financial future and goals. These are some of the main core objectives of why I'm so passionate about making money online.
Autonomy
Financial freedom
Fulfillment
Let your creativity run wild
Ability to give back / help others
When you're able to make money online, you can live the life that you want. There's no need to answer your boss' request or make someone else more money.
You get the opportunity to build a financial situation that is most suitable for you.
Will there be ups and downs? Yes.
Will you question everything? Yes.
When it's all said in done, you'll say to yourself, I should have started doing this a lot earlier.
For me, making money online with websites has been a gateway to control my lifestyle and money to live a more fulfilling life.
It's simply the best way to control money and not let money control you. The best way for you to start making money online is to do it on top of your existing full-time job.
You'll want to have the capital available to test, learn and test more. This is exactly what I did and I glad I did it.
It makes the work that much harder, but so much more worth it.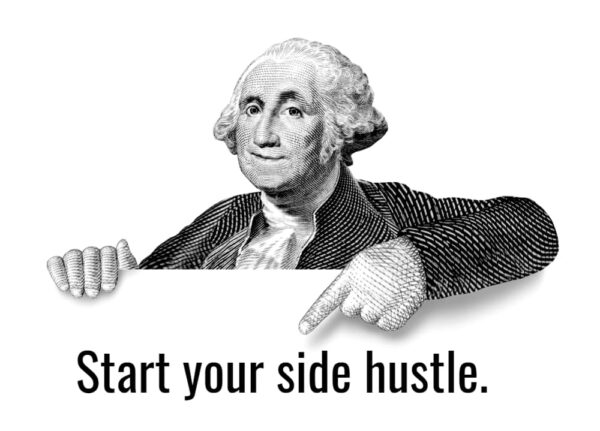 What is the best way to make money online?
There are a million ways to make money online every single day. There are only a handful of options that are actually legitimate and worth pursuing.
For me, the best way to make money online is by starting a niche website or to start freelancing.
There's a ton of reasons why, which I'll get to in a second.
I've done both of these methods of making money online with success. I started freelancing and earned over $10,000 in my first few months.
I used that money to pay down debt and start a niche blog. Then, as far as making money online goes, the rest was history.
Criteria for determining the best way to make money online
Okay, so why do I believe that niche websites and freelancing are the best ways to make money online?
Well, here is what you should look for to earn money online.
Does it cost a lot of money to get started?
Can the project grow into a full-time business?
Does the project require me to always be involved? Meaning… Can I time-scale my efforts (i.e., increase income without more time)?
With my examples above of why I love freelancing and niche websites as a means to make money online, here are a couple of logical points to show growth potential:
With freelancing, you can turn your solo-entrepreneur efforts into a fully staffed service business and agency.
With blogging, you can turn your small niche website into a massive topical authority that solves a problem for a large audience.
In today's age, you can go from zero to full-fledged online business in a matter of minutes.
Top ways to make money online
Surprisingly, there are actually only a few ways to make money online, which fall into a few general categories.
I'll break down each category in specific detail.
Start a content-oriented / informative niche website
Start a service agency or freelancing business
Build a following on social media
Create software and/or data as a service platform
Build an e-commerce website
Get paid to take online surveys
Invest your money to build wealth
That's it.
These are the only ways to make money from the online world.
If you live among wolves, you have to act like a wolf. "
It is a cold world out there in the online space. It's intensely competitive. You need the motivation to outwork and outlearn your competition. Why?
There's a ton of websites out there. Thousands are being created daily.
And…
The online world changes rapidly. Whatever you did yesterday, might not even be relevant tomorrow.
Rely on a single income stream? Yeah, that can be wiped out tomorrow. Aim for small goals like making $200 per day and continue to work your way up from there.
The most important component to making money online is to stay humble. Keep that chip on your shoulder because it could all end tomorrow.
1. Content-oriented / Informative Websites (e.g., blogging, news sites, etc.)
Content-oriented sites are heavily reliant on quality content to drive continued traffic and audience building. With content-driven websites or apps, you can make money in a variety of ways.
I'll highlight exactly how you can do that below.
With information websites, you need to decide if you are evergreen or if you are a news driven website.
Evergreen sites write content that is long-form and extremely helpful for the reader. The reader is typically interested in your topic or is trying to learn about your topic. You need to provide the most thorough analysis possible to help them succeed and come back for me.
News content websites are focused on the speed of information and continued alerts of impactful news. The articles are produced nearly hourly and are shorter, but contain key information for audiences that might impact their daily lives.
With making money online via content, you have a number of ways to value-stack your revenue. Content is by far one of my favorite ways to make money digitally.
We live in the Information Age and people everywhere are hungry to learn. Content will always be changing (see trends above), so you can't think that information will go stale. Plus, content-oriented websites can be set up very easily and require very little upfront costs.
I believe that everyone should at least have 1 blog. Why? You already document much of your life on social media.
You also likely have a skill that others want to learn or hear your voice.
Give it a shot. It's easier now than ever before. This is my two favorite option for starting a blog to make money online.
Bluehost is where I started my very first successful blog venture. They provide an excellent platform for beginners that allows you to put all your domains, hosting and WordPress functionality under one roof.
It's one of the best ways to start a blog from scratch with no experience.
If you use my link, you can start blogging for only $3.95/month (normally $7.99/month) AND they will give you a free domain name.
To help you consider starting a blog here are the various pros and cons to consider.
Here is how to start a blog (and actually make money from it). It's a deep dive into all the things I've learned along the way.
Pick a niche and go!
There's plenty of niches to go around. In fact, there are likely thousands of new niches being created every day. We as humans are always changing. Our lingo, communication and habits change niches every single day.
An example. Memes. I don't think anyone in the world could describe what a meme means in 1990.
Let's take a look at the data from Google Trends. This is what the trends for memes since 2004.

Okay, that's pretty impressive. I'm sure there are plenty of sites surrounding making memes, posting memes and even meme communities.
Talk about the creation of a niche?
Here are some of the most common niches (and profitable) niches to start making money online.
Fitness and Weight Loss
Health
Dating and Relationships
Pets
Self-Improvement
Investing
Personal Finance
Technology
Music
Movies
Lifestyle
These are just the general niches. Within each of these, there are sub-niches that are much more narrowly focused.
For example, within weight loss, you can think about paleo diets, pills, etc. The options are endless.
Or, within lifestyle, there is the wedding niche. You can create a site or business solely off of compostable wedding material.
Check out this list of untapped niche markets that you can start building an audience off of. Get your creative juices flowing.
The most important component to making a living online is that you should have a genuine interest in the niche.
When in doubt, niche down to something more specific. Leave the door open for you to going broader and trying for harder keywords over time. Make it easier on yourself and start narrow.
This will give you some extra motivation to push through the lows of making money digitally.
No matter the type of blog you need to build an audience
I'll get to the many ways to make money digitally shortly. First things first, and no matter the website type, you need to have an audience. When you start your brand, website or product, you need to think about your audience well in advance.
It's not just thinking about who is your audience. It's mainly thinking about how you will acquire and speak to them.
The most powerful revelation for the digital world is creating communities with the tap of a button. Think about it.
Audience rules everything. If you aren't spending money, building one. You are simply missing out.
Facebook didn't care about revenue. They cared about users. When they were ready to turn on their revenue streams, it skyrocketed.
Why? Because they cared about their users and the underlying audience.
There's plenty of ways to generate a new audience. Either paid or organically. No matter how you decide to make money online.
You are going to need your audience to have sustained success. Become an expert at audience building and the rest is history.
For me, I created an audience in a short period of time using organic methods and providing helpful resources.
This led to me increasing my email list by 554% in less than 6 months…
With no paid ads.
I used Leadpages to explode my growth during their free trial period. It's an affordable way to create landing pages and guides for your blog.
Here is a graph of the growth over time.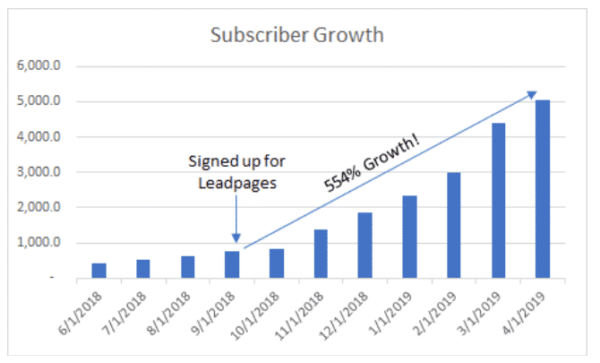 Sign up for my free email course highlighting the very exact secrets I used to grow my email list rapidly.
I'll send you the exact tips in a step-by-step way to help you build an audience and grow your earnings online.
The benefits of growing my email list were tremendous. This resulted in the following:
More pageviews,
More engagement and
Overall more growth.
Leads to… more profit.
Those three things equal more profit to your bottom line for making cash online.
These tricks were the best thing to happen to my blog and my personal goals… of all time. You can always use these free traffic sources to build your base, but they only go so far.
Your email list will always be there.
It simply opened the door to a new chapter in my life.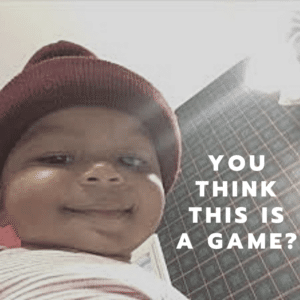 Let's dive into the most common ways to make money with content.
Display advertising
The first and most commonly known way to make money with content websites is display advertising. There are a number of different platforms to use to display ads on your website.
Some of the most common include Google AdSense, Mediavine and Ezoic. These are the best ad networks for bloggers.
This is the easiest way to start making money from a website out there. You simply place ads in desired locations that are most optimal for your site and as you generate traffic you earn money on a per-click and per-impression basis.
Display advertising is certainly the least lucrative of the bunch but offers steady recurring revenue if you have the traffic.
If you want to make some serious money with display advertising, you are going to need millions of pageviews.
You can start by using free traffic sources to build your base of traffic.
With one of my main sites, I used Mediavine and achieved approximately a $30 RPM (revenue per impression) and had 100,000 sessions.
This equated to a nice $3,000+ of monthly income. You can use this income to grow your blog further by reinvesting in paid ads, funnels, SEO audits, etc.
Or try your hand at ad arbitrage where you acquire traffic for less than what your display ads payout.
Download my free ad revenue calculator to help you make better decisions about your blog posts.
Affiliate marketing
Affiliate marketing is a commission-based referral monetization method. You are paid on a Cost Per Action (CPA) basis, meaning you only get paid when someone converts or signs up for a particular service.
This is much different than just simple advertising when you get paid for a click or a simple impression. Given the increased action down the funnel, you are compensated for it.
Affiliate marketing enables you to earn significantly more than display advertising. A number of advertisers are willing to pay you much more money for you bringing them actual signups.
Certain advertisers will pay you $100 per sign up. With affiliate marketing, you only need 10 conversions to earn $1,000.
Compare that to display advertising, you need about 50,000 sessions at $20 CPM to earn $1,000.
How to make money online with affiliate marketing
Affiliate marketing isn't exactly all that straightforward. There are plenty of things to consider before you start a journey in affiliate marketing.
Here are a few tips that I've found to become an alpha wolf at affiliate marketing.
Ensure you love the product that you are promoting.
Coordinate with your affiliate to ensure that your link's landing page is optimized. There's nothing worse than having your link go to a worthless homepage. You want something that is simple and ensures the user can convert easily.
Place links in an optimal way. You should have them in the opening, middle and ending paragraphs. No need to place links all over the place.
Only promote relevant products in relevant articles. Please don't be the person that is promoting an investing product in an article about travel.
Be transparent. Yes, you make money from having people signup. It's also a product you use. If you aren't using a product you are promoting, don't promote it at all.
Read more about affiliate marketing and how to become successful through these books about affiliate marketing.
Use a platform like FlexOffers that offers a total network of thousands of online advertisers to partner with for affiliate offers.
Read more about the platform in my FlexOffers review.
Lead generation
With lead generation, you create content upfront that provides leads to other service businesses around the world. You don't need to constantly create new content. You can harvest phone calls or emails to provide recommendations to others about a particular service or product.
There are some people making serious money with lead generation.
eBooks
With eBooks, you simply create an online guide, Kindle book or physical book. This is a fantastic way to make money online, but also cross-promote your other content.
This can explode your growth and will help you find new readers… New readers = A bigger audience.
Let's go back to our example. If you create a very thorough eBook, don't sell yourself short.
eBooks can go for anywhere between $5 to $50. I'd rather sell a few handfuls of books at a premium price than a cheap book in significant volume.
Courses
Courses are a lucrative revenue stream. Why's that? They are extremely time-consuming to build and take significant strategic effort.
To build a successful course, I suggest that you take the route of using video, handouts, quizzes and more. Think of your course exactly like a class.
Does any teacher out there want their students to fall asleep during it? Yeah, maybe a teacher that has no passion.
Think of your best teachers. You will always remember them because of their passion and motivation to their craft.
If you want to build a successful course to make significant sums of money online, then you need to be motivated and provide unique content.
Let's go back to our example. Courses are a much better option than affiliate marketing or eBooks. Courses can sell for $500-$1,000 each.
To make the equivalent to one $1,000 sale on a course, you'd need the following in other revenue streams:
50,000 sessions on display advertising (get ready for a 6-month wait)
10 conversion on a $100 affiliate
50 conversion on a $20 eBook
Put the work in upfront and you will be able to reap massive benefits. It will not happen overnight.
Want to learn more? Here are the many ways bloggers make money.
2. Start an agency, freelancing or brand (e.g., Cheerios website, SEO agencies, freelance writing, etc.)
I group these all together because at the end of the day these websites only serve as a way to generate credibility, answer questions and ultimately drive more revenue. You don't always actually buy something from these sites.
They simply help you make a better decision or answer your questions.
Brands, service offerings and freelancers should all have websites. The website model for Cheerios is a lot different than an advertising agency.
Freelancing and service businesses are generally viewed as the best online jobs given their flexibility to work when you want where you want.
Service-Oriented Businesses
For service-oriented businesses, a website serves as a way to show who you are and why they should trust you. This website is a lead generation tool for you to land more business and build credibility.
If you want to provide a service for money, you need to have a website.
A service-oriented business should have a website that drums up organic local traffic (if you are a local service). That should be your top priority.
I separate service websites from freelancing because these can either be local or are much more large scale.
A service-oriented website shows yourself as a business.
You have multiple employees that provide a service to businesses or consumers.
Freelancing
You also need to treat your freelancing and services as a business upfront. If you don't, it never will be. Use your freelancing website as a launching pad to land more leads and build trust with your potential clients.
With freelancing, you are making money online by working from wherever you please. Some freelancers prefer an office and some of the work you do is likely offline.
But, by building a sustainable freelance business, you can end up working wherever and making significant sums of money. There are plenty of other people in the digital workforce willing to work for you or help you.
I believe that freelancing will be the next form of the workplace. Companies continually move to a more decentralized workforce. As a result, they need outsourced services to help grow their business.
In order to make six figures as an online service provider, you should have demonstratable case studies on why companies or individuals should hire you.
Consider these freelance business ideas to help you get started.
How to Make Money with Services and Freelancing Online
Overall, within the service space for making money online. You can either do this for the following:
Business-to-Business (B2B): Provide business services to other businesses. B2B offers the best upside and earnings potential since businesses have significantly more capital and larger budgets. You can make more on a per-client basis with B2B.
Business-to-Consumer (B2C): Provide business services to individuals. If you provide a service or freelance for consumers, you need to do much more volume (generally speaking). Consumers typically are not willing to pay $10,000+ for a service offering.
With making money online via services, you'll not only need an audience. You will need trust and a reputation.
I created a nifty freelance rate calculator to help you determine how much to charge hourly. Once you are ready, use these freelance apps to start landing clients.
Brand Websites
Does Cheerios sell cereal through their website? No. It's solely a method for them to increase their brand image and help people that love Cheerios cereal.
Having a piece of digital real estate is important. Even if you don't actually want to sell something.
You'll likely need it to have a place where people can go to and build trust with the underlying brand.
See Related: 70+ Ways to Make Extra Money
3. Build social media influence via vlogging or other content
There's a huge debate about blogging vs vlogging in terms what is better. They are very different but extremely complementary.
If you can figure out how to grow a following, the options are endless for you to make money online with social media.
You can cross-sell your expertise as a service or build your own course.
The biggest issue with building a social media audience is that you'll never actually own your following. The social media site will own it.
Look at some of the headaches that have occurred with people on YouTube or even TikTok.
Like Instagram blogging, you'll likely also be succumbed to the social media apps algorithm. You need to consistently produce high quality content.
In terms of monetization, it's much like blogging. You can post sponsored ads, include affiliate partners and even sell courses directly to your audience.
Since you are never in control, I highly suggest you still find a way to gain a direct line of communication with your audience.
Use my free audience building course as a way to springboard your community building.
4. Build a Software as a Service (SaaS) platform
Providing software for a monthly subscription is all the rage.
You can do it as a website such as Ahrefs.com or you can create a plugin that can be purchased by users upfront for a fixed fee.
SaaS is a tough business and a lot different than content-oriented websites. To create a successful SaaS business, you will need to have an innovative product that is extremely helpful to users.
You will need to spend a handful of money upfront to code the right software completely error-free.
If you don't know how to code, this can get expensive quickly.
On the converse, once you create the software you are somewhat done. You then move to promotion time to start making money online.
You'll need to eventually build content to drive organic traffic and/or use paid traffic to build your audience.
Again, with the audience building…
Use these blogging tools to get started and create an amazing website.
5. Start an E-Commerce (e.g., MVMT, Amazon, Walmart, etc.) website
E-Commerce is very very competitive. Like content and blogging, the barriers to entry are not very high.
However, there is a significant market share to be captured. People's tastes and trends change over time.
If you can catch a trend in stride, you can earn significant sums of money.
There are two ways to make money in e-commerce.
Dropshipping: You sell products from manufacturers and carry no inventory. You coordinate with manufacturers to have them ship directly to your customer.
Selling physical goods: This is the hard way. You'll need to come up with a product, design and source inventory. You can have much more success and the upside potential is much larger than dropshipping. You'll need to put in the work to get the desired outcomes.
Beyond the audience component (see a theme here), to make money in e-commerce you'll need to do a buildup of your margins on every single product.
If you can build a margin in and solve for a particular conversion rate on your products, you can scale an e-commerce store with paid ads quite quickly.
Let's look at an example.
You get a somewhat respectable 2% conversion rate. That means 100 clicks at $0.50 each. That costs you $50 to get 100 clicks.
Only 2 of those converts to actual sales. Are you making a profit from those 2 sales to cover the 98 other clicks?

If no, then you are doing it wrong. You'll likely need to rethink your model.
If yes, congrats you made it to the next level.
Ready for the next level? You need to start hiring staff to handle all the work you're going to be doing from scaling.
This takes time and money. Put in the work and you'll have something special.
Math rules everything around me. Crunch the exact numbers on everything before you make your next move.
See Related: Ways to Get Free Money Right Now
6. Get paid to take online surveys
Online surveys are low on the list because they are the least scalable and the least lucrative. The good news is that online surveys are a very easy way to make money online.
You can do them in your free time or when you are bored.
The other good news is that taking online surveys is a great free way to make money online.
You'll stack up a few $10s to $100s over time (depending on how much you save involved). Another awesome consideration is that you will earn a bonus simply by signing up.
Top Survey Options to Earn
See Related: 36+ Apps to Make Money
7. Invest your money to build wealth (e.g., real estate crowdfunding, peer-to-peer lending, cryptocurrency, etc.)
Not many people will classify investing as a way to make money online.
Well, I do. Thanks to a number of different advancements in technology. We can actually put our money to work around the world in a variety of asset classes.
Some more stable than others.
You'd be surprised at how many people do this for a living. You can even start website investing, which can lead to decent passive income as long as you have the proper systems in place.
I love the slow and steady way of investing online, which for me is real estate.
Real estate crowdfunding is a great way to put your hard-earned, hustle money from online into a stable asset class that can provide compounding returns over time.
In real estate, the returns are much lower than what you can make online. However, it's a great place to park cash in a stable and inflation-adjusted asset class.
For me, I love using Fundrise to build wealth with real estate crowdfunding. It breaks all the barriers for retail investors to invest in commercial real estate… for as low as $500.
Choosing a Side Hustle to Make Money Online

Conclusion on Making Money Online
If you think you can make money overnight, this is not for you. You made it to the end, which is impressive.
If you are willing to read this many words to the end, you clearly have enough passion to start making coin.
What is holding you back? Drop me a message at any time at via my contact form. I'd love to help you out and build a journey that will create a new lifestyle for you.
Are you ready to start your online journey and live with autonomy, freedom and fulfillment? Try my free email course highlighting the very exact steps I used to blow up my email list.
I'll send you the exact tips in a step-by-step way to help you build an audience and grow your earnings online. No matter your niche.
What you will learn in the free email course includes:
How to target specific keywords to build an email list.
Strategies that enabled me to achieve a 50% conversion rate on new subscribers.
Optimize old posts that will create subscribers.
Organic methods to build an audience.
Are you ready to join the pack? Are you an alpha or a beta wolf?
Related Reviews
Related Resources
Follow me on Facebook, Pinterest, YouTube, and Twitter.
Frequently Asked Questions
Is making money online legit?
Yes, there are a ton of ways to make money online in today's age.
Is making money online easy?
Yes and no. There are options to make money online the easy way such as online surveys and making money apps. Then, there are ways to make money online that require more time like blogging and freelancing.
Can you make money online?
Yes! In today's age, there are plenty of ways for people to make money online even with little to no startup costs.