Robinhood vs TD Ameritrade! Which one outranks the other? Here is a comprehensive review of these two micro-investing platforms to help you make your verdict.
Choosing the right trading platform is the first step towards becoming a successful trader and investor. You have to pick a platform that appeals to your needs, preferences, and even financial goals.
Robinhood and TD Ameritrade are among the few micro-investing platforms that have made a name for themselves in the financial market. However, these two stockbrokers are quite different in how they operate and what they offer.
If you want to start investing through any of these platforms, this Robinhood vs TD Ameritrade comparison offers answers to all your questions. The Guide will help you understand each of the platforms better, making your choice a little bit informed and easier.
What is Robinhood?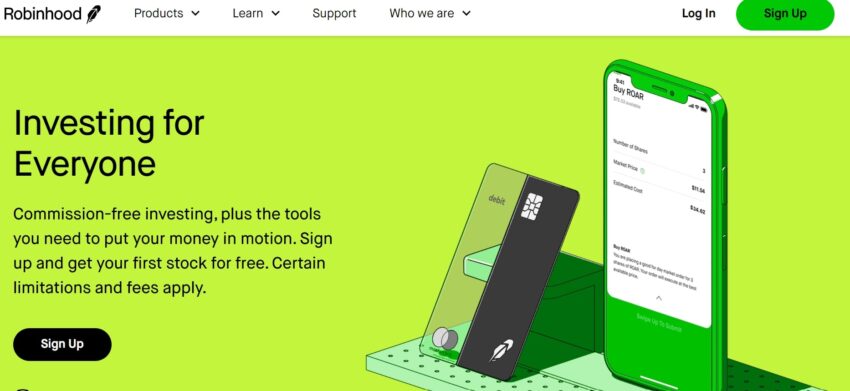 Robinhood is an online stock brokerage and investing app offering traders commission-free trading opportunities. Before Robinhood, commission-free trading was just a dream.
However, since Robinhood came up, so many platforms have also followed suit and are offering commission-free trades. This means that the feature is no longer unique to Robinhood.
But, this doesn't mean that Robinhood is no longer an excellent trading platform. It has so many other great features like low costs, user-friendliness, zero account minimums, etc., which keeps it at the top of the best micro-investing apps' list.
The platform is specifically made for beginners who are looking for an easy-to-use platform with simple features. It is also known for offering diverse investment options from cryptocurrency to stocks.
If you are looking for one platform where you can manage your investment portfolios from one site, Robinhood is a great choice. The platform was started in 2013 and has grown to 31 million users, with the average user being 31 years.
Pros of Investing with Robinhood
Cons
Limited learning resources – Robinhood is a platform meant to serve beginners, but ironically it doesn't have many learning resources. For beginners who are learning how to trade stock or cryptocurrency, they have to look for other platforms for learning before coming to invest in the platform. There are some learning resources for gold users, but even that is limited.
Poor customer care – if you want to get in touch with Robinhood, you need to have patience. There is no way to call them directly, so you have to request a phone call. The best way to contact them is by chat or message.
Poor crypto management trading – the crypto management in the application seems to be still in the growth stage. If you are a professional crypto trader, you might find the platform very underwhelming because it does not offer most of the modern coins.
Verdict
Robinhood is a decent brokerage trading platform for beginners. The ease of use and diverse trading options makes the platform attractive. It is a great place to start trading.
See related: Acorns vs Robinhood: Which One is Best
What is TD Ameritrade?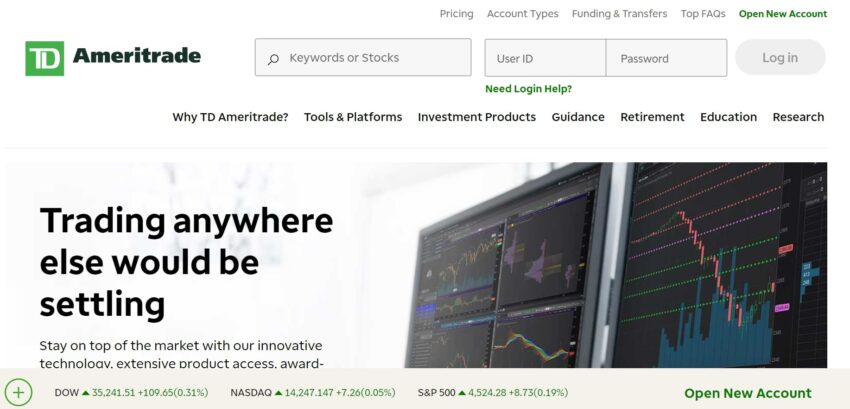 TD Ameritrade is an online brokerage platform designed to serve the needs of beginner and active traders. It is commission-free and popularly known for trading online stock, mutual funds, and ETFs.
Beginners get access to a variety of free learning resources from reputable sources such as the Federal Reserve Economic Database. Whether using desktop or mobile to trade, the site is decent and will give you a good experience. In addition, the company was founded in 1975, meaning it has been in the business for some time, starting its online trading platform in 1994.
Pros
Trusted company with a reputation – TD Ameritrade is one of the most reputable trading platforms we have. The company has been in the business for years, so they have perfected the skill through experience. They are committed to upholding their reputation after being in business for many years.
Good customer service – there are a variety of ways to get in touch with TD Ameritrade. They offer a variety of methods such as phone, text, fax, live chat, email, or social media. If you are not comfortable with online communication, you can always visit one of its 250 physical branches.
Professional trading experience – the online platforms give you what can only be described as professional trading. Whether you are trading on your phone or computer, you will enjoy every bit of it.
Cons
Limited to trading markets in the United States – you can only trade in the United States markets, which can feel limiting when the world is already becoming a global village.
Available only to the United States residents – you can only open an account with TD Ameritrade if you are a US resident. Traders from other countries are automatically locked out.
Money transfer issues – the platform does not accept electronic money wallets for money transfer. They also do not accept debit or credit cards, making money transfers feel limiting.
Verdict
TD Ameritrade is a good platform for both beginners and advanced users. It has a decent online platform for both mobile and desktop users for professional trading.
The platform has been in the business for decades, so if you are looking for a reputation, this is a good platform to consider. Their customer support is also good, so in case you need help you can always contact them using a variety of channels.
Robinhood vs TD Ameritrade Comparison and Differences
Who are the Ideal Users?
Robinhood is made for beginners who are learning how to trade. It is ideal for traders who want a simple platform that is easy to use. And for mobile users, the app offers a lightweight and easy-to-use platform. In addition, Robinhood is good for individual taxable accounts and margin accounts.
TD Ameritrade, on the other hand, is good for both beginner and advanced traders. It is an ideal trading platform for fund investors and also people seeking information about trading.
Customer Support
Robinhood – online options for reaching customer support is through chat or messages. If you want to contact them directly, you have to request a phone call.
TD Ameritrade – you can reach them through a variety of contact platforms. They have almost all of the contact methods such as chat, phone calls, email, and even social media.
Country Coverage
Both Robinhood and TD Ameritrade do not accept international users. They are focused on serving users in the United States. With Robinhood, United States users might log in from anywhere except in some countries that are black listed.
Learning Resources
Robinhood does not offer any learning resources to its standard users. For new investors seeking trading information, Robinhood might not be the right choice due to limited resources. However, Gold users have access to learning resources.
TD Ameritrade offers more information and learning resources. If you are a beginner and you would like to learn, this is a great platform to join.
Company Reputation
In terms of reputation, TD Ameritrade is leading. The company has been in the business for a long time, and over the years, it has built a good reputation.
However, this doesn't mean that Robinhood is behind. While it's a relatively new platform, the strides it has made in its few years of operations are commendable. Currently, the platform has over 31 million users, meaning investors like what Robinhood offers.
If you want to be part of that growing Robinhood investors base, you can easily join the platform from here. It offers more opportunities for growth than most other trading platforms.
User Experience
Robinhood is known to be an easy-to-use and basic application platform. Beginners and people who are not tech-savvy will love the platform. It is the best platform for mobile users as it's easy to use and can be accessed from anywhere with a single click.
TD Ameritrade is known as a professional platform. Traders say that they get a professional feeling when trading on the platform. It might not be easy to use like Robinhood, but experienced traders like it.
Robinhood vs TD Ameritrade: Which is Best?
There is no clear way to say which platform outranks the other. This is because each has its unique strengths, which different investors like. If you are a beginner looking for a simple-to-use platform, Robinhood is the best. Also, if you are looking for low-cost trading with zero minimum balances, Robinhood is still the way to go.
However, if you are looking for a company that has built its reputation over the years, TD Ameritrade takes the day. In addition, most savvy traders will prefer TD Ameritrade as it offers more features for them.
Therefore, you can choose any of the two platforms, depending on your investment needs and level of trading expertise.
Related Resources