Robinhood crypto! How does it work? Is it a good place to start your crypto trading journey? Well, we've taken time to explore and answer all these questions and more. Read on to find out.
With just a little over 8 years in the market, Robinhood is one of the investing and trading platforms that have made enormous growth steps in such a short period. Currently, the platform, which allows commission-free trading for all investors, enjoys a user base of over 31 million as of 2021 stats. Now, this is massive, considering the time it has been in the market.
In addition, besides offering an excellent trading platform for stocks, futures, and options, the platform offers a chance to trade in cryptocurrency. Through Robinhood crypto, traders can make commission-free trades in some of the leading crypto coins in the market, including Bitcoin, Etherium, Dogecoin, etc.
But how does Robinhood crypto compare with some of the industry's bigwigs like Coinbase, Webull, etc.? Well, while a platform like Coinbase has more active users, hitting over 56 million in 2021, Robinhood is just a few steps behind. We will see more stats and differences later.
But first;
What is Robinhood Crypto Wallet?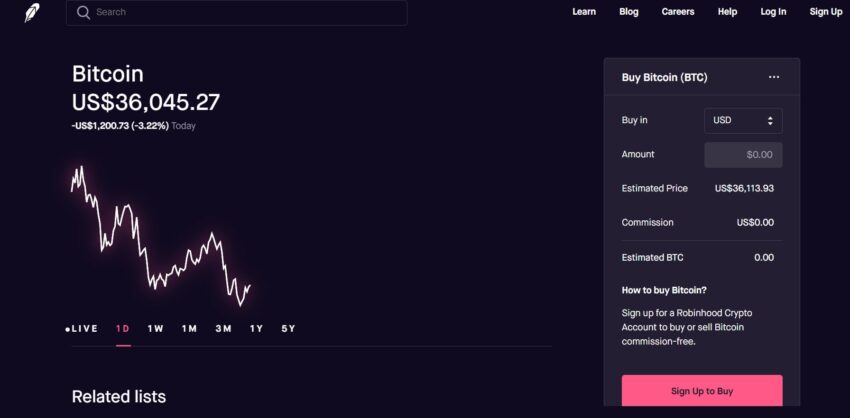 While the Robinhood platform is quite known in the stocks exchange, its crypto wallet is also picking up steadily. Initially, the platform was only designed to handle the stock market, with the crypto side of it being introduced much later.
Generally, a crypto wallet is a platform that allows you to store, send, receive or manage your crypto assets. Robinhood crypto wallet is not any different. The only difference that is pretty evident from other crypto wallets is that Robinhood is commission-free.
And this is one of the most attractive features in Robinhood for many investors and traders who want to make money on the platform.
How to Buy Crypto on Robinhood
Before you even start buying crypto in Robinhood crypto exchanger, the first step is to sign up and create an account. The process is fast and might take just a few minutes (less than 10).
When creating the account, the platform will require a bit of your information, such as your name, email, physical address, Social Security Number, etc. From here, you are required to link the account to your bank account to enable transactions, including deposits and withdrawals.
One great feature of Robinhood is its instant transfers. This means that once your account is active, you can fund your account instantly and start trading at once.
Also, with a $5 monthly service fee, you can enjoy Robinhood Gold premium services. The service allows users to deposit larger amounts of money and even trade with margin.
So, how do you make your crypto purchase with Robinhood? It's pretty easy!
Follow these simple steps:
Fund your account
Search for your desired crypto coin from the search bar
Once you are on the specific coin's page, you'll see the "Trade" and "Buy" buttons. Pick "Buy."
Choose between a market or limit order for your crypto purchase. A market order buys the crypto instantly at the prevailing market price, while an order limit helps you set a limit price of the amount you are willing to spend on the coin's purchase.
Your purchase will reflect on your wallet in a few minutes.
How to Sell Crypto on Robinhood
If you aren't a Hodler, selling your cryptocurrency would be the next thing you think of, especially if its prices shoot up. This is quite common with traders who want to maximize profits on every price increment.
If you wish to sell some crypto from Robinhood Crypto wallet, here is how to go about it.
Go to the "Crypto" section from the platform's home page.
Tap the trade/sell option at the bottom of your screen.
You'll be taken to a page with a "sell all" or "sell part" of your cryptocurrency options. Input the amount you wish to sell.
Review your trade and confirm
After this, the amount of crypto you have sold converts to brokerage cash, which you can withdraw into your bank account.
However, you should note that when you sell crypto on Robinhood, you are required to remit capital gains taxes. Luckily, Robinhood has simple tax documents available for desktop and mobile app users.
Robinhood Crypto List
This is simply the list of crypto coins that a trader or investor can exchange on the Robinhood crypto platform. Currently, the platform doesn't have a long list of crypto coins you can trade, like other big exchanges in the market. However, it still has most of the main coins.
Robinhood crypto currently allows you to trade in only seven main coins. These include:
Bitcoin (BTC)
Ethereum (ETH)
Ethereum Classic (ETC)
Bitcoin Cash (BCH)
Dogecoin (DOGE)
Bitcoin SV (BSV)
Litecoin (LTC)
This means that you can only buy and sell one of these coins from the platform. But will Robinhood add more crypto?
Probably yes!
According to Vlad Tenev, the company's CEO, they have heard the call from customers to include more coins on the platform. And they are on the course of doing just that. However, the exact time as to when more coins will be available for trading is yet to be clear.
Note: Despite Robinhood crypto allowing the purchase and sale of only seven main coins, the platform offers market data for numerous other crypto coins. And this is real-time data.
Some of these coins include:
Bitcoin Gold (BTG)
Lisk (LSK)
Stellar (XLM)
NEO (NEO)
Monero (XMR)
OmiseGO (OMG)
Ripple (XRP)
Qtum (QTUM)
Therefore, if you are researching any of these coins, Robinhood crypto is a great place to find what you are looking for.
Robinhood Crypto Fees
As stated several times earlier, Robinhood does not charge any fees for its trades. This applies to both its stocks and crypto trades.
In other words, you will buy and sell your crypto coins free of charge. This means that while most other crypto wallets charges you even up to 4% of your transaction, Robinhood crypto wallet charges you 0%. Now, who wouldn't love this?
For instance, when you buy $100 worth of crypto, let's say Bitcoin, you will receive $100 worth of Bitcoin. In comparison, if you are using Coinbase, you'll receive $97.01 and $97.70 if you use Venmo. This amount can be pretty significant if you buy huge chunks of cryptocurrency.
Robinhood Crypto Buying Power
When you hear about buying power in the Robinhood platform, it's nothing complex. It simply means the amount of money you have in your Robinhood account that you can use to buy stocks or crypto.
You should note that this doesn't include the funds invested in other stocks or crypto. It only refers to the available brokerage funds – money that is free to be used at any time.
You can get more money available by selling some of the assets you own on the platform.
Also, you can get more available funds for the required transactions with a margin account. This involves borrowing money from Robinhood to grow your buying power. However, to qualify for this feature, your account must have at least have $2,000.
Also, you will have to sign up for Robinhood's Gold option to access margin trading.
How Does Robinhood Crypto Compare to Other Exchanges?
Over the years, Robinhood has grown to become one of the largest financial service platforms globally for stocks trades.
But how does its crypto section compare to other exchanges in the market?
Let's have a look:
Robinhood vs Coinbase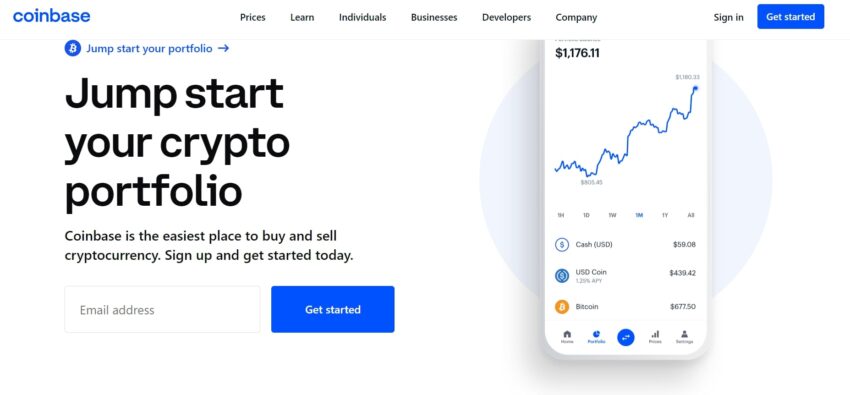 These platforms are quite different in their operations. However, they also have some similarities. The main differences are seen in the table below.
| | | |
| --- | --- | --- |
| Platform | Robinhood | Coinbase |
| Nerd Wallet Online Ratings | 3./5 | 5/5 |
| Trading fees | 0% | 0.50% |
| Crypto selection | 7 coins | 139 coins |
| Ease of use | User-friendly for novices | User-friendly |
| Account minimum | $0 | $50 |
| Deposit fees | $0 | 3.99% via debit card |
| Withdrawal fees | $0 | $25 via SWIFT |
You should also note that while Coinbase accepts debit and credit card payments, Robinhood will only allow ACH transactions.
See related: M1 Finance vs Robinhood – Which is Better?
Robinhood vs Gemini
Both of these platforms allow the trading of cryptocurrencies at 0% fees.
So, why should someone choose one over the other?
| | | |
| --- | --- | --- |
| Platform | Robinhood | Gemini |
| Nerd Wallet Ratings | 3.5/5 | 5/5 |
| Crypto selection | 7 | Over 50 |
| Ease of use | Easy to use | User-friendly |
| Account minimum | $0 | $0 |
| Trading fees | 0% | $0.99-$2.99 for $200 and below or 1.49% for orders above $200 |
It is worth noting that these two platforms have high-level security features to protect your crypto trading activities and assets.
For instance, both exchanges keep your cryptocurrency funds in cold storage, not accessible from the internet. This means that internet hackers can't access your assets even if they hacked your account.
However, for everyday traders, the platforms also have funds connected to the internet (hot storage). This gives traders an easy time accessing their funds for trading.
Also, for both platforms, cash deposits are covered by FDIC insurance up to $250,000 per individual.
Robinhood vs Venmo
Venmo is a mobile payment app that has also expanded its activities in crypto trading. Like Robinhood, the platform allows trading in several crypto coins, and here is how the two platforms compare.
| | | |
| --- | --- | --- |
| Platform | Robinhood | Venmo |
| Crypto selection | 7 | 4 |
| Ratings | 3.5 | 3.0 |
| Trading fees | 0% | 0.5% to 2.3% |
| Transaction limits | No limits | $20,000 a week or less than $50,000 a year |
| Ease of use | User-friendly | User-friendly |
Both crypto trading platforms are available on Windows, Android, and iOS devices. This means that you can use it on your PC or smartphone.
Robinhood vs Webull Crypto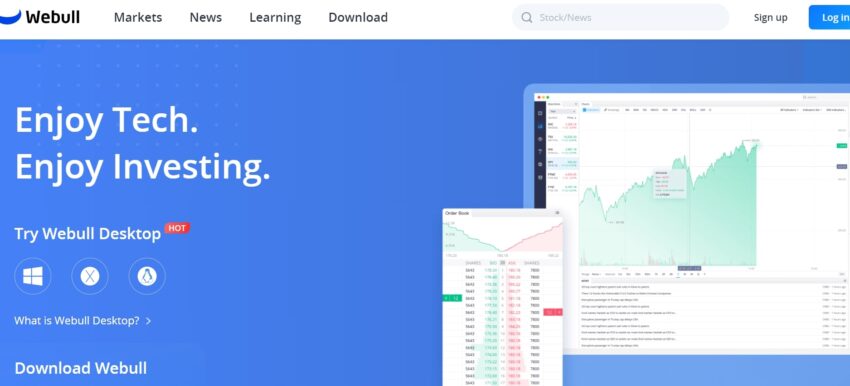 These two platforms have more similarities than differences. They offer users the opportunity to trade in stocks, futures, ETFs, ADRs, etc. In addition, they have diversified to allow cryptocurrency trading for their customers.
Therefore, if you are not so much into the stock market, you can try trading in crypto, an area that has seen immense growth over the past several years.
So, how do these two platforms compare?
| | | |
| --- | --- | --- |
| Platform | Robinhood | Webull |
| Trading fees | 0% | 0% |
| Crypto selection | 7 | 21 |
| Margin trading | Available | Available |
| Customer support | No phone contacts | Phone support available |
| Application | Best for beginners | Best for experienced traders |
| Security | High | Medium |
You should also note that before you start trading in margin accounts on Robinhood, you need at least $2000. However, with Webull, there is no minimum amount for any of its account types.
You can open a Webull account today and get free stocks.
Robinhood Crypto Taxes
Robinhood gives you the opportunity to trade and invest in stocks, crypto, ETFs, etc., at zero commissions. However, the proceeds or profits you make from your sales are subject to capital gain tax. This is a tax levied on profits made from selling capital assets, including stocks and cryptocurrency.
For instance, if you decide to sell your Bitcoin after a price surge, your profits will be subjected to capital gain tax. If you make the sale after holding your crypto for over a year, a long-term capital gain tax will be levied on the profit. The percentage of the tax might range from 0%, 15%, to 20%, based on which tax bracket you fall under.
On the other hand, if you had held your coins for only a short period, the short-term capital gain tax will apply. These taxes resemble ordinary income tax rates and can go even up to 37%. The good thing here is that you can also deduct losses made from your trades from the tax bill you receive.
Can You Day Trade Crypto on Robinhood
Certainly yes! Robinhood is a brokerage platform that allows commission-free crypto trading. This is unlike most of its discount counterparts that do not usually allow day trading.
This means that you have an opportunity to do day trading in any of the seven cryptocurrencies the platform offers. And, you have the option of buying at the current market price, through a market order, or at a specific limit price, through a limit order.
Where to Buy VeChain
VeChain is a blockchain company based in China and Singapore, and that is quite popular in America, Europe, and Asia. The company offers a revolutionary type of crypto that has taken the market with a bang.
Generally, there are several places where you can buy VeChain if you are interested. Some of the most common places include:
Freewallet
Binance
Changelly
CoinSwitch
com
Bitfinex, etc.
With these platforms, you are sure that you are buying your VeChain from reliable sites that take the security of your money seriously.
Related Resources