Trading is not always easy. But with the right brokerage platform, you have a chance of making good money. Learn how to make money on Robinhood and trade like a pro.
Yes, it is possible to make money on Robinhood in a number of ways. You can trade stocks, ETFs, crypto, and options. The app gives you various ways to invest your money, and since it is commission-free, you get a chance to make more money.
However, you need to learn about risk management and the right trading strategies before diving into the stock market. While the app makes trading seem effortless, making money from it isn't as easy as it might seem. Remember, the easier it becomes to make money, the easier it is also to lose your money.
The good thing about Robinhood is that it's easy to use, especially for beginners, as it makes complex investing simple for people with little or no experience. But before we get into how to make money on Robinhood, let's first understand what the app is all about.
What is Robinhood?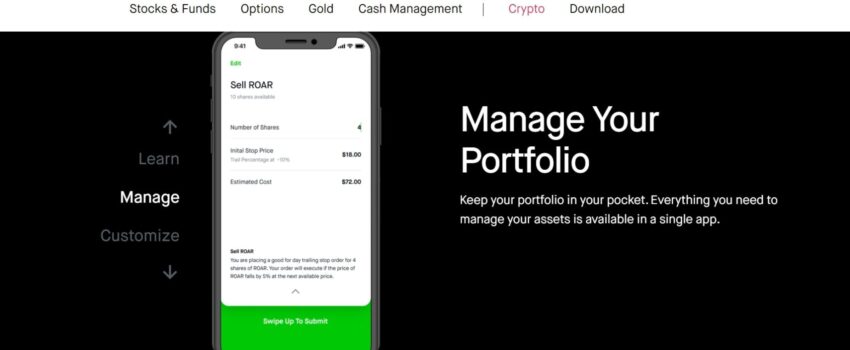 Robinhood is a beginner-friendly broker-dealer app for trading stocks, crypto, options, and ETFs. Unlike other apps, it is commission-free, although it charges monthly for traders.
The app is ideally made for beginners who are getting into trading or investing. It simplifies trading by offering a one-click option for traders to buy or sell without having to go through a complex process.
Also, apart from the app being easy to use, it offers fractional trading. With this option, traders can buy even the most expensive stocks by paying only a fraction of the amount. Now, this is quite attractive for interested investors and traders with minimal capital.
Why Robinhood
Commission-free – One thing that you will love about Robinhood is the commission-free feature. After trading and getting your profits, you do not have to leave a portion of your money to the app. You can make money without worrying about splitting it with someone else.
User-friendly – The user-friendly design is an important feature of this app. It is easy to use for beginners both on mobile and the web. Instead of worrying about navigation on the app, you can focus on trading without technicalities coming your way.
Varieties of ways to trade – With Robinhood, you can trade stocks, options, crypto, and ETFs. You can diversify your investment by using just one app. It is also easy to manage all your investment from one platform.
Fractional trading – The fractional trading feature is essential for traders who want to invest small amounts in some expensive stocks. If you have always wanted to invest in a specific company but cannot afford the stocks, use fractional trading to get a fraction of the stock.
Cash management – When investing or trading, cash management is everything. The best thing about Robinhood is that it comes with a cash management account. You can monitor the movement of your cash so that you can track your profit and losses.
How to Make Money on Robinhood
Can you make money on Robinhood? That's the first question that many traders and investors will ask. And, the answer is a resounding yes.
But how do you make money on this app? Well, you have two options when it comes to making money on Robinhood – asset appreciation and dividend income.
With asset appreciation, it's all about speculation. You buy a certain asset when its price is low, anticipating to sell it when the price appreciates. This way, you get a profit from the difference in buying and selling price.
Of course, it is not as easy as it sounds. It will require a combination of good research luck to know which stocks to buy, when to buy them, and when to sell them for a profit.
Dividend income, on the other hand, is a less active approach of how to make money on Robinhood. With this method, you buy shares or stocks of a certain company and wait for the company to share part of its profits with you as a dividend. You'll only get dividends based on the amount you invested and the amounts of profits the said company made.
How to Mitigate Risk on Robinhood
Understand the stock – Before putting your money on an investment, make sure that you understand it well. You can do this by doing enough research. The stock market is versatile so keep up with the market trends and also do your technical analysis.
Small and manageable watchlist – If you are a beginner, keeping a small and manageable watchlist is important. A small watchlist will help prevent you from getting overwhelmed so that you can focus on proper analysis.
Invest in learning – The best way to manage risk is to invest in learning. When you have the right information, it will be easy to understand risk and manage it.
Do You Get Robinhood Instant Deposit?
Yes, you can get a Robinhood instant deposit of $1000 immediately after initiating a transfer. For amounts above $1000, you have to wait for five business days before the money reflects into your account.
However, you get a daily withdrawal limit of $50,000. If you want to get access to bigger instant deposits, then you have to use the Robinhood gold for other benefits. The automatic instant deposits are available for users on the 1st and 15th of every month.
How to Withdraw Money from Robinhood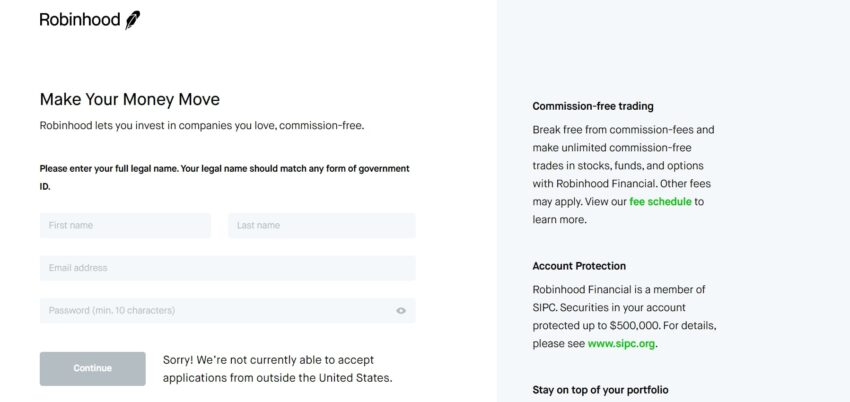 At the bottom right corner, there is a clickable account icon. Click on the account icon, then go to transfers. After clicking on transfers, you will see the different bank accounts associated with your account.
All you have to do is choose your preferred bank account and the amount. After that, you click submit and wait. If you are withdrawing less than $1000, you will get the money immediately. Otherwise, you have to wait for at least four business days.
What are Unsettled Funds on Robinhood?
Unsettled funds in Robinhood are funds that are in a waiting period. This happens after you sell a stock and the money is not available immediately. You have to wait for at least two days before you can access the money, and during that period, your money is called "unsettled funds."
It is possible to use up to $1000 of unsettled funds to make new stock purchases, but you cannot withdraw the money into your account until the waiting period is over.
See related: A Complete Guide to Volume Price Analysis
Robinhood Trading Hours
Robinhood follows the regular trading hours of 9:30 AM to 4 PM ET.
What about extended hours? Do we have Robinhood extended hours?
Yes! Robinhood has extended hours that are either pre-market hours or after hours. The pre-market hours are offered 30 minutes before the trading time starts.
It also has after-hours that go from 4:00 to 6:00 PM Eastern Time. A total of two and half hours gives you extra time to trade.
Robinhood Stop Loss
Robinhood stop loss is a great feature offered by the platform to help you mitigate loss. Using the feature, you set your account in such a way that when a stock hits a certain amount, it sets a limit order so that you avoid losses.
The feature is only available for stocks, and you cannot use it on cryptocurrency. Apart from helping you to stop losses, this is a great feature that will help you to protect the profits.
Robinhood Limit Order
The Robinhood limit order feature allows you to set a limit price for options trades. The limit price is the maximum price that you would wish to pay.
This is a protective feature offered by the platform because options trading can be very versatile. Therefore, using the feature protects the user from losses and protects their profit. In Robinhood, a limit order can last up to 90 days.
How to Short a Stock on Robinhood
Shorting a stock is a risky affair. Robinhood does not have the feature. With shorting a stock, the investors sell stocks with the conviction that the stock prices will go down and later rebuy them at a profit.
This is a risky option because it is based on convictions and not actual market analysis.
How to Buy Calls on Robinhood
When you buy a call on Robinhood, you are entering a contract. The contract will give you a right but not an obligation to buy stocks or other assets within a specified period.
You can do that on the platform by clicking the magnifying glass on the right corner. With the search feature, you will search for the security that you would like to trade. You can tap trade for stock or ETF at the bottom right corner.
How to Sell a Call Option on Robinhood
Selling call options on Robinhood is easy by logging onto the platform and clicking on contracts. After that, click on trade, then on sale.
You will be required to put the number of contracts that you would wish to sell and also select the best contract. Putting the limit price is also necessary before you click on submit.
How to Make Money on Robinhood: Is Robinhood FDIC insured?
Robinhood has a cash management feature where money from your profit goes before it is transferred to your bank account. The cash management account works like a normal savings account. And, to keep your money safe, it is protected by Federal Deposit Insurance Corporation.
In case something happens and the money does not go to your bank, you will get a reimbursement in full or at least a percentage of the full amount.
How to Add Money to Robinhood without a Bank Account
The best thing about Robinhood is that you do not need a bank account to add money. Fortunately, there are a variety of options to add money even without a bank account. Here are some options available:
Paypal cash card – If you have a PayPal cash card you can use it to top up your account. Since Robinhood accepts debit cards, it should be easy to top up your account using a cash card.
Netspend debit card – it is acceptable for Robinhood top-ups
Skrill – Robinhood works with most online wallets, and Skrill is among the best. Others accepted by Robinhood include Neteller and PayPal.
Robinhood Referral Program
So, how does Robinhood referral work? Well, if you are a member, you get three free stocks when your friend signs up and becomes a member. Your friend also gets one stock.
You will claim the reward for a referral once a notification appears on your account. And, if you cannot see the notification, then you need to check your messages for a prompt.
The stock will not appear immediately, but you will have 60 days to claim it and wait 2 days before trading it. After that, the cash should remain in your account for at least 30 days before withdrawal.
Does Robinhood Pay Dividends?
Robinhood pays dividends, but not everyone qualifies for them. For instance, if you bought shares on an ex-dividend date or later, you will not be eligible for dividends.
You should have bought the stock before the ex-date to qualify for dividends.
Robinhood Margin Rates
The Robinhood margin rates currently stand at 2.5%. This is a drop from 5%. The rates are also likely to change based on Robinhood's financial discretion. Their current rate is one of the most competitive in the market.
For uses who want to take part in margin investing, they can register for the gold platform. With margin investing, the investor is exposed to a variety of great opportunities. However, you need to first assess your risk appetite before doing so.
This option can yield great profits, but it can also lead to great losses. Margin interests are charged every day, so if you are a beginner, only invest what you have before you consider taking the risk.
How to Get a Robinhood Margin Account
To get the Robinhood margin account, you need to log into the account and go to the person icon. From this icon, you will see a three-line menu, and you can click the top right yellow one.
From here, you can now click the margin investing option and turn it on. Give it time to determine whether you are eligible for the feature.
How to Use Robinhood to Make Money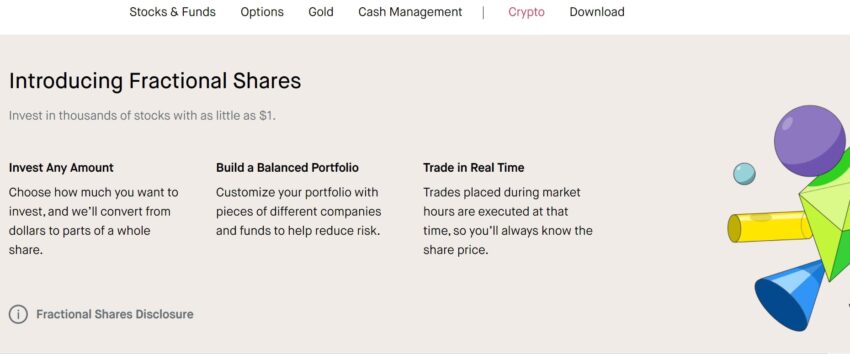 Since we are learning how to make money on Robinhood, these tips will help ensure that you do just that.
Start low – The secret to making money on Robinhood is to start low. You do not need to start with stocks worth hundreds of dollars. Starting low is important so that you do not experience huge losses. The rules of investing still stand when using Robinhood, buy low and sell high.
Take advantage of dividend income – apart from making money from stocks; you can also make money through company dividends.
Be patient – the power of compound interests can never be overemphasized. Do not withdraw money from the platform all the time. Sometimes, reinvest the money back and watch it grow. This is not a get-rich-quick scheme, so you will have to give it time and watch your money grow.
Take advantage of Robinhood investment features – Robinhood has a variety of investment features that you can take advantage of. Some of the features include crypto trading, fractional trading, and margin trading. These features help you to diversify your investment portfolio.
Manage your risk – managing risk is important to prevent losses and protect profit. Fortunately, the platform has a variety of features that can help to manage risk.
How to Make Money on Robinhood: Is Your Money Safe in Robinhood?
Yes, since SIPC and SEC regulatory bodies are involved in the protection of your funds. The platform offers protection of up to $500,000 for securities and $250,000 for cash.
The money in your cash management account is also safe in case something happens between the transfers. Since the platform has been around for some time, it has built a reputation, and this adds to the safety guarantee.
Why does Robinhood Discourage Day Trading?
Robinhood does not restrict day trading, but it discourages it. The platform is meant to be used by beginners, so day trading is risky for them. Selling stocks and trades every day increases the risk, and this can lead to the loss of money.
Day trading is a specialized skill that should be done by professionals, and that's why Robinhood does not encourage traders and investors to use that method.
Robinhood Crypto Investment
Robinhood offers a platform for crypto investors to buy and sell crypto. However, the number of coins available for trading is still limited.
The platform is planning to launch a digital wallet for crypto users to make trading easy and fast. Using Robinhood for trading comes with some advantages because there are no commissions and charges involved.
See related: How to Make Money with Bitcoin: 5 Best Ways
Is Robinhood good for Beginners?
Robinhood platform is made with beginners in mind. Even if you are not tech-savvy, the platform is easy to use. You can focus on investing without dealing with the technical aspect of learning how to navigate through the site.
It is easy to use, and buying a stock or trading is done with one click. The process of adding or withdrawing money is also straightforward for beginners.
Since Robinhood does not charge any commissions, it is attractive for beginners who want to save money as they learn how to trade. It also does not charge an inactivity or withdrawal fee.
However, there are monthly charges that currently stand at $5. If you are using margin investing, then you are charged a 2.5% annual fee. The monthly fees are automatically charged into your account at the end of each billing cycle.
Is Robinhood Worth It?
Robinhood is ideal for beginners who want to start investing in securities. It is a good place to start for people who want to learn what it takes to invest without paying commissions or dealing with complex websites. Sign up for Robinhood today and start making money trading.
Related Resources