Which is the best NinjaTrader Indicator for day traders? Whether you are just starting your day trading journey or you are an experienced trader who wants to take trading to the next level, this NinjaTrader Indicator is just what you need.
Any trader looking to make a difference in their trading must use a reliable platform and trading tools. And, NinjaTrader offers exactly that. NinjaTrader is an online trading platform designed to support both new and experienced day traders who wish to trade in forex, futures, stocks, and CDFs.
The platform offers trading and brokerage services for day traders, with free access to its standard features. These features give you access to:
Market analytics
Trade simulation
Backtesting and optimization
Automated strategy development
Advanced charting
The platform is quite versatile, running on almost every device, including Windows, Mac OS, and Linux. Also, to make trading even easier and more rewarding for traders, the platform allows for third-party trade indicators and add-ons.
Today we dig deeper to identify the best NinjaTrader Indicator in the midst of so many trade indicators in the market.
NinjaTrader 8 Indicators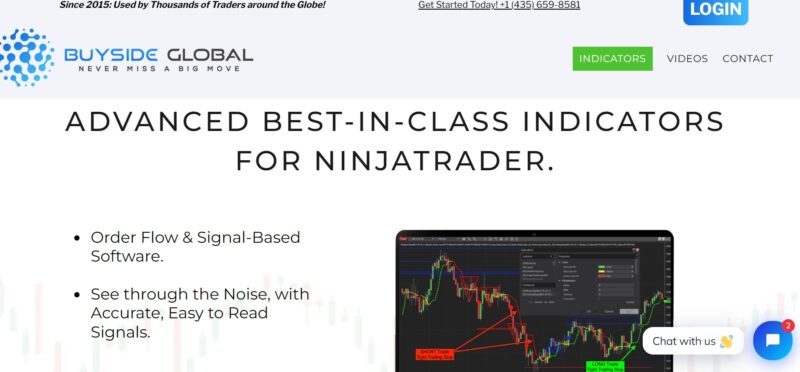 NinjaTrader 8 indicators are designed to make day trading easy, even for beginner traders. They offer trends, analytics, and support, giving the investors an easy time identifying the best time to enter or exit a stock.
NinjaTrader 8 Indicators from BG (BUYSIDE GLOBAL) are some of the best indicators in the market for day traders. They come as a set of eight intuitive indicators that not only help you identify the trend of certain financial assets but also know when is the best time to buy or sell.
If you are looking for the best NinjaTrader Indicator, this is where to find it – BUYSIDE GLOBAL. Whether you are looking for technical indicators, volume-weighted average price indicators, or supply and demand indicators, look no further.
Best Indicator for Intraday Trading
One of my favorite and arguably the best NinjaTrader Indicator is the BG Blue Chip Indicator. Generally, there are numerous indicators that try to minimize loss by focusing on issues like trade entry, trade management, or even risk management.
However, I have loved the BG Blue Chip Indicator for one reason. It's a single indicator that can handle all the mentioned issues. In essence, it's like a one-stop shop for intraday trading.
With such an indicator, you can be sure to get the most out of your day trading activities, maximizing your profits and minimizing the losses.
Importance of Using BG Blue Chip Indicator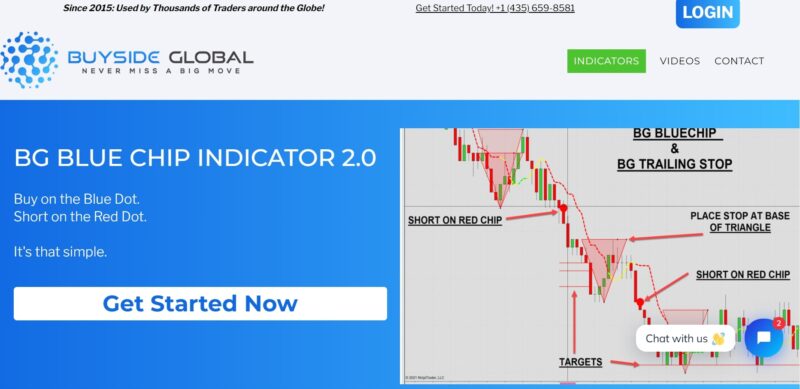 The first crucial factor that makes the BG Blue Chip Indicator quite unique is that it's universal. That is, it's ideal for all markets and time intervals.
So, whether you are targeting stocks, forex, futures, or bonds markets, The indicator works perfectly to give you an upper hand in Swing trading, Day trading, or Position trading. In other words, it makes your trading simple, whether a novice or a seasoned trader.
Here is why we consider this the best indicator for trading:
Generate Trade Entry Signal – The indicator shows you exactly at what price level you should enter a certain trade. It does so by scanning trends, pricing pressure, order flow blocks, and breakout patterns. This way, it can give you a precise signal of the price level you ought to consider for trade entry.
Suggests Stop loss level – Your trade's stop loss is different for various trades and different days. It needs adjusting for volatility, order flow, as well as trend. And the BG Blue Chip Indicator calculates all this to provide you with an accurate Stop Loss signal.
Estimated Target Exits – A great trade entry is not enough if you don't know the best time to exit. The exit point is as important as the entry point if you want to make any significant profits. For instance, you should avoid keeping a losing trade for too long or pulling out of a winning trade too early. This trading indicator offers you the best exit point signal based on order flow, resistant levels and trends, and support.
Essentially, the indicator allows you to establish the best trade entry point, helps you manage trade exits, and enables you to minimize loss through its dynamic Stop Loss.
See related: 12 Best Fidelity Alternatives [Similar Apps & Sites]
How the BG Blue Chip Indicator Works
The BG Blue Chip Indicator is quite easy to work or trade with. In fact, with the following tips, you'll be good to go:
Always enter a trade (buy) on the blue dot.
Make your sale (exit the trade) once the price hits the horizontal red line.
That's easy, right? It certainly should be!
But here are even more tips.
Firstly, make use of the Apex triangle to minimize your losses. And we have two types of Apex triangles – the Blue Apex triangles and the Red Apex triangles.
The Blue Apex triangle is on the left-hand side of either the Blue or Red dot. And, your Stop Loss should be just a tick below that triangle.
Also, the Red Apex triangle sits on the left-hand side of the Red or Blue dot. However, here, your Stop Loss is just a tick above the base of this triangle. Always note that difference!
Basically, the BG Blue Chip Indicator indicates the STOPS through the Blue or Red triangles. And this is always at the base of either triangle.
Note: This indicator uses color to identify the trend of a certain trade. For instance, the blue color represents the "UP trend," while the Red one shows the "DOWN trend."
With BG Blue Chip Indicator, you can identify targets that help you remain in the big game while avoiding many possible losses.
Other Key BG NT8 Indicators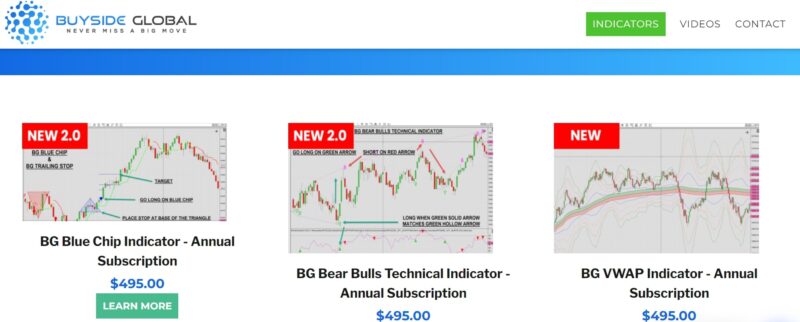 As mentioned earlier, BUYSIDE GLOBAL offers eight key NinjaTrader 8 indicators for your intraday trading. So, besides Bear Bulls, the best indicator for futures trading, you still have seven more insightful indicators you can use.
These include:
BG Advanced VWAP Indicator: offers the average price that a specific instrument or security traded during the day, based on price and volume.
BG Trailing Stop: Ideal for determining the overall trend direction of the market.
BG Supply Demand Indicator: Shows support and resistance areas and helps to identify market trends, rotation & cycles, swings, supply and demand, turning points, etc.
BG Order Flow Zones 2.0 Indicator: Helps you to identify the best buy and sell points based on price movement. The green arrow signifies "Buy points," while the red arrows show "Sell points."
BG Order Flow Indicator: Helps day traders to identify the market's buying and selling pressure by analyzing and visualizing trade activities.
BG Bear Bulls Technical Indicator: This indicator is ideal for helping you monitor important trades, offering you the best entry and exit points. Here, you can identify moving averages, which indicate new trends.
I. Powered AutoTrader: A trading AI that uses Robo-advisors to gather and analyze data to help execute the best trades.
NinjaTrader 8 Download: Best NinjaTrader Indicator
NinjerTrader is free to use, offering advanced charting, market analysis, strategy backtesting, trade simulation, etc. If you want to take your trading career to the next level, getting NinjaTrader 8 (the new version of NinjerTrader) is your best move.
Simply download NinjaTrader here for all your trading needs.
I hope that our guide on the best NinjaTrader indicator has been helpful and that your trading can take a better turn.
Related Resources
Disclosures:
U.S. Government Required Disclaimer Stock, Futures, Forex & Options trading has large potential rewards, but also large potential risk and it is not appropriate for everyone. You must be aware of the risks and be willing to accept them in order to invest in the futures and options markets. Don't trade with money you can't afford to lose. This is neither a solicitation nor an offer to Buy/Sell any securities. No representation is being made that any account will or is likely to achieve profits or losses similar to those shown on this website. The past performance of any trading system or methodology is not necessarily indicative of future results.
CFTC RULE 4.41 Hypothetical or simulated performance results have many inherent limitations, some of which are described below. No representation is being made that any account will or is likely to achieve profits or losses similar to those shown. In fact, there are frequently sharp differences between hypothetical performance results and the actual results subsequently achieved by any particular trading program. One of the limitations of hypothetical performance results is that they are generally prepared with the benefit of hindsight. In addition, hypothetical trading does not involve financial risk, and no hypothetical trading record can completely account for the impact of financial risk in actual trading. For example, the ability to withstand losses or to adhere to a particular trading program in spite of trading losses are material points which can also adversely affect actual trading results. There are numerous other factors related to the markets in general or to the implementation of any specific trading program which cannot be fully accounted for in the preparation of hypothetical performance results and all of which can adversely affect actual trading results.
Hypothetical Results Hypothetical or simulated performance results have certain inherent limitations. Unlike an actual performance record, simulated results do not represent actual trading. Also, since the trades have not actually been executed, the results may have under- or over-compensated for the impact, if any, of certain market factors, such as lack of liquidity. Simulated trading programs, in general, are also subject to the fact that they are designed with the benefit of hindsight. No representation is being made that any account will or is likely to achieve profits or losses similar to those shown. ONE OF THE LIMITATIONS OF HYPOTHETICAL PERFORMANCE RESULTS IS THAT THEY ARE GENERALLY PREPARED WITH THE BENEFIT OF HINDSIGHT. IN ADDITION, HYPOTHETICAL TRADING DOES NOT INVOLVE FINANCIAL RISK, AND NO HYPOTHETICAL TRADING RECORD CAN COMPLETELY ACCOUNT FOR THE IMPACT OF FINANCIAL RISK IN ACTUAL TRADING. FOR EXAMPLE, THE ABILITY TO WITHSTAND LOSSES OR TO ADHERE TO A PARTICULAR TRADING PROGRAM IN SPITE OF TRADING LOSSES ARE MATERIAL POINTS WHICH CAN ALSO ADVERSELY AFFECT ACTUAL TRADING RESULTS. THERE ARE NUMEROUS OTHER FACTORS RELATED TO MARKETS IN GENERAL OR TO THE IMPLEMENTATION OF ANY SPECIFIC TRADING PROGRAM WHICH CANNOT BE FULLY ACCOUNTED FOR IN THE PREPARATION OF HYPOTHETICAL PERFORMANCE RESULTS AND ALL OF WHICH CAN ADVERSELY AFFECT ACTUAL TRADING RESULTS. THERE IS RISK OF LOSS IN ALL TRADING. PAST PERFORMANCE IS NOT INDICATIVE OF FUTURE RESULTS. ALL RESULTS ARE HYPOTHETICAL. NO IMPLICATION IS BEING MADE THAT ANYONE UTILIZING ANY OF THE SERVICES OF BUYSIDE GLOBAL HAS OR CAN OBTAIN SUCH PROFITS AND RESULTS. THIS INFORMATION IS NOT A RECOMMENDATION TO BUY OR SELL AT THIS TIME, BUT MERELY A PRESENTATION OF TRADES STRATEGIES. THE INFORMATION CONTAINED HEREIN HAS BEEN OBTAINED FROM SOURCES BELIEVED RELIABLE, BUT IS NOT GUARANTEED AS TO THE ACCURACY OR COMPLETENESS. PLEASE CHECK MARKET FUNDAMENTALS AND TECHNICAL CONDITIONS BEFORE CONSIDERING THESE OR ANY TRADES. UNDER NO CIRCUMSTANCES WILL THE COMPANY BE LIABLE FOR ANY INDIRECT, INCIDENTAL, SPECIAL OR CONSEQUENTIAL DAMAGES WITH RESPECT TO THE SUBJECT MATTER OF THE AGREEMENT, LOSS OF DATA OR LOST PROFITS, REGARDLESS OF WHETHER OR NOT SUCH DAMAGES COULD HAVE BEEN FORESEEN OR PREVENTED.