If you are a beginner and want to know some amazing day trading strategies, then you are at the right spot. But how can you make money day trading as a beginner? Read on to find out.
The person who does day trading is known as a Day Trader. A Day Trader is someone who buys or sells stocks or other stock market items during the day. A Day Trader doesn't hold any transactions, also known as 'positions' overnight.
Short-term market movements are monitored by day traders.
Day trading is one of the most successful ways to make money in the stock market, and it is a very profitable career option, too, if it is done properly. Day trading is also known as intraday trading.
But keep in mind that day trading has risks. And if it is not done properly, then you will lose money. Not every trade, even taken by the best Day Traders, makes money. But with good money and risk management, combined with a moderately successful system, one can make an overall profit.
This is the reason that beginners need to be careful about both the stock market and day trading strategies.
Below are the top 10 best day trading strategies that will make your day trading game better than ever.
So can you make money trading as a beginner? Let's get started and find out;
Day Trading Strategies For Beginners
Below are some of the best day trading strategies that need to be followed up very carefully if you want to become a successful day trader or intraday trader.
Starting with the very first and the very crucial strategy that is,
Knowledge is Power:
Knowledge is one of the biggest requirements for day traders. Day traders need to have proper information related to the stock market.
A day trader needs to be informed about stock prices, the latest stock market news, etc.
A day trader needs to be very attentive to events like Fed interest rate plans, the economic outlook, and much more like random news that can affect the markets.
You will also need to keep track of the companies and markets you are interested in and a wish list of stocks you hope to trade.
Check out trustworthy financial websites and read the latest business news.
Set Aside Funds:
You should assess your significant risk tolerance for each trade. One of the biggest mistakes beginner day traders make is risking money they can't afford to lose. Never risk money you can't afford to lose or money that will change your retirement horizon.
Always keep in mind that even the very successful day traders only risk very little, around 1-2 percent of their cash account, which allows them to be on the safe side.
Money management is very important, and it is essential if you want to become a successful trader.
You should set aside a surplus of funds you are prepared to lose because you never know when a loss will occur. One thing you can count on is you will take a trade where you will lose money. No one gets it right 100% of the time.
Set Aside Time:
Different markets trade at different times of the day, but in day trading, moving fast is a rule that is almost the same for every day trader out there.
Day trading is one of those types of trading that can require lots of your time.
Other Day Traders put only minimal time into it, and make consistent profits.
To be successful, the trader must watch the markets and take advantage of opportunities as they develop, which can occur at any time and often on the same day during trading hours.
You will want to set aside time to learn how to trade. Reading books, watching videos, and attending webinars are all part of the learning curve. If you were to become successful in any other area, you would recognize that you need to put time into acquiring the skills necessary for success.
Start Small Price Movements:
If you are a beginner, then keep in mind that starting with a high-profit target can often result in taking a loss. In other words, if you want to make a million bucks every trade, you need to rethink your trading goals
But if you start with a small profit target, then there are many chances for successful results.
During a single session, you only need to focus on one or two stocks only. If you try to track too many items, you can lose focus and have information overload. Just a few stocks make it easier to track and find opportunities.
This is the best and most useful beginner trading strategy:
Avoid Penny Stocks:
Many people think that penny stocks can provide them with great success, but that's not often the case. Many times penny stock prices don't change all that much, or you can't find someone willing to buy or sell them to you.
They are often gimmicky stocks that attract people but they have a jackpot chance of making money. Over-the-counter (OTC) stocks are common among stocks that are traded. They have prices usually at or below $5 per share since they tend to be delisted from major stock exchanges.
Keep away from these gimmicky stocks unless you have done your research and see a real opportunity.
So these are some of the best day trading strategies for beginners. Yes, they are very helpful, but if you really want good profits, then you must follow some of the trading strategies that are based on professional skills and are implemented by experienced traders.
So here are some strategies that successful traders use:
Momentum Trading
Momentum trading is just what it sounds like: finding a commodity that has momentum and joining in to catch a good move in the market.
Many people like momentum trading because it often comes with reduced risk and is often a quick way to hit profit targets.
Often a commodity will experience momentum at the opening of the market.

A major move in price is driven by a catalyst such as a positive earnings surprise, a new drug discovery, or an acquisition by a larger company.

An increase of 10 to 40 percent in the stock prices.

The stocks should be smaller as they trade quickly due to fewer outstanding shares.

The float should not exceed 100 million shares.

By using tools like StockTwits, which is a financial communications platform, you can discover trends or ideas for momentum trading.
The momentum intraday trading strategy is one of the most useful and popular day trading strategies. It can provide you with many new trading opportunities.
Market Gap Trading
Some traders look at what price the market closed at the previous day and compare that with the price at market opening. The price will often head back to the previous day's price, allowing traders to take advantage of the movement. This is called Gap Trading. Many traders rely on gap trading day after day.
Swing Trading
Swing Trading is similar to day trading, but instead of holding a position for a few seconds to a few hours, swing trading is taking and holding a position for multiple days. Check with your broker, since there is often a change in the minimum required account amounts for holding a position overnight.
An important aspect of swing trading is taking smaller gains and limiting losses in short-term trends.
With swing trading, the gains you might be expecting are smaller, but if you work on them consistently, they can provide you with great annual results that will be very profitable.
Normally, swing trading positions last from a couple of days to a couple of weeks but can sometimes last for several months. The trading range plays a very important role in swing trading.
If the prices of stocks are higher, the swing traders usually go for 5% – 10% of profit goals rather than 20% – 25%.
In the market, you may not typically expect life-changing gains, but the time factor plays an important role here.
Swing traders do not focus on gains that develop over a long period of time. On average, swing trades last for a short period of time, approximately 2-10 days.
This will allow you to achieve a lot of small wins, which will add up to a substantial overall return.
You can still see significant profits with just 5% to 10% gains every week or two if you're happy with a 20% gain over a month or more.
Risk management plays a great role in swing trading so keep that in mind.
And to help sort you out with loss management in trading, use BG Bear Bulls Technical Indicator.
Long Term Trading
Some investors purchase a commodity and just hold it for months and years. This is also called "Buy and Hold" trading. It is low risk, if it's even a moderately successful company, the stock price is likely to go up over time. There is always a chance you can ride a stock to zero worth, but again, long-term traders need to keep track of information.
The BG Bear Bulls Indicator again would come in handy for long-term traders.
BG Bear Bulls Technical Indicator
This indicator comprises two distinct indicators – "bull and bear power." The two indicators help a day trader know the price position relative to a certain EMA (exponential moving average). In other words, you can easily determine the market's buying and selling pressure.
Bull Power can be defined as the daily high relative to a certain EMA, while the Bear Power represents a daily low relative to a specific EMA. Understanding the Bull and Bear Power can help us better understand how these technical indicators work.
So, what is Bull and Bear Power?
Generally, day trading represents a continuous battle between buyers (Bulls) and sellers (Bears). The buyers always push the prices of certain assets up (Bull Power), while the sellers push the prices down (Bear Power).
This is a simple demand and supply effect. More buyers mean increased demand, making the prices go up. On the other hand, when the number of sellers increases, supply is high, and the prices go down.
Depending on which side wins, Bulls or Bears, the prices at the end of the day will either be low or high. Understanding how this works can help you make more informed decisions. And the BG Bear Bulls Technical Indicator makes all this significantly easy.
Here is why we consider this one of the best indicators for trading:
It clearly shows the market's buying and selling pressure

It offers the best entry and exit pointers with audible market alerts.

Can work on any financial instrument

Not affected by timeframes

Automatically indicates real-time divergence lines on price charts

Work on all bar types, etc.
WHY BG BEAR BULLS INDICATOR IS A MUST-HAVE TOOL FOR A DAY TRADER
First, it works perfectly with the NinjaTrader 8 platform, one of the best trading platforms for day traders. In addition, it's easy to learn and comes with a lifetime license. As they put it, "once you experience the beauty of trading with BEAR BULLS, you'll never need or want to trade any other way."
The good thing about this indicator is that it also works for all instruments. Whether you are trading in futures (most common), forex, or stocks, you are covered. And, whether a day trader, swing trader, or long-term investor, the indicator works for everyone.
With this indicator, you will never again trade blindly or miss a big move in your trading career. It helps you to eliminate guesswork or emotions in your trading. And to top it all, it helps to grow your earning potential.
See related: Invest $100 to Make $1000 a Day: 5 Top Strategies
Scalping Trading
Scalping is taking a position in the market, and taking profit off of small price changes, often in a very short period of time, from a few seconds to a few hours. Scalpers would not, for example, hold a position overnight.
Often scalpers take many trades to get small profits, these add up during the day to achieve large wins.
Unless otherwise specified, scalpers stick to their predetermined buy and sell targets.
They are fast trades. There is nothing unusual about several trades being made in a matter of seconds.
There are as many ways to scalp as there are scalpers.
If you are a trader who is very confident in day trading and can easily make good decisions even if it has risks involved in it, then scalping trading is the go-to option for you.
Those who follow the scalping strategy are disciplined enough to get out of their position immediately if the price goes against them, minimizing losses.
Scalping isn't suitable for individuals who are easily distracted, lack sharp focus, or have difficulty focusing on long-term results.
But to make Scalping profitable and easy, you can use one of the best Ninja Trader Indicators out there, the BG Blue Chip Indicator.
Generally, there are numerous indicators that try to minimize loss by focusing on issues like trade entry, trade management, or even risk management.
However, I have come to love the BG Blue Chip Indicator for one reason. It's a single indicator that can handle all the mentioned issues. In essence, it's like a one-stop shop for intraday trading.
With such an indicator, you can be sure to get the most out of your day trading activities, maximizing your profits and minimizing the losses.
Pullback Trading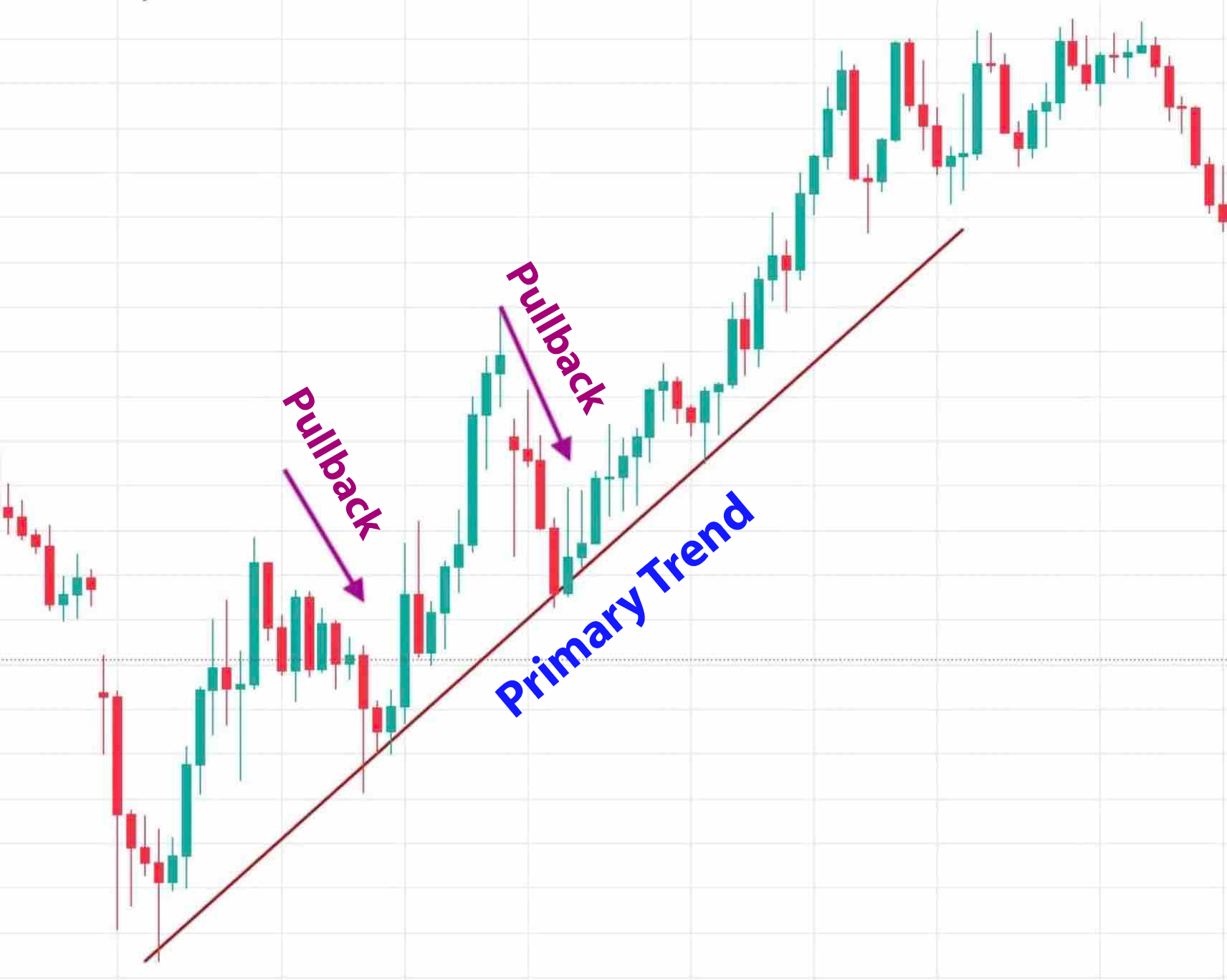 In price movement, a pullback is the opposite of trend trading.
The market returns to its main direction following temporary sharp price movements.
Pullbacks are sometimes called price corrections or retracements.
The most important and crucial step of the pullback trading strategy is that you have to keep an eye on the ETF and stock price.
Until there is a price decline from the trend, the trader has to look for the trend.
Every time the price pulls back and moves in the opposite direction from the primary price trend, it's an opportunity for trade entry.
The pullback trading strategy is one of the best intraday trading strategies.
Many successful traders use what is called Technical Analysis in order to see the trend and watch for the pullback opportunities.
When the Trend is Up:
you have to look for the uptrend. Make sure that the uptrend that you are observing has at least two successive high price movements.
The price target or the price movement needs to appear before the decline of the price or pullback.
When the Trend is Down:
When shorting a stock, you'd need two consecutive decreases in the price.
There is no need to panic when the trend is totally opposite to you because the trend is likely to continue for quite some time.
Finding commodities that are making the most gains, you might find pullback candidates.
The pullback intraday trading strategy is one of the best trading strategies for beginners.
This day trading strategy is based upon trading activity and trading volume.
Pullback trading is quite difficult, so you might need a software tool for this. BG Blue Chip Indicator is one of the best tools for pull-back strategy trading; check it out.
With BG Blue Chip Indicator, you don't need to constantly scan the chart and look for the primary trend and pull back patterns. This indicator will do the job for you and alert you with a sound when it detects a pullback and shows the exact trade entry points. And, not just trade entries, this indicator will help you with Stop Loss levels and estimated exit target levels.
Reversal Trading
The Reversal intraday trading strategy is a very common strategy among successful traders.
There are many different names for Reversal day trading, which include reversal trading, pull back trending, and mean reversion trading.
By trading against the trend, you against the flow, it can feel like you are defying logic.
To predict pullbacks, you must be able to identify potential pullbacks accurately.
In order to do this successfully, you need a thorough understanding of the market session.
One of the unique instances of reverse trading is the 'daily pivot' strategy, which focuses on buying and selling daily lows and highs.
So these are some of the best intraday trading strategies that can provide beginners with lots and lots of great profits.
Let's take a look at one of the fundamental questions related to day trading that is,
Can You Make Money Day Trading?
Day Trading can be profitable if you have a reliable method and good risk management skills.
But even the best traders in the world take losses.
By accurately timing the market, investors can often make six-figure profits by correctly predicting price movements.
There are as many sets of trading rules and as many trading styles, as there are successful traders. They all do have some things in common, such as money management, some sort of edge, and risk aversion.
Some folks purchase shares in a commodity and just hold. It should be noted that sometimes folks talk about trading, when they are just "buy and hold" traders, and they have no idea what the value of their commodity is at that moment.
The road to successful Trading is littered with many folks who failed for one reason or another. There is a steep learning curve, and with no one able to make 100% successful trades, losses are as common as strikeouts in baseball.
It's not uncommon for someone to decide to trade, take several losing trades, one after another, watch their account take hit after hit, and decide that trading isn't for them.
But if one has a deep desire to learn, and can find a successful strategy, combined with discipline and a solid set of trading rules, they can pull money out of the market on a regular basis.
What Makes Day Trading Difficult?
Intraday trading or day trading sounds easy; however, it is very difficult in reality. Day trading not only requires strategies but also requires lots of patience, practice, and knowledge.
Other Traders:
You trading at your computer on your account is what is called a Retail Trader.
There are also traders who trade for a company, these are called Institutional Traders.
It's important to understand that you are competing with other Retail Traders, as well as Institutional traders who do this at a high skill level.
Keep in mind that these professional traders have the fastest and most powerful computers, and the best connections, and make sure they get market information as fast as possible.
It's not unheard of for professional traders to spend thousands a month to get news related to trading as soon as possible. Many successful traders don't try to compete with these traders, but rather match what they do.
Your Self:
Besides other traders, you will also have to deal with the psychological aspects of trading. Some traders say this is the hardest part of trading. Just about anyone can get in and out of a trade, the hard part is dealing with the consequences.
Both a win and a loss have their own effect on you as a trader. Being in a trade, with real money on the line, you will experience many different feelings. Often your brain goes into fight or flight mode or just freezes up. Panic isn't a stranger to traders. Taking several losses in a row will tax your emotional fitness.
Many traders quit trading many times, the successful ones adjust their rules and strategies till they find success.
Taking a win also has its own set of feelings. Good traders record all trades and the associated information.
As you become more skilled, you will be able to remove some, but not all, emotions from your trading.
Your family should not be able to tell if you made $3000 or lost $3000 when you are done trading.
Risks of Day Trading
Day trading has some risks that a trader needs to be aware of. So let's have a look at this.
Be prepared to suffer financial losses
The first few months of day trading are usually marked by large financial losses for day traders. It's common for them to not make profits for a while, so they should never risk money they can't afford to lose.
Day trading is an extremely stressful and expensive full-time job
If you are thinking that day trading is very easy and it is not going to cost any of your time, then you are totally wrong.
Day trading can be time-consuming, stressful, and expensive also. In order to spot market trends, some traders need to concentrate on dozens of ticker quotes and price fluctuations.
The cost of intraday trading can be high, with traders having to pay a broker's commission on each and every trade. Many traders feel like they have to have a faster, more powerful computer to trade with. There is also the money needed to open a brokerage account.
Don't believe claims of easy profits
You will sometimes hear claims of huge profits, almost overnight. They make it sound as easy as playing tic-tac-toe. These claims are often from folks who are trying to sell you something.
Day trading is not an easy task at all. So, be skeptical of any claim of easy profit. Trading is hard work. It can be a great way to make money, often in a short amount of time, but there is a lot of work behind every successful trader.
How to Limit Losses When Day Trading
Limiting the losses during trading is crucial to success. Even once you find a profitable edge, you will lose more money than you make if you can't limit losses.
Losses on a commodities position can be limited by a stop-loss order.
For long positions, a stop-loss can be placed below a recent low, or for short positions, above a recent high.
Volatility should also be taken into consideration.
One would place a physical stop-loss order at a level that meets your risk tolerance. It is essentially the maximum possible loss.
The trade will immediately be closed if it takes an unexpected turn.
Making use of trade indicators for day trading is also a great way of limiting losses in your day trading activities. Read more on this in our complete overview of the best indicators for day trading.
Is Day Trading Illegal?
No! Day trading is not illegal at all, but due to financial risk, it is not suitable for everyone to do.
Almost all day-trading strategies use leverage on margin accounts, so day traders can end up in debt if they lose more than they have in their account. Most reputable brokers will get you out of your position if it looks like you're about to lose more money than you have in your account.
How to Start Day Trading?
After all the knowledge shared above related to day trading, you must be thinking about starting it on your own. There are a few basic steps that need to be followed in order to start day trading properly.
So starting off with the very first step, that is,
Learn the market
You will need to spend some time looking at the market you are wanting to trade in, to get a feel for what it does. The more chart time you get, the better your chances for success.
The stock market requires more than a general understanding; one must understand how world events influence the volatility, how various industries respond to them, and how trades are carried out. There are many day traders who specialize in particular industries.
This is the reason that professional traders need to educate beginning traders who have no knowledge related to investment objectives, intraday strategies, opening and closing prices, and much more.
Develop a strategy
A trader has to develop his own strategies, which fit their risk tolerance and profit goals. Many new traders borrow from other traders and adapt these strategies as they gain more experience. There are many courses, classes, videos, blogs and vlogs, and libraries full of books one can take advantage of.
The only thing you need to know is that speculation is the base of all trading styles. It is possible to watch live trades and security trades online, look at charts and trends and read financial analysis for free through many online resources.
Set up a demo account
This is an important step for beginners. The investor has to first set up a demo account before investing their real money.
Many brokers will let you set up a demo account without putting any money into it for several weeks.
On this demo account, you should invest your time in practicing, try different strategies and observe which one works for you the best. Make sure you get better from your past performance over time.
As a beginner, you have to think and practice many different things like how to get in and out of a trade, and how to take a 'long' and 'short' trade. Become familiar with the intraday trading rules, day trading rules, strategies, styles, asset price, and margin accounts. Learn how volume affects price, and watch how news events affect the market.
Set goals and know your limits
The best time to trade is during normal trading hours. You do not want to be in a trade overnight, as the price can fluctuate and erase profits earned during the day.
Do not give up your day job until you consistently make more money trading than you earn at your job. Some traders only trade to supplement their income, others are looking to replace it. If you are losing money by going to your job, that is a good sign you are ready to trade full time.
Have realistic income goals for yourself. Realize you will have losing trades as well as winners.
Move your income goals up slowly. Make sure you have a solid system in place and are not relying on luck.
Start with small positions, keeping your risk small. Less is more at this point. Sometimes you can make money by not losing money. Learn to sit on your hands!
Depending on the amount in your brokerage account, and what commodity you trade, you could be subject to the Pattern Day Trader Rule. This limits the number of trades you can take per week.
Find out the tax implications
There are some tax implications for making money as a day trader. Once you are consistently profitable, you need to contact a tax professional.
There are some tax breaks some traders get, depending on which commodity one trades.
Also, depending on where you live, and if your government considers you an "investor" or a "trader", that can affect your tax bill. For help in identifying where your activities fall within the tax system, as well as the applicable rates, you should consult a tax professional.
What Is The Best Day Trading Strategy?
Momentum strategy and Gap Trading strategies are considered two of the best and very effective trading strategies. If you are using these strategies, then you also need to focus on technical analysis.
If a trader has knowledge about technical analysis and chart reading, then they can earn a good profit relatively easily.
How do you Profit from Short-term Stock Trading?
Short-term stock trading is one of the most profitable types of stock trading, but it can be very risky.
If you want to master short-term stock trading, the below-mentioned points are a good place to start.
You have to observe the moving average.

Understanding the overall cycles and patterns is a must.

Knowledge about bear and bull markets.

A good brokerage account and brokerage firm are important.
A successful trader knows how to control risk.
Trading short-term entails risk, so minimizing risk and maximizing return is essential. Because of market reversals, sell stops or buy stops are needed.
If a stock reaches a predetermined price, a sell stop order is triggered. The order to sell becomes effective once the market price has been reached.
A buy-stop order is exactly the opposite. When the stock rises to a specific price, it becomes a buy order, which is used as a short position.
Short-term traders follow this rule in general. Risk Management is more important than profits. In other words, you need to master how to effectively minimize your losses by choosing perfect Stop Loss price levels.
If you choose smaller Stop Loss, you are more likely to get stopped out and get more losing trades due to volatility. Also if you choose larger Stop Loss, you are exposed to larger losses in each trade.
I would suggest using the BG Order Flow Zones indicator. This indicator looks at order flow blocks, pricing trends, and pricing pressure with support/resistance to give you estimated Stop Loss levels. Remove the guesswork and use the AI and data to determine the better Stop Loss.
Is Day Trading Worth It?
I guess that this is almost obvious. Day trading is absolutely worth it. While we have seen day trading to be a risky venture, especially if you are not well equipped, it's also a lucrative one.
Generally, traders depend on price and trend changes to pocket profits, something that might easily bring losses. However, if done right, having the best information and tools, you can certainly make good money out of it.
Check out our guide on how to make $1000 daily as a day trader.
So these are some of the best day trading strategies for beginners. Yes, they are very helpful, but if you want consistent profits, then you must follow some of the trading strategies that are based on skills and are implemented by experienced traders.
Wrapping It All Up!
So we have discussed not just the strategies but many important points and questions related to day trading. I hope that this article has been helpful.
Day trading can be profitable if done properly, so use all these points and strategies and become a successful trader.
If you have any queries feel free to share them in the comment section, we would love to answer them.
Related Resources