Wondering how to make money on Audible? The list of options is limitless regarding making money on Audible. Let's explore the various ways. While there are numerous ways to earn online, not all options are genuine or lucrative. Some will give you just a few coins, while others are simply scams looking to reap you off.
Online writing is one of those genuine and lucrative options you can rely on. Even better, if you are writing and selling books online, this can quickly become an excellent source of passive income. And who doesn't want to earn without having to put in so much effort every minute of the day?
Audible is one platform that makes this seemingly far-fetched dream come true. It lets you quickly write and sell your books or other content through audio versions. So, if you wish to learn how to make money on audible, this article is tailored just for you.
What is Audible?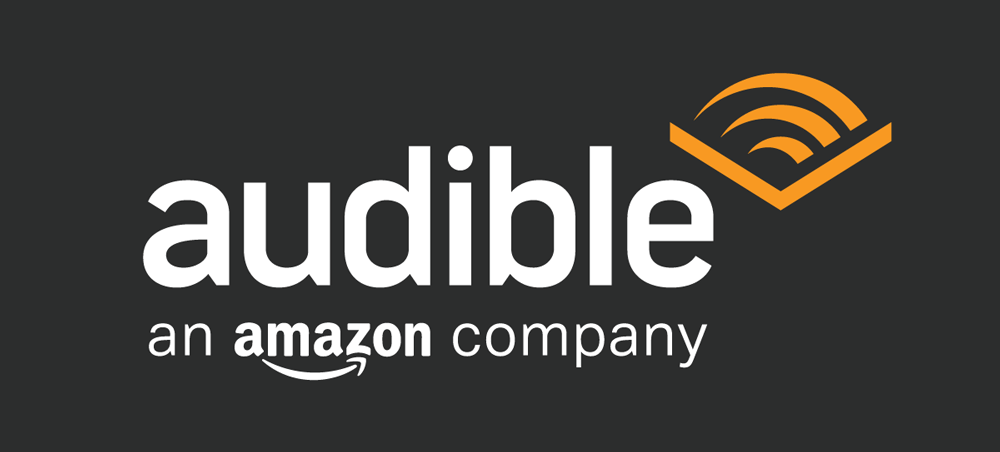 Before everything else, let's first understand what Audible is. In simple terms, it's an online platform that digitalizes written content, converting it into audio files to make it easy to listen to.
While audible is not the only platform of its kind, it's undoubtedly the largest. The platform boasts an extensive library of over 200,000 titles of audiobooks and other forms of audio content. In addition, there are more than 300 million monthly active members on the platform.
Compared to other audio content distributors such as iTunes or Google Play, Audible offers the most comprehensive collection of audiobooks and podcasts. Plus, it even offers members-exclusive content.
Audible is your platform if you want audio content from professional and even celebrity narrators. You'll undoubtedly want to have more due to the quality of content they offer.
See Related: How to Make Money Fast as a Woman: Realistic Ways
How to Make Money with Audible: 6 Top Ways
While creating audiobooks and audio content is the primary way of making money online with Audible, it's not the only way. In fact, there are several other ways you can use to make good money with the platform.
If you seriously want to make money with Audible, consider these options:
Creating audiobooks
Affiliate marketing
Narrating for other audiobook producers
Selling the platform's products and services
Amazon Associates Program
Creating Podcasts
Let's explore each option to help us better understand the whole idea.
1. Create your Own Audiobook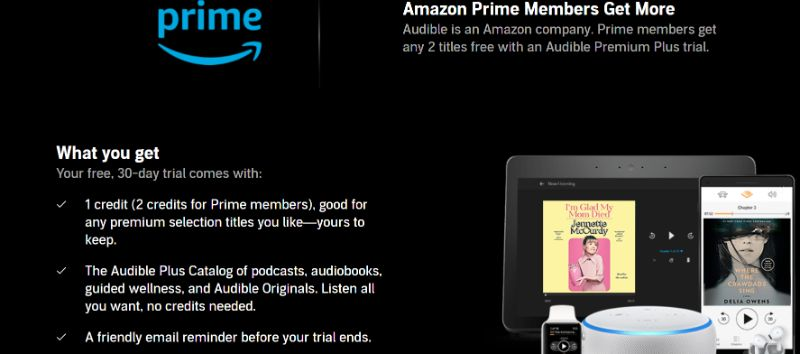 As mentioned earlier, audiobooks are among the best money-making options in Audible. So, if you are an author or a content creator, consider writing and selling your books in audiobook format on Audible.
But bow, does it work?
Well, it's pretty easy with the Audible self-publishing platform, known as Audiobook Creation Exchange or ACX. This is where you create and publish your audio ebook before it goes to Audible.
The great thing here is that it's pretty easy to join ACX. All you need is to create an account, claim your book, provide the necessary details, and then upload the files. You can create the book and record it or seek the services of a professional narrator.
ACX gives you the flexibility to showcase your talent and make money from it. Plus, you can create content from any topic based on your passion, interest, or expertise. Whether fictional or non-fictional, Audible allows you to make money from your creativity.
However, there are some steps you should follow if you wish to succeed in Audible. That's besides hard work, consistency, and producing good content. They include:
Finding the Right Niche and Topic
Before you put that pen on the paper, you first need to know what you are writing about. Will it sell, or will it be a waste of your precious time? Finding the right niche helps you to get more interested readers and, subsequently, more money.
First, research the best field or niche your audiobooks will be about. Then establish what people are looking for. In other words, identify the right keywords and topic.
From here, you can start writing your audiobook. You are now sure that people will come across your book.
See Related: List of Untapped Niche Markets: Target an Untouched Audience
Write the Book yourself or Hire a Ghostwriter.
When writing is your passion, writing for yourself is the best idea. This way, you can give it your best. However, hiring a ghostwriter is also an excellent option if you don't have the time or think someone else might produce a better piece.
The good news is that you can get great ghostwriters in numerous places. From platforms like Fiverr and Upwork to sourcing from your friends, there is always a good writer.
See Related: Upwork Alternatives for Freelancers and Businesses
Creating the Cover
Your book needs a good cover. This one you can do it by yourself through an app like Canva or hire professional services. Hiring that professional touch is better if you aren't as good at graphic design.
Narrating the Book
Like any of the steps mentioned above, this can also be a DIY step. But, some professional narrators would gladly narrate the book for a fee.
So, if you believe in your voice, go ahead and do it. If not, look for an affordable narrator.
Publish your Audiobook
Once your audiobook is ready, you can now publish it on Audible. In addition, you'll need to promote the book through social media platforms like Facebook, Instagram, or Twitter to ensure that it reaches a broader audience.
Luckily, ACX offers you 50 free promotional codes. You can send these to friends, family, or other groups for downloads. Each download represents a sale, which in return helps to rank your book higher on Audible.
Good ranks mean more people will see your book. And with the huge audience base that Audible has, this will most likely translate to more sales.
See Related: How to Make your Money Work for You
2. Become a Narrator Yourself
If you don't publish your audiobook or other spoken-word entertainment, it doesn't mean you can't earn money on Audible. In fact, there are several other options for making money online with the platform.
Becoming an audiobook narrator is an excellent option. Here, you will be paid for each finished hour, a royalty share (sharing with the book's author or rights holder), or a combination of both. Usually, the finished hour option is a flat rate, which means the other two compensation options might earn you more money.
To start as a narrator, you need quick signup on ACX, and you are good to go. After you've created your profile, the stage is set for making money online. Interestingly, experienced narrators can take home up to $5,000 monthly.
3. Earn Money Through Affiliate Marketing
Are you looking for passive income? The Audible affiliate program is certainly worth a try. And the good news is you don't need your own audio content for this.
If you have a blog with good traffic, you can easily make money by promoting audiobooks from other creators to your audience. You can also do this through your social media platforms or emails. But, income here will depend on the size of the audience base you can provide.
Usually, you will have an Audible affiliate link to promote. If there is a sale through the link, then you receive a commission for it. The more products you can sell, the more money you will make.
Getting started here is also relatively easy. All one needs is to visit Audible's website and register. After registration, you are given your affiliate link, and you are good to start making money.
You are paid a commission whenever anyone registers or subscribes to a plan with Audible through your link. And you can do this even on your 30-day free trial, which also gives you access to a free audiobook.
The primary subscriptions include:
Audible Plus for $7.95 a month – This one comes with thousands of best-seller books, originals, and podcasts.
Audible Premium Plus at $14.95 a month – This one comes with one monthly credit, which covers premium titles selection and the Plus Catalog.
And if you want more credits, you can always upgrade to higher plans, giving you up to 24 credits. With these resources, all you need now is to promote the links. Your hard work and audience base will determine your income.
See Related: Best Books About Affiliate Marketing
4. Earn Money through Amazon Associates Program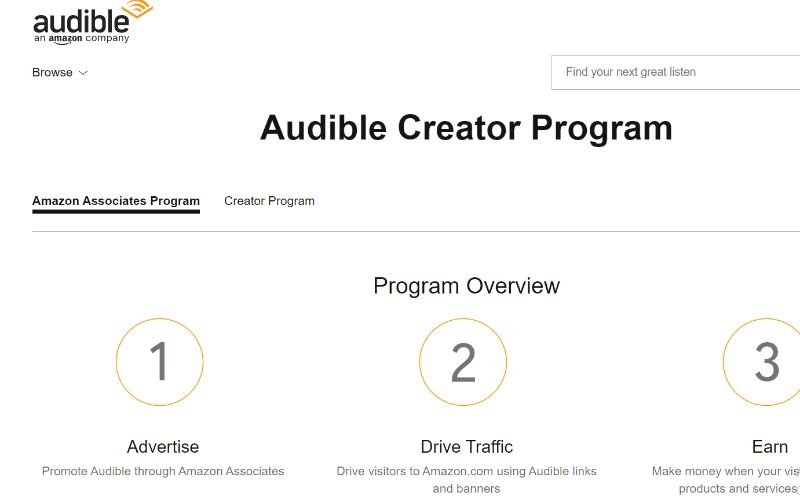 Even better, Audible affiliate is a subsidiary of Amazon. This means you don't need to do much if you are a member of the Amazon associates program. Any Audible product or service you advertise that is bought on Amazon helps you earn money.
In essence, Amazon Associates help publishers or website owners to monetize their sites by advertising products from Amazon. And with millions of products to advertise and a massive user base, this program is undoubtedly among the best affiliate programs globally.
As such, subsidiaries like Audible also benefit from it. With the program, you can refer your audience directly to Amazon to buy Audible products or subscriptions. And for any successful purchase or signup, you receive a fixed fee.
For instance, if your referral gets the Gold Digital Membership, you receive $10. When they sign up for the Audible Free Trial Membership, they'll receive a $50 commission. Also, any audiobook bought earns you $0.5.
Your referrals will go high with colossal traffic, translating to more sales. That way, this can quickly become a reliable source of passive income stream.
See Related: Surveys for Amazon Gift Cards
5. Sell Audible Products and Services
Yes, you read that one right! Audible also has other products and services you can sell on the platform. As such, even without your own content, audiobooks, or referrals, you can still make money.
The platform also has its own inventory of audiobooks and resources that are not available in the library. From these products or resources, you can make affiliate commissions on sales. The most amazing products here include audiobooks, Ebooks, courses, and several Audible tools.
Luckily this option of making money on Audible doesn't require too much effort. In fact, you don't need any promotion. Simply open an account with Audible, record an audio version of the product or service you wish to sell, and publish it on Audible.
See Related: How to Make Money with Anime
6. Create Podcasts
The last way to make money on audible is by creating your own podcast. This content marketing can bring many visitors and potential clients to your site.
But to create podcasts on Audible, you need a professional studio or quality recording equipment. Once you have these resources, you can record an audio version of any topic or niche you wish and publish it on the platform for sale.
It's important to note that creating podcasts is more time-consuming than affiliate marketing or selling products through Audible directly. However, once you've created a following for your podcasts, this can become one of the most lucrative sources of income on Audible over time.
Usually, there are two main ways of earning money on Audible through podcasts. The first one is by receiving royalties once your listeners buy podcasts' access on the Audible app or website. Secondly, you can also get royalty payments when listeners download your shows or podcasts.
All you need to make more money here is to ensure that you advertise your podcasts well to attract more listeners. You can do this through social media adverts or even email newsletters.
How Much Money Can you Make on Audible?
Audible has been a reliable source of passive income for many people. But how much you earn depends on your sales volume and the number of referrals.
If you have an audience base with millions of users, you can easily make thousands of dollars per month on Audible alone. But if yours is a smaller audience, then this may not be the best place to start at the beginning.
The truth is that the audiobook market has been on the rise for a while. The Audio Publishers Association confirmed that audiobook sales have doubled since 2012. This shows great potential for future sales.
Several authors and content creators in Audible confirm that if you do this well, you can make at least $1,102 monthly if you attain 1,000 audiobook sales monthly. This is not bad, especially since it can potentially be a passive income stream.
Usually, each book you publish on Audible can fetch you between $15 to $25 for every sale. The amount will depend on the type of book. So, the more books you sell, the more money you get.
Also, through the affiliate program, every person that registers through your link fetches you $15 for every subscription. But if they buy an audiobook, you get $0.50.
If you decide to be an audiobook narrator, you can easily make between $500 to $5000 for a single book. With this, you can see that it's possible to make money on Audible.
FAQs
Must I start an Audible account to make money?
If you are interested in making money online through audiobooks or podcasts, then starting an account with Audible may be a good idea. However, keep in mind that this takes time and effort to build up a successful income stream here. Researching the platform to know what to expect before signing up for an account is also important.
How much money can you make with Audible?
This will mainly depend on your sales volume, which is mostly affected by the number of referrals you have. But, with a sizeable audience base and loyal followers, it is possible to make good money monthly. Some creators and affiliate partners make up to $500 a month.
What are the main ways of making money online on Audible?
The main options include affiliate marketing and selling your products (audiobooks) or services (narrating) through the platform. Other options include creating podcasts and getting paid for them in royalties and affiliate commissions. You can also sell the platform's products and services.