Succeeding in day trading is quite easy if you have the necessary resources and tools. Day trading books are your first source of information before you can gain experience on your own. And, we have just the best books for you.
Having the right information is key if you want to succeed in anything. Whether you are starting a business or advancing your career, you need to be well equipped.
Day trading is not any different. And, knowing the right books to read is crucial if you want to become a professional day trader. You need to have information, experiences, and tips from those who had done it before you and succeeded.
For this reason, we've dedicated this article to help you identify the best day trading books to help fast-track your career. This way, you won't have to experiment on your own but rather build from other people's experiences and expertise.
If you are ready to make it big in day trading, check out these day trading books for the best tips, strategies, and information about the changes in the financial market.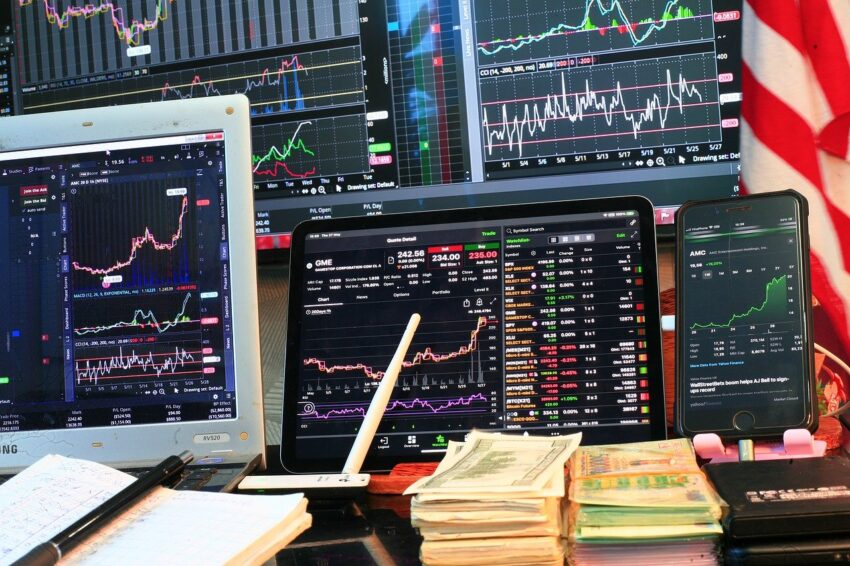 How to Choose the Best Day Trading Books
Author Background
Before choosing a day trading book, make sure that you familiarize yourself with the author. It is important to buy a book written by a reputable author.
The author should at least be writing the book from experience. They should have a track record of their failures and wins. Books written by experts are the best, as you can be sure that they have skills and experience in the area.
Skill Level
The book that you choose should match your skill level. If you are looking for the best day trading books for beginners, stay away from books that focus on advanced day trading. Always start with a book that is easy to read so that you can grow your level over time.
Any field, including day trading, has some technical jargon, so the last thing you want is to choose a book that will be too difficult to read.
Practical and Actionable Lessons
A good day trading should offer actionable and practical lessons. It should not be a book based on theories and assumptions. By the time you finish reading the book, you should be able to start day trading by following the instructions in the book.
Therefore, before buying a book, go through the table of contents and see whether the lessons are practical and actionable.
Best Books on Day Trading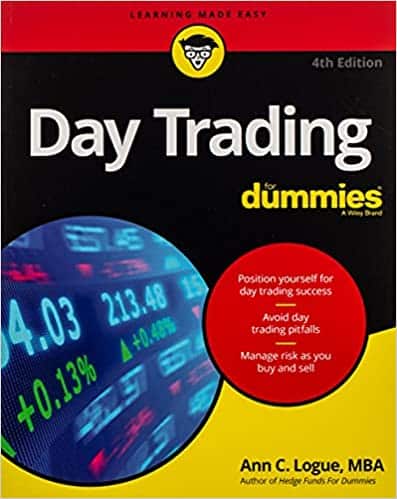 Day Trading for Dummies is written by Ann C. Logue, a finance expert, and a professional financial analyst. The book offers you an action plan with the best tips to help you kick start your day trading journey.
It even has a small cheat sheet that you can go through before you buy the book. The cheat sheet is like a summary of the book, giving you an overview of what the book entails.
In addition, the book helps you with the day trading lingo in case you are a beginner. With this book, you will learn about cryptocurrencies, regulations, risk management, and programming.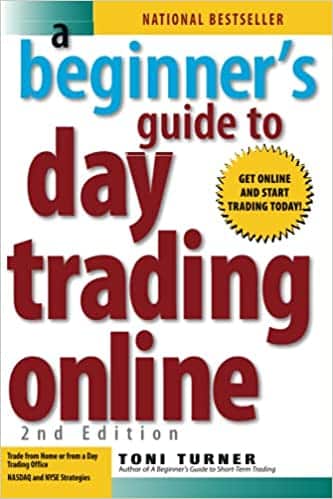 This book is ideal for beginners who want to learn how the day trading market works. The book is written by Toni Turner, an investor, and trader for the past fourteen years. With the change in financial markets, the author published the 2nd edition to keep up with the changing financial environment.
This is an easy-to-read book with a step-by-step guide to help you start day trading. It covers topics such as stock prices, new trading products such as ETFs, and insight on the new trader perspective.
See related: 6 Best Indicators for Day Trading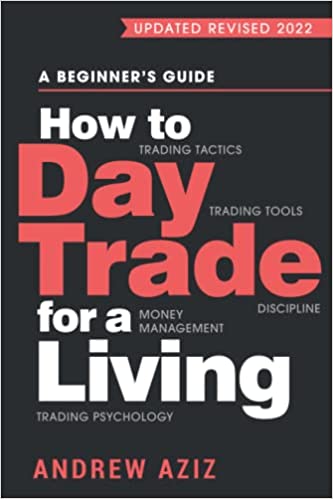 This is another incredible book written by Andrew Aziz, a Canadian trader and property fund manager. It is best suited for beginners as it gives you a head start on starting, what to expect, and even developing a strategy.
The book is beneficial for those who want to make day trading their career, as it teaches how to find stock, enter the trade, profit-taking, and stop losses. The author emphasizes that day trading is not gambling, so having the right tools and resources is the only way to succeed.
If you are looking for one of the best technical analysis books, this one is a must-have. It also covers market indicators and technical analysis, ensuring that you make the most informed choices.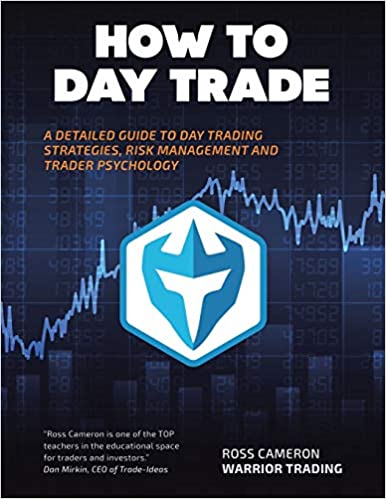 How to trade is a day trading book written by Ross Cameron, the founder of Warrior Trading and a day trading teacher since 2014. The author emphasizes the importance of accessing volatility and managing risk. These are the most important attributes of day traders.
And, besides teaching you how to become a good trader, the book starts by going deep into the psychology of traders. It builds a foundation that helps you understand what it takes to be a good trader. The author gives you lessons based on personal experience, so all the tricks are based on facts and research.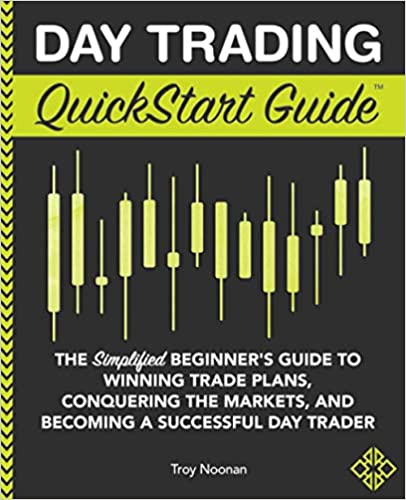 Written by another professional trader and trading coach, this day trading quick start guide gives you the best foundation to start day trading. Troy Noonan has made this piece a bit unique from most other books, equipping it with free digital assets like a trade analyzer, indicator, calculator, and commission rebate that will help you to track your progress.
Using the book, you will learn how to trade first without using money, giving you a perfect place for practice. You will also learn risk management and how to protect your trades.
The book has lessons on derivative markets, trading psychology, and technical analysis. This is one of the best technical analysis books for day traders.
Are Day Trading Books Worth It?
Yes, day trading books are worth it. Learning the skill takes time and experience, so you need someone to guide you through the process. Reading books from experts will help you to learn fast since they provide you with a step-by-step guide.
It is advisable to read one book at a time to avoid getting overwhelmed. Each author is talking from their personal experience, so the information might be contradictory. It is up to you as a reader to find what works for you and go with your strategy.
Also, besides reading day trading books, you need to choose the right trading platform to actively day trade. Putting the knowledge into practice is very important if you need to see results.
Related Resources
Disclosures:
U.S. Government Required Disclaimer Stock, Futures, Forex & Options trading has large potential rewards, but also large potential risk and it is not appropriate for everyone. You must be aware of the risks and be willing to accept them in order to invest in the futures and options markets. Don't trade with money you can't afford to lose. This is neither a solicitation nor an offer to Buy/Sell any securities. No representation is being made that any account will or is likely to achieve profits or losses similar to those shown on this website. The past performance of any trading system or methodology is not necessarily indicative of future results.
CFTC RULE 4.41 Hypothetical or simulated performance results have many inherent limitations, some of which are described below. No representation is being made that any account will or is likely to achieve profits or losses similar to those shown. In fact, there are frequently sharp differences between hypothetical performance results and the actual results subsequently achieved by any particular trading program. One of the limitations of hypothetical performance results is that they are generally prepared with the benefit of hindsight. In addition, hypothetical trading does not involve financial risk, and no hypothetical trading record can completely account for the impact of financial risk in actual trading. For example, the ability to withstand losses or to adhere to a particular trading program in spite of trading losses are material points which can also adversely affect actual trading results. There are numerous other factors related to the markets in general or to the implementation of any specific trading program which cannot be fully accounted for in the preparation of hypothetical performance results and all of which can adversely affect actual trading results.
Hypothetical Results Hypothetical or simulated performance results have certain inherent limitations. Unlike an actual performance record, simulated results do not represent actual trading. Also, since the trades have not actually been executed, the results may have under- or over-compensated for the impact, if any, of certain market factors, such as lack of liquidity. Simulated trading programs, in general, are also subject to the fact that they are designed with the benefit of hindsight. No representation is being made that any account will or is likely to achieve profits or losses similar to those shown. ONE OF THE LIMITATIONS OF HYPOTHETICAL PERFORMANCE RESULTS IS THAT THEY ARE GENERALLY PREPARED WITH THE BENEFIT OF HINDSIGHT. IN ADDITION, HYPOTHETICAL TRADING DOES NOT INVOLVE FINANCIAL RISK, AND NO HYPOTHETICAL TRADING RECORD CAN COMPLETELY ACCOUNT FOR THE IMPACT OF FINANCIAL RISK IN ACTUAL TRADING. FOR EXAMPLE, THE ABILITY TO WITHSTAND LOSSES OR TO ADHERE TO A PARTICULAR TRADING PROGRAM IN SPITE OF TRADING LOSSES ARE MATERIAL POINTS WHICH CAN ALSO ADVERSELY AFFECT ACTUAL TRADING RESULTS. THERE ARE NUMEROUS OTHER FACTORS RELATED TO MARKETS IN GENERAL OR TO THE IMPLEMENTATION OF ANY SPECIFIC TRADING PROGRAM WHICH CANNOT BE FULLY ACCOUNTED FOR IN THE PREPARATION OF HYPOTHETICAL PERFORMANCE RESULTS AND ALL OF WHICH CAN ADVERSELY AFFECT ACTUAL TRADING RESULTS. THERE IS RISK OF LOSS IN ALL TRADING. PAST PERFORMANCE IS NOT INDICATIVE OF FUTURE RESULTS. ALL RESULTS ARE HYPOTHETICAL. NO IMPLICATION IS BEING MADE THAT ANYONE UTILIZING ANY OF THE SERVICES OF BUYSIDE GLOBAL HAS OR CAN OBTAIN SUCH PROFITS AND RESULTS. THIS INFORMATION IS NOT A RECOMMENDATION TO BUY OR SELL AT THIS TIME, BUT MERELY A PRESENTATION OF TRADES STRATEGIES. THE INFORMATION CONTAINED HEREIN HAS BEEN OBTAINED FROM SOURCES BELIEVED RELIABLE, BUT IS NOT GUARANTEED AS TO THE ACCURACY OR COMPLETENESS. PLEASE CHECK MARKET FUNDAMENTALS AND TECHNICAL CONDITIONS BEFORE CONSIDERING THESE OR ANY TRADES. UNDER NO CIRCUMSTANCES WILL THE COMPANY BE LIABLE FOR ANY INDIRECT, INCIDENTAL, SPECIAL OR CONSEQUENTIAL DAMAGES WITH RESPECT TO THE SUBJECT MATTER OF THE AGREEMENT, LOSS OF DATA OR LOST PROFITS, REGARDLESS OF WHETHER OR NOT SUCH DAMAGES COULD HAVE BEEN FORESEEN OR PREVENTED.