Which is the best investing platform to start your investing journey – Acorns vs Robinhood? Well, each has unique features that make them better, according to different investors. This guide helps to highlight some of these apps' main features to help you make the right choice.
The investing world has changed immensely in the recent past. Unlike before, when investing was only left for the professionals and the moneyed individuals, the tables have turned.
Every day, investing in the world of stocks becomes easier. This is due to the numerous investment apps and platforms that keep joining the market daily. Right now, anyone can invest in the stock market, no matter the level of skills or the amount of money they have.
And some apps even allow you to do all this from your smartphone. However, each new technology comes with its share of benefits and drawbacks. For instance, while these investing apps have made it possible for anyone to invest, identifying the right platform has become a challenge.
But, we want to make this easier for you.
Today, we'll explore two of the most popular apps in the micro-investing world – Acorns vs Robinhood.
Acorns vs Robinhood
These two investing apps are great. No doubt about that! However, each appeals to a different audience and offers unique features. That's why we'll start with the basics.
What is Acorns?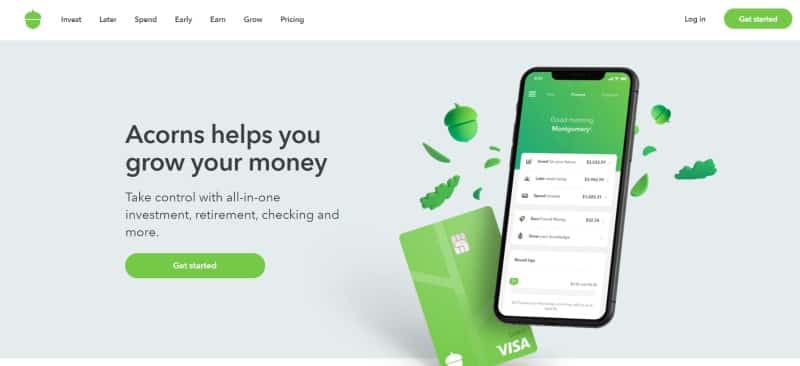 Acorns is an American investing app specializing in both micro and Robo-investing. While the app is only around 9 years old, it has grown to become one of the most used investing apps globally.
As of 2020, the app was already enjoying a huge user base of around 8.2 million and managing over $3 billion in assets.
The platform is designed with ease of use at its core. It uses a model known as the spare change Round-ups, which helps people invest without realizing they are doing so.
Unlike other platforms, where investors can buy individual stocks, Acorns has 5 prebuilt portfolios. This way, your money is automatically invested in any of these portfolios.
This is one major difference between these two apps – their investment models.
What is Robinhood?
Robinhood is also an American, commission-free investment app that has revolutionized the stocks market. The platform came into the financial services market in 2015 and has become one of the most popular places for traders seeking to trade in stocks, ETFs, and even cryptocurrency.
Generally, the Robinhood app was designed with beginners in mind. For traders looking to invest in the stocks market, the app offers just that in the simplest manner. It has the most basic but functional interface that makes it ideal for novice traders.
Robinhood is one of the largest investment apps, with a user base reaching 31 million as of 2020. To start investing with Robinhood, register here.
Acorns vs Robinhood: Differences
As this article is meant to help us easily choose between the two online brokerage apps, exploring their differences is the best way to go about it.
We can only achieve this by looking at how each of these apps works and their features.
How does Acorns Work?
Generally, Acorns is a micro-investment app designed to automate investing and make it accessible to anyone. Its strategy revolves around saving the little spare change that you wouldn't even have noticed you had.
And this tech-driven app requires as little as $1 a month to offer a portfolio for any investor and even automate their investments.
To start investing with Acorns, you need to create an account and link a debit or credit card. From here, any time you shop using the linked card, the Acorns app automatically rounds up the purchase to the nearest dollar. For instance, if your purchase was $45.5, it rounds up this to $50.
The app takes the difference of $50 minus $45.5, which is $0.50, and invests it for you in one of its five prebuilt portfolios. However, it waits until the round-ups reach at least $5 before investing it.
With this, you'll be investing with every purchase without even realizing it. Start investing with Acorns now.
Acorns Main Features
1. Automatic Investing
For investors seeking a hands-off type of investing platform, Acorns offers just that. The app automates your investments, either daily, weekly, or monthly.
The main way Acorns does this is through the round-ups. Every time you make a purchase, any spare change leading to the next dollar is withheld and automatically invested through the app.
This feature makes investing quite easy, as the platform does this automatically. This way, the investor doesn't strain to save too much money to invest. It is a great way to encourage a saving and investing culture.
2. Acorns Grow
Generally, this is like a resource area for investors, especially the new ones. Here, new investors can take advantage of the numerous articles and up-to-date news available in the section.
It offers unbiased, reliable information on how to make money and what is happening in the market.
3. Earn Found Money
Through its partners, Acorns offers its users an easy way to earn money when they spend some at specific businesses. Investors can use the earned money to increase their investment money and grow their portfolios.
It is a simple strategy that allows the investors to save money when they spend to get more investing money. Some of the found money partners include Airbnb, Macy's, Nike, Walgreens, etc.
All you need is to shop or spend like you always do, get your cashback, and let Acorn do the rest – invest for you.
4. Round-Ups Multiplier
Sometimes, you might feel like the round-ups that the platform is investing in from your purchases aren't enough. If you want to increase this amount and invest more, the round-up multiplier is an excellent feature.
Instead of choosing the normal 1x option, you can choose a higher multiplier like 2x, 4x, or any higher number. This way, instead of investing, let's say just $0.4, you can multiply this by a multiplier of your choice and invest more.
5. Acorns Early
This feature is ideal for investors seeking to invest in their kids' future. It is usually a custodial account that helps parents and guardians plan ahead for the sake of their children.
Teenagers can save this way, through their parents' guidance, and later transfer the accounts to their names when they become of age.
See related: Acorns vs Robinhood vs Stash: What Micro-Investing App is Best?
How Does Robinhood Work?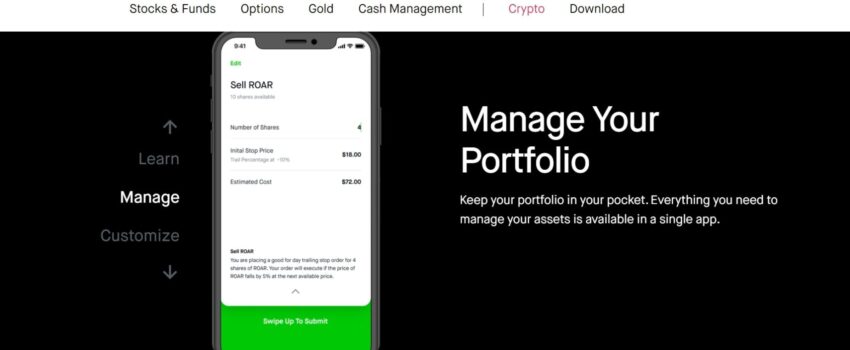 As mentioned, Robinhood is a commission-free stock trading app. And to start investing with Robinhood, you first need to download the app and set up an account. Also, the app will check your credit history and perform a mandatory anti-money-laundering check.
Requirements for opening the account include:
Be 18 years old or more
Have an American legal residence
A social security number
Proof of US citizenship
What many people love about this app is that account opening is free, and you don't even need a minimum balance. But, once you open the account, you can only start trading after linking a bank account with the Robinhood account.
This app is ideal for novice traders as it offers quite an easy way to trade. All you need to buy and sell stocks is to pick the desired stock, choose the amount of share you wish to buy or sell, and hit the okay tab. And, if the stock market is closed for that day, the process will take place the following day.
The platform allows you to trade in stocks, ETFs, options, and even cryptocurrency.
Robinhood Main Features
1. Commissions-free Trading
Free trading is what Robinhood is most known for. This investment platform allows its users to trade in stocks, options, crypto, etc., without being charged any commission. It is among the first apps to offer such an approach.
2. Fractional Shares
Not many investing apps offer this feature. This approach to share investing is completely different from how traditional brokerage firms operate.
With Robinhood, you can invest in a fraction of a certain company's shares, despite your small capital. For instance, if the Google share, NASDAQ: GOOG, is trading at 2,587, but your account has around $500, you can still invest in a piece of this share.
In other words, your investment can be counted as a percentage of that one share, depending on how much you paid.
The approach favors investors with limited resources.
3. Options and Crypto Trading
Robinhood offers you a chance to invest in more than just stocks and ETFs. If you wish to trade in crypto or options contracts, the platform provides you with an excellent opportunity.
The platform allows you to trade in seven of the main crypto coins, including Bitcoin, Ethereum, Dogecoin, etc. This way, you have more investment options and a way to hedge against any stock market declines.
4. Robinhood Gold
If you want more than just the standard trading from this platform, you can opt for Robinhood Gold. While this service requires you to pay an extra $5 a month, it comes with more benefits such as:
Up to $50,000 instant deposits depending on your account
Morningstar reports on over 1,700 stocks
Margin trading
Access to level 2 market data
All these features make Robinhood an excellent platform to start your investing journey.
Key Take Away
So, which investment app is better? Acorns vs Robinhood?
Well, as I said, each app appeals to different investors. The Acorns app is ideal for hands-off investors, while Robinhood favors hands-on investors.
And, since their investing approach is different, it's upon you to decide which one favors you most.
Related Resources