Here's a major question that anyone joining survey sites asks – Is Survey Junkie Legit? And being among the largest survey sites, it is a viable question. So, is it? Read on to find out.
Survey Junkie is one of the most discussed about survey sites online. But is Survey Junkie Legit? That's one question that anyone looking to join the platform for the first time will ask.
So, is it legit? That's what we are about to find out. We will explore everything there is to know about Survey Junkie – from when it was established to how it operates and what makes the platform legit and reliable.
Let's get down to it and establish if Survey Junkie is just another scam on the online streets or a reliable paid survey site you can consider.
What Is Survey Junkie

Survey Junkie is an online survey community that allows members to complete online surveys for money. Usually, the platform rewards you with points, which you can later redeem for cash via PayPal or gift cards to popular retailers like Amazon.
The platform is owned and operated by DISQO, headquartered in California. Currently, Survey Junkie has over 20 million members completing surveys across a wide range of topics. For instance, you can take surveys for products, politics, entertainment, health, or technology.
The platform's aim is to connect brands and market researchers with the opinions of customers. This helps to inform their decisions when it comes to the creation of products or service delivery.
Is Survey Junkie Legit
When it comes to survey sites, one of the most important questions is – is it legit or a scam? And based on user reports and extensive research, we can confidently say that Survey Junkie is one of the legit paid survey sites.
But what makes us conclude that Survey Junkie is legit? Here are a few highlights:
Survey Junkie is a registered business

accredited with a B rating

by BBB.

It enjoys a 4.2/5 stars in Trustpilot, meaning that the users leave positive reviews. In other words, satisfaction is high among members.

The platform has been operational since 2011, which removes the fear of the business being a scam. Scams don't last that long in business.

Survey Junkie also offers reasonable and fair compensation. While variable, Survey Junkie surveys pay reasonably well compared to many survey sites, often $1 to $3. Very few pay less than $0.50, making it worthwhile for members.

It uses trusted payment processors. The platform makes payments through PayPal or bank deposits, which are pretty secure options. As for the gift cards, it uses popular retailers like Amazon, Starbucks, and Target, which only adds to its credibility.
These factors indicate that Survey Junkie is operating ethically and fulfilling its promise to members. It's a platform you can trust to earn cash rewards for your time spent. And while it might not offer much, you are sure that you are not dealing with scammers.
Interesting Survey Junkie Statistics
If you are still unsure about the platform's legitimacy, here are more stats that might give you more confidence in Survey Junkie.
The platform has over 20 million users

Has over 80%-member satisfaction

Surveys pay from $0.50 up to $3

Over $55,000 paid to Survey Junkie members daily

Over $76 Million paid out to date

Earn as much as $100 monthly if you complete at least three surveys a day.

Earn up to $130 monthly if you can tackle at least four surveys daily.

Boasts to make $1.6M+ monthly payouts
These usage stats show that Survey Junkie is among the largest and most widely used survey sites.
Who is Eligible to Join Survey Junkie
Survey Junkie has a fairly wide target demographic. This allows most adults to join and qualify for surveys. The only significant barrier to joining Survey Junkie is location.
Here are the eligibility requirements:
Must be 18+ years old

Have a computer/smartphone and internet access

Live in the US, UK, Canada, or Australia
If you meet these requirements, you can create a free Survey Junkie member account and start taking surveys for rewards. Users outside these countries cannot yet join.
See Related: Survey Junkie Review: Can You Eran Legit Money
How to Make Money on Survey Junkie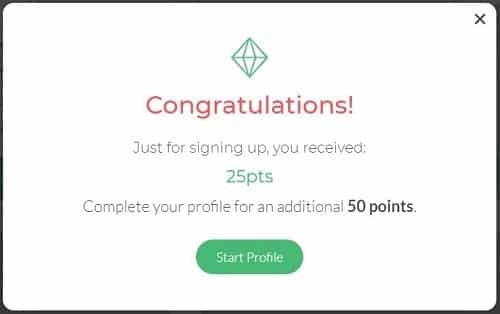 Survey Junkie offers several options when it comes to making money on the platform. However, the main option remains to be completing surveys.
Check out the options:
1. Taking Surveys
The main way to earn with Survey Junkie is by taking surveys. Browse available surveys daily and complete any you qualify for.
Surveys here take 5-30 minutes and pay from 50 cents to $2-$3 typically. All you need is to provide genuine, honest answers, and you are good to go.
2. Phone Surveys
Some surveys on Survey Junkie involve phone interviews. These pay higher amounts but expect you to speak on the phone for 10-20 minutes. Therefore, ensure that you provide clear audio quality when doing phone surveys.
Usually, phone surveys can earn around $5-$100. This is way higher than what normal surveys offer.
3. Focus Groups
Survey Junkie sometimes recruits for online focus groups on behalf of market researchers. These involve video chat sessions that pay around $25-$100 for sharing your in-depth insights.
Also, you might receive invites for in-person focus groups. These pay even better, with a session earning you up to $150.
4. Product Testing
Survey Junkie also offers product testing opportunities to members. Here, members get paid to test products, either through cash or free products and samples. The goal is to provide genuine feedback about the product after using it.
Product tests can involve any product, including beauty products, software, websites, etc. As for the pay, you can earn up to $50.
See Related: Survey Junkie Sign Up Bonus
Pros of Using Survey Junkie
Using Survey Junkie comes with numerous benefits. Some of the main ones include:
Easy signup process

A reasonable selection of surveys across endless topics

New surveys are added daily with options for all demographics

Short surveys

Earnings redeemable for cash or popular gift cards like Amazon

Rewards thresholds are reasonable and achievable at only $5

A well-designed and functional platform that's easy to use
Survey Junkie provides a smooth and rewarding survey-taking experience that many people have come to love.
Cons of Using Survey Junkie
Even with all those positives, Survey Junkie still has potential downsides. These include:
Frequent survey disqualifications can frustrate

Lower-paying surveys closer to $0.50 are common

Redundant questions

Opportunities may be more limited outside the target demographic
For some users, these issues could hamper the site's usefulness and earnings potential. But having realistic expectations helps.
Best Legit Alternatives for Survey Junkie
If you do not prefer Survey Junkie or want to combine two or more platforms, what other paid survey sites can you choose?
1. Swagbucks
Swagbucks enjoys a huge user base, currently at over 20 million members. This makes it one of the largest and most used survey sites besides Survey Junkie.
It offers higher rewards between $0.4 and $ per survey. And it offers more than just surveys as earning options. For example, you can make money on Swagbucks games, shopping, and searching.
As for user satisfaction, a 4.2/5 star rating on Trustpilot is a clear indication that users love the platform. We can, therefore, conclude that it's an excellent alternative to Survey Junkie.
See Related: Easy Swagbucks Hacks to Maximize your Earnings
2. InboxDollars
According to the platform, it has paid over $80 million to its members since 2000. Plus, it offers more activities to help users make money than most other survey platforms. For instance, you can make a few dollars here playing games, watching videos, or through product tests.
As for ratings and accreditations, InboxDollars enjoys an A+ rating from BBB, according to Consumers Advocate. That shows that the platform lives to what it says it does.
3. Branded Surveys
Branded Surveys provide surveys directly from major brands without a middleman. This means higher-paying surveys with rewards between $0.5 and $5 range.
For those who just want to take surveys, Branded Surveys offers big rewards from top companies. It uses a loyalty program that rewards consistent users with more attractive rewards. In fact, active members can easily fetch up to $300 per month from Branded Surveys.
4. MyPoints
At MyPoints, you can take surveys for points or earn from playing games, reading emails, and shopping online through their portal. With reliable payouts and a good variety of earning activities, MyPoints is one of the best survey sites. This gets it a spot among the best Survey Junkie alternatives.
When it comes to rewards, it pays quite well. According to the site, some surveys can help you earn up to $50 per survey. Now, that's not bad money. Also, you get a $10 bonus for signing up – scammers request money from you instead.
Conclusion: Is Survey Junkie Legit?
Based on all the above-mentioned aspects of the platform, Survey Junkie is undoubtedly a legit site. It offers an excellent platform for users to make some extra cash during their free time without worrying about being scammed.
While the common complaints of surveys exist, the platform compares favorably against most competitors in the space. Survey Junkie is best suited for casual users who want to make some side income by voicing their opinions.
The only thing you should note is to avoid diving in with high earning expectations. The platform cannot be your main income stream. It should be as a supplementary source.
Related Resources