Start making money online. Earn Survey Junkie sign up bonus points and start your journey. Every extra dollar counts.
Is the Survey Junkie sign up bonus a thing? Does the platform even have a welcome bonus? Well, we are about to find out.
The truth is making money online has become as easy as sharing your opinion. Simply stating what you think about a certain product, service, brand, or certain issues in society. Paid survey sites make this possible.
Generally, most survey sites offer a sign-up bonus before you even start taking surveys or the other simple tasks they offer. But is that the case with Survey Junkie? Today we explore Survey Junkie sign up bonus, whether it exists or not, and how much it's worth.
Crucial Survey Junkie Stats you should know:
Pays over $55,000 daily to its members.
$1.6M+ Monthly Payout
Complete three or more surveys a day, earn as much as $100 monthly
Complete four or more surveys a day, earn as much as $130 monthly
Around $76 million paid out to date
20M+ lifetime members
What is Survey Junkie?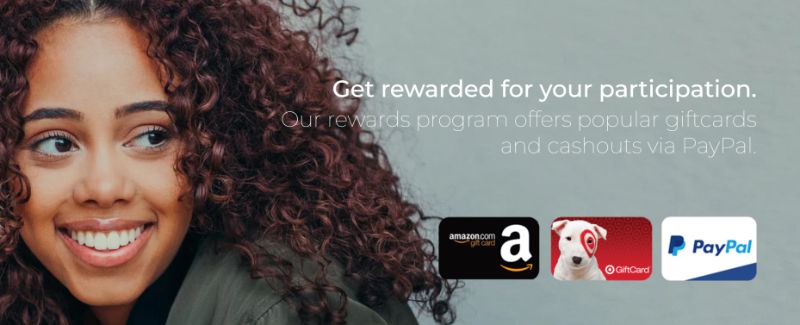 Survey Junkie is an online survey platform that allows users to take surveys in exchange for cash rewards. The company was founded in 2011 and has paid out over $76 million in rewards to its over 20 million members.
Survey Junkie partners with market research companies, brands, universities, and non-profits who need survey participants. All this ensures that participants get enough surveys and rewards for their opinions.
When you join Survey Junkie, you become part of their member database. This way, you can get invites to take surveys matching your demographic profile.
Each survey has a set reward amount, usually ranging from 10 to 200 points. And since each 100 points equals a dollar, this becomes $0.10 to $2 per survey. It doesn't seem as much, right?
Well, Survey Junkie surveys are pretty short – 3 to 23 minutes. This means that you can easily make a few dollars an hour. Also, you have more options to make money besides completing surveys.
Once you have your points, redeeming them is easy through the bank, PayPal, or gift cards. You just need to accumulate around 500 points, which equals $5.
How Does Survey Junkie Sign Up Bonus Work?
First things first! Does Survey Junkie offer a sign up bonus?
Yes, Survey Junkie offers a sign-up bonus for new members. When you first join Survey Junkie, you can get 25 points just for signing up. You also get 50 points more for completing your profile- usually around 16 questions.
Now, this is a good start as you begin your online money-making journey with Survey Junkie. Sign up today and get your reward.
In addition to the sign-up bonus, Survey Junkie also offers referral bonuses. If you refer a friend to Survey Junkie and they complete surveys, you'll both get bonus points.
How Does Survey Junkie Work?

The basics of how Survey Junkie works are simple. Follow this process:
1. Sign Up: You first need to create a free account with some basic personal details like name, email, address, etc. This is used to determine which surveys you qualify for based on your demographics. Start your journey here.
2. Take Surveys: After signing up, you can browse and take a variety of surveys posted on their website. Each survey has a specific reward amount stated upfront. You also get invites to complete surveys on the platform based on your profile.
3. Earn Points: For every survey you complete, you earn points. One hundred points = $1 in rewards. Some surveys are worth a few cents; others can be $2-$3.
4. Redeem Rewards: Once you accumulate enough points, you can redeem them for cash or gift cards. The minimum payout is $5 or 500 points.
There are several ways of making money on Survey Junkie. These include:
SJ Opinion Surveys

: These are typical online surveys with questions about your opinions, habits, demographics, etc. Opinion surveys are the most common way of making money on Survey Junkie.

SJ Pulse

: This is the second option for making money here. It includes sharing your browsing behaviors and patterns for rewards. This is done automatically by downloading the SJ pulse extension. You can also opt in through your Survey Junkie app. 
See Related: Survey Junkie Vs InboxDollars vs Swagbucks 
Types of Survey Junkie Research
Within the surveys offered by Survey Junkie, there are a few main types of market research you may encounter:
1. Attitudinal research
This type of survey aims to understand people's opinions, beliefs, perceptions, and motivations towards a subject. They are trying to understand the attitudes, thoughts, and feelings that drive consumer behavior.
For example, an attitudinal research survey might ask for your views on a new product design, impressions on an ad campaign, or opinions on customer service quality. They are the most common surveys for paid survey sites.
2. Behavioral research
Behavioral surveys focus on what people are actually doing – their actions, habits, and usage patterns. These types of surveys ask about your shopping habits, media consumption, product usage frequency, and other behaviors.
For example, a behavioral survey might ask how often you eat out, what brands you buy, where you get your news, etc.
Survey Junkie Epic Bonus
Survey Junkie offers more than just the sign-up bonus and survey points. It also has what it calls the Epic Bonus.
What is it?
The Survey Junkie Epic Bonus program is a limited-time promotion that offers Survey Junkie members boosted earnings for hitting certain milestones. Typically, the Epic Bonus program is only for eligible members. If you are eligible and complete the set number of surveys within the set period, you are entered into a draw.
From here, the site randomly selects winners who receive free bonus points. Each promotion is sent via email, detailing the number of surveys to complete, the bonus to be won, the types of surveys, and the timeframe.
How Does It Work?
The Epic Bonus program is automatically enabled for all Survey Junkie sign-ups during the promotional period. There is no separate registration needed.
All you have to do is sign up for a new account and start taking surveys. The bonus money is added on top of the points/cash earned from taking the surveys.
Eligibility Requirements
For you to be eligible for the Survey Junkie Epic Bonus rewards, you must:
Be a Survey Junkie member

Earn the required points thresholds within the set time

Be over 18 years old

Not be a member of DISQO, Inc. (employee, officer, director, or partner).
The Epic Bonus is meant specifically to reward members only. The bonuses are tracked based on IP address and household activity.
How Eligible Members Join
For you to join the Epic Bonus draw, all you need to do is complete the said surveys as per the promotional email. As mentioned, you will be told how many surveys you must complete and by what time.
Once you have hit that threshold, you are automatically entered into the draw. Your number of entries depends on the set guidelines and varies with each promotion.
Prizes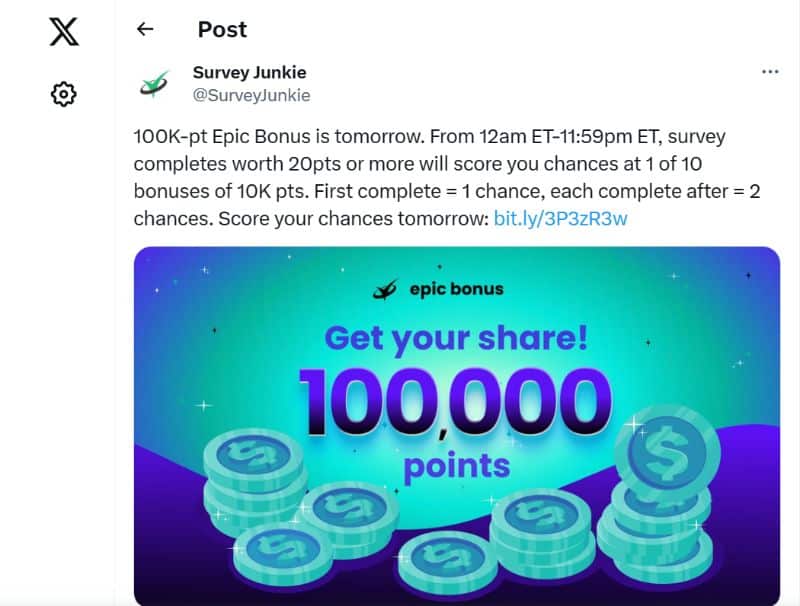 The prizes of the Survey Junkie Epic Bonus promotion are cash rewards. As for the amount, it will depend on the particular promotion. For instance, the Twit above shows a grand prize of 100,000 points for the winner.
According to this promotion, you should complete at least one 20-point survey to get one chance at the draw. The first complete survey earns you one chance, while the subsequent ones after that earn you two chances each.  
Other Ways of Making Money On Survey Junkie
In addition to the regular online surveys, there are a few other ways to earn with Survey Junkie. For example:
1. Phone surveys
These are surveys you complete over the phone. They often pay more since they take more attention and time. Phone surveys on SJ pay $5-$100 on average. You'll be prompted to answer whether you want to participate in such surveys as you sign up for your new account.
2. Product Testing
You may get selected to participate in testing consumer products. Here, you have to use/try the product and then complete a survey on your experience. Products can include foods, personal care items, apps, websites, and more. And the average pay ranges between $5 and $50.
3. Online Focus Groups
Survey Junkie recruits for online focus groups on behalf of researchers. These pay around $25 to $100 per session and involve live video chat discussions. However, you must indicate your interest in participating in such focus groups during your sign-up stages.
4. In-person Focus Groups
Rarely, if you live near a focus group facility, you may get an invite to an in-person focus group that pays between $25 and $150. Usually, you are first invited for an online survey before getting an in-person invite.
See Related: How to Make Money From Your Phone
How Much Money Can You Make On Survey Junkie?
Survey Junkie earnings depend greatly on how consistent you are in taking surveys. As surveys earn between $0.1 and $2 for tasks between 3 and 23 minutes, you can easily calculate how much you can earn.
The more surveys you do, the higher your earnings potential. Active users who treat it like a part-time job can make even $200+ per month. Even better, things like phone surveys, product testing, and focus groups make the earnings more appealing.
For instance, if you get two phone surveys worth $100 each in a month, two online focus group sessions worth $80 each, and an in-person session worth $100, your earnings will be $460 ($200 + $160 +100). Well, things might not be this attractive, as surveys may be scarce, but you now get the idea – your earnings depend on the number of tasks you complete.
Is Survey Junkie Legit?
Yes, Survey Junkie is 100% legit and pays out fairly. The Survey Junkie sign-up bonus is the first sign of this. Plus, the platform is 100% free to join. This means that you pay nothing to start making money on Survey Junkie.
Also, Survey Junkie has an A rating on BBB and generally has positive reviews from members online. The company has paid out over $50 million in rewards since 2013, so they have a long, trustworthy history.
As long as you provide accurate demographic info upfront, you should qualify for surveys that pay as advertised. Just don't expect it to replace a full-time income. In fact, most members treat Survey Junkie as a side hobby for extra spending money in their free time.
Related Resources