Follow and unfollow method is one of the best ways to build an audience on Instagram. Read this piece to find out more.
Follow & Unfollow on Instagram: Does This Actually Build an Audience?
With over a billion users, Instagram is one of the fastest-growing social networks. The app is famous for sharing stories as well as photos with funky filters with your followers.
According to Reuters, Instagram users share over 95 million photos and videos per day.
So, how can you gain more followers on Instagram and make money online? Follow unfollow is one of the best methods that can help you grow your Instagram followers.
In this article, we will explore how you can build an audience with the follow unfollow Instagram method. Several strategies have come in handy for people who are looking for real followers on Instagram.
I used Leadpages to explode my growth during their free trial period. It's an affordable way to create landing pages and guides for your blog. Read more about Leadpages in our review of the platform.
Here is a graph of the growth over time.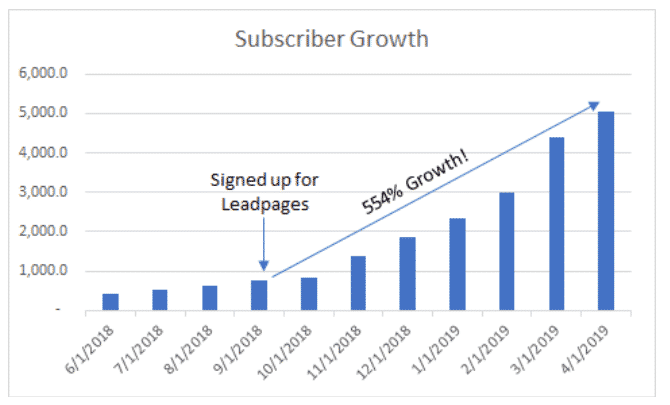 I'll send you the exact tips in a step-by-step way to help you build an audience and grow your earnings online.
But, follow unfollow strategy is one of the best ways that many of the enormous accounts you see today used to grow their following rapidly.
But what does it entail?
What is the Follow and Unfollow Instagram Strategy Concept?
This strategy involves following Instagram accounts with hopes that those that you follow will do the same for you and unfollowing some or most of them if they don't. The aim is to increase the ratio of the follower-to-following ratio.
With Instagram, you can quickly notice when a new person follows you. That is because you will receive a notification every time there is a new follower on board. Therefore, you can return the favor if you are interested in the content that your new follower has to offer.
By following your target audience, you can quickly grow your number of followers. That is because, when you follow a person, you make them aware of your existence.
And if you have something of interest to them, then they will want to follow you back to get it.
Therefore, the moment you follow them, it will be easy for them to follow back. Moreover, there are several methods that you can use to build your Instagram audience. Choosing a strategy that will bring long-term success and an excellent online reputation is vital.
Follow and unfollow strategy is a perfect strategy because, with it, you can build an organic following. Here is the step-by-step follow-unfollow process.
The Follow Unfollow Instagram Step-by-Step Process
You can follow this step-by-step strategy of following and unfollowing Instagram to gain followers:
Step 1: Find People in your Niche
Identify the accounts that have large followings of your target audience already. Don't just follow random users in different niches. When you follow people in your niche, you will be able to maximize your ROI.
Therefore, find people with the same niche to follow their followers.
Step 2: Follow
Start following any of the accounts that match your target audience and those that don't look like spam. Follow most active followers. In fact, you easily can find out if the person is active on Instagram.
That is by checking their recent photo from the account in your niche and clicking to see who liked or commented on the picture, and then you follow them. Don't follow users that have private accounts.
Step 3: Engage
Once you follow people, take your time to engage with their accounts. Go to the "home" tab, scroll down and like or comment on a bunch of photos. That helps the user you followed to notice your account.
If they find that you are active and ready to engage, then they are more likely to follow back.
Step 4: Unfollow
Unfollowing the accounts that are not responsive is the last step. Take a few days or a week to see if they will follow you in return. But if they don't return the favor, you unfollow them.
Step 5: Repeat
Repeat the process after every hour or when you do up to 60 new follows. Remember that you can only follow 7, 500 accounts overall. Don't follow too many accounts because you need to have a good ratio of followers and followings.
A ratio of a 5:1 ratio is excellent, which means that for every five followers, you have to follow one person. But you can go with any ratio that works best for you.
If you follow these five steps, then you will increase the chances of getting some followers after you follow those accounts. Then you can engage with them, like and comment on their posts.
See Related: 20 Best Affiliate Programs to Make Money
How To Succeed With the Follow and Unfollow Method
You need to create and post good content before you start using the Follow/Unfollow Method to get more Instagram followers.
When you have high-quality content useful to your followers, it increases your likelihood of receiving a follow-back.
Create Relevant and Quality Content
Creating good content is one of the best ways to engage your Instagram audience. Create content in your niche that is useful and engaging. Followers are more likely to follow you back when you have something relevant and valuable to offer them.
When posting, you should have up to 30 hashtags that target your specific audience.
Stick to a Schedule when Posting
You need to be strategic when posting content on your Instagram account. When your followers are aware of your schedule, they are more likely to be around when you do it. That can increase visibility and engagement significantly.
Create a routine and post your stories and content consistently.
See Related: How to Become a Content Creator Online
Use Proper Keywords and Hashtags
If you want to succeed in the Instagram marketing campaigns, then you must create not just any content but relevant and high-quality content. Instagram utilizes search optimization and big data, and so, for your content to be seen by millions, you must improve the quality and use proper keywords.
When you are using the follow/unfollow strategy, then who you follow is more important than how much you follow.
For example, if you are in the fitness industry, then you don't need to follow finance accounts.
That is because they are not going to add and value to you. You must be careful with where you choose to source your followers.
See Related: How to Get 100,000 Pageviews Per Month
Factors to Consider when Looking for Accounts to Follow
The source of your followers is another crucial aspect for Instagram followers. Some of the factors to consider when sourcing followers include:
The size of the account can determine follower quality. When you follow accounts with vast numbers of followers like 500k, you may get low follower quality, unlike when you follow an account with 50k-250k followers.
Big accounts are likely to have untargeted nature, and a considerable number of fake followers compared to a smaller account. Choose a niche related to you when following the accounts.
Active engagement is one of the best ways to determine if your followers' account is real. If you identify a follower account with active engagements, then you are good to go. Find out if your target followers are engaging with content which is similar to yours.
That means that they are highly likely to engage with your content as well. An account with low rates or zero engagements is questionable.
You can find out if an account is fake using the follower detection software. Also, you can scroll through the follower list to see if it has a high number of followers with no profile pictures, no posts, and low followers rate.
Check Interests and Demographics
Interest and demographic targeting can also help when looking for a good source of followers. When you know the kind of target market you want, then it's easier to get them.
Examine the Instagram accounts, geotags, and hashtags to find the type of followers that you want. You can use influencers to find your target followers.
For example, if you have a real estate account, you can find hashtags that relate to real estates like buying and selling of residential or commercial properties.
Common Mistakes that You Must Avoid
Following random Instagram, users are one of the mistakes that you should not make. Follow only the targeted people, usually the ones who are in the same niche as you.
Find the people who follow accounts similar to yours. That means that if you are a fitness account, you should also follow accounts that follow other fitness accounts.
Following Inactive Accounts
You should also avoid following dormant accounts. Always check to see that the accounts that you want to follow show some level of engagement with the last image on the account in your niche.
Also, find the people that liked or made comments of that previous image and follow them. Those activities show you that they are active.
See Related: How to Make Money on TikTok
Following Too Many People
Remember that Instagram has the following limit. That means that you can only follow a maximum of 50 people per hour and 300 people a day. Otherwise, if you go beyond these limits, you risk having your account banned and disabled.
To be safe, don't exceed the recommended limit in their terms of service. But, if you don't follow enough people, you won't grow the account. The best thing is to balance and to avoid overusing the follow unfollow button.
See Related: Best Affiliate Marketing Programs to Make Money
Unfollowing People Too Fast
Go slow with your following as well as unfollowing actions. You should at least wait for a few days or maybe a week before you unfollow the people that you follow.
Avoid doing it on the very day that you follow. Remember that user that you've followed could be active but was away on that particular day and that will seem odd to Instagram.
Remember that they are aware of every action that you make on the platform.
See Related: How to Create an Instagram Blog
How to Strategically Unfollow the People Who Haven't Followed You Back
This strategy is called follow and unfollow because you don't only follow people but also you unfollow those that don't follow you back. The reason being, you need to understand that you can only follow 7,500 accounts on Instagram.
Therefore, you want to make good use of those follows.
If you follow far more people than those following you, it indicates that you're anti-social. That shows your audience that you have fewer followers than you're following, and they might unfollow you.
Before, Instagram users could find out who is not following back using Crowdfire tool. However, third-party tools use were prohibited since early 2017.
Today, the best way to know who is not following back is by doing it manually.
You can set a schedule for yourself to follow and unfollow people. However, make sure that you're maximizing the number of follows that you are doing in a day by hitting the limit of Instagram, which is 60 actions per hour.
Then, you can set a day or two per week to unfollow those that fail to return the favor.
The rule of the thumb is to know that first followed, first unfollowed. That means you need to unfollow those you followed first but are not following back.
Also, try interacting with the people you're about to unfollow to avoid appearing like a spam. Instagram keeps updating and improving their user experience, and are fighting any spam-like behavior including following, unfollowing and engaging automatically on a massive scale.
That is viewed as a risk to the user experience and is even explicitly prohibited in Instagram's Terms of Use.
Instagram has even shut down bot companies such as Instagress and MassPlanner. Also, they've placed limitations on the number of actions an account can make on Instagram per day.
This is different for each account based on several factors, such as historical activity levels, age of the account, number of followers, and other variables.
You can go into your feed periodically comment on their photos and videos and engage with them or just like their posts.
If you find that they are still reluctant to follow, now you can hit the unfollow button because it shows that they made a conscious decision to do so.
See Related: How to Make Money Online Without a Website
Conclusion on Follow Unfollow Instagram
The Follow/Unfollow Instagram strategy is not as simple as it seems. When using this strategy, make sure that you're following people in your niche, follow active people, don't exceed the Instagram limit, and be strategic when unfollowing people.
Do you think that follow and unfollow is an excellent method of building an Instagram audience?
Related Reviews
Related Resources