Is Branded Surveys legit? Is it among the paid survey sites you can use to make extra money? Read on to unravel these answers and more.
Sharing your opinion is one of the easiest ways to make money online. But how? Various companies and brands are willing to pay handsomely to hear what you have to say about their products and services.
In that wake, numerous platforms have come up to connect businesses with consumers. Through the platforms, consumers get paid to answer simple questions, and businesses get highly-valued feedback.
Branded Surveys is one such survey platform. It enables users to make money by sharing their opinions. On the other hand, businesses get the information they need to provide better offerings to the market.
But is Branded Surveys legit? That's a common question that always pops up whenever a new user wants to join the platform. This is a genuine concern, considering the high number of scammers online.
So, is it legit? Let's find out;
What Is Branded Surveys?

Branded Surveys is an online survey platform. It connects survey-takers with companies looking for consumer opinions and feedback. Companies use Branded Surveys to conduct market research, test new products and concepts, and gain insights into consumer behavior and preferences.
The platform allows survey-takers to take surveys in exchange for cash rewards. For example, companies post surveys on the Branded Surveys platform based on their target demographic. When you match the demographic, you can take the survey and earn money for your participation.
The surveys typically take between 5 to 20 minutes to complete. From here, you get your rewards.
Key Branded Surveys Statistics
Here are some key statistics about Branded Surveys:
Founded in 2012 as Mintvine in the United States
Over 13 million members
Surveys pay between $1 to $5 on average
Over $34 million payout
Rewards can be redeemed for cash via PayPal, Visa, bank transfers, or gift cards.
Branded Surveys has a 4.1 out of 5 stars rating on Trustpilot
Is Branded Surveys Legit?
Yes, Branded Surveys is a legitimate survey site. Here are a few reasons why it is considered trustworthy:
Reputable company history: Branded Surveys has been in business for over 10 years and has established a positive track record online.
Real companies as clients: The surveys on Branded Surveys come directly from well-known brands and market research companies looking for consumer opinions. Companies include Amazon, Toyota, P&G, and Kraft.
Secure website: Branded Surveys use SSL encryption and other security measures to protect user information and survey data.
Positive online reviews: The site has mostly positive reviews from members online who have used the platform to earn rewards. Branded Surveys score an average of 4 out of 5 stars on most review sites.
Based on these factors, Branded Surveys can be considered a legitimate and secure platform to earn rewards online through surveys. However, as with any site, do not expect to make millions from surveys here.
How Branded Surveys Works
Like many other survey sites, Branded Surveys users get paid to complete surveys. However, the platform has several other money-making opportunities to help you make more money.
The first step when it comes to making money on Branded Surveys is signing up. Create an account by providing some basic personal information like name, email, and address. This allows you to match survey demographic requirements.
Completing your profile is the next step. You are required to complete a more detailed profile with info on your demographics, interests, and shopping habits. This customizes the survey offers you receive, ensuring that you get the ones you deserve.
Once the profile is complete, you can start taking surveys for money. All you need to do is to browse available surveys on the site that match your profile. Typically, surveys' completion time ranges from 5-20 minutes and involves answering simple questions about products or services.
Now, the most interesting part of the process is earning rewards. For each survey completed, you earn cash rewards that get credited to your account. Most surveys pay $0.5 to $5 each, on average, although some might earn higher depending on the complexity.
Once you hit the minimum payout amount, you can redeem your rewards balance for cash via PayPal or popular gift cards. That's how easy it is to make money with Branded Surveys.
How to Join Branded Surveys
Joining Branded Surveys is simple and completely free. Follow these simple steps, and you'll be there:
First, visit the Branded Surveys website and click "Sign Up" to begin registration.
Enter Information: Provide your basic info, such as name, address, email, and birthday.
Confirm Email: Check your email for a confirmation link to verify your email address and activate your account.
Complete Profile: Sign into your account and complete your demographic profile with details on work, lifestyle, and interests. This is used to match you with surveys.
Browse for Surveys: Once your account is set up, you can immediately start browsing and taking surveys on the site to earn rewards.
The registration process takes less than 10 minutes in total. But ensure you provide accurate profile information. It helps you get relevant surveys and earn higher rewards for your time.
Making Money with Branded Surveys

The main money-making opportunity on Branded Surveys is completing surveys. Just as the name suggests! However, there are still other ways that let you earn more money on the platform.
If you want to make money on Branded Surveys, here are your main options:
1. Sign Up Bonus
A welcome bonus is the first earning you make on Branded Surveys. Usually, the platform rewards new members with a hundred points for signing up and completing the first survey. You get 50 points for signing up and then 50 points for completing your first survey.
Interestingly, you don't even need a promo code to claim that bonus. Simply sign up, and your bonus is credited to your account. The sign-up process is simple and helps you hit 20% of the platform's minimum cash-out threshold.
2. Taking Surveys
As mentioned earlier, surveys are the main way of earning money here. Once your account is set up and your profile is complete, you can now log in to your dashboard and access surveys. You'll usually find the surveys under the "Survey Spotlight" section.
The good thing about the surveys here is that they indicate the number of points and how long it takes to complete each survey. This way, you can decide if the survey is worth your time, even before you begin.
Even better, some surveys will take a shorter time than estimated. As such, you can make more money faster. For example, I once made 50 points for a 5-minute survey that only took about 3 minutes.
See Related: Highest-Paying Survey Sites to Make Money Fast
3. Branded Elite Program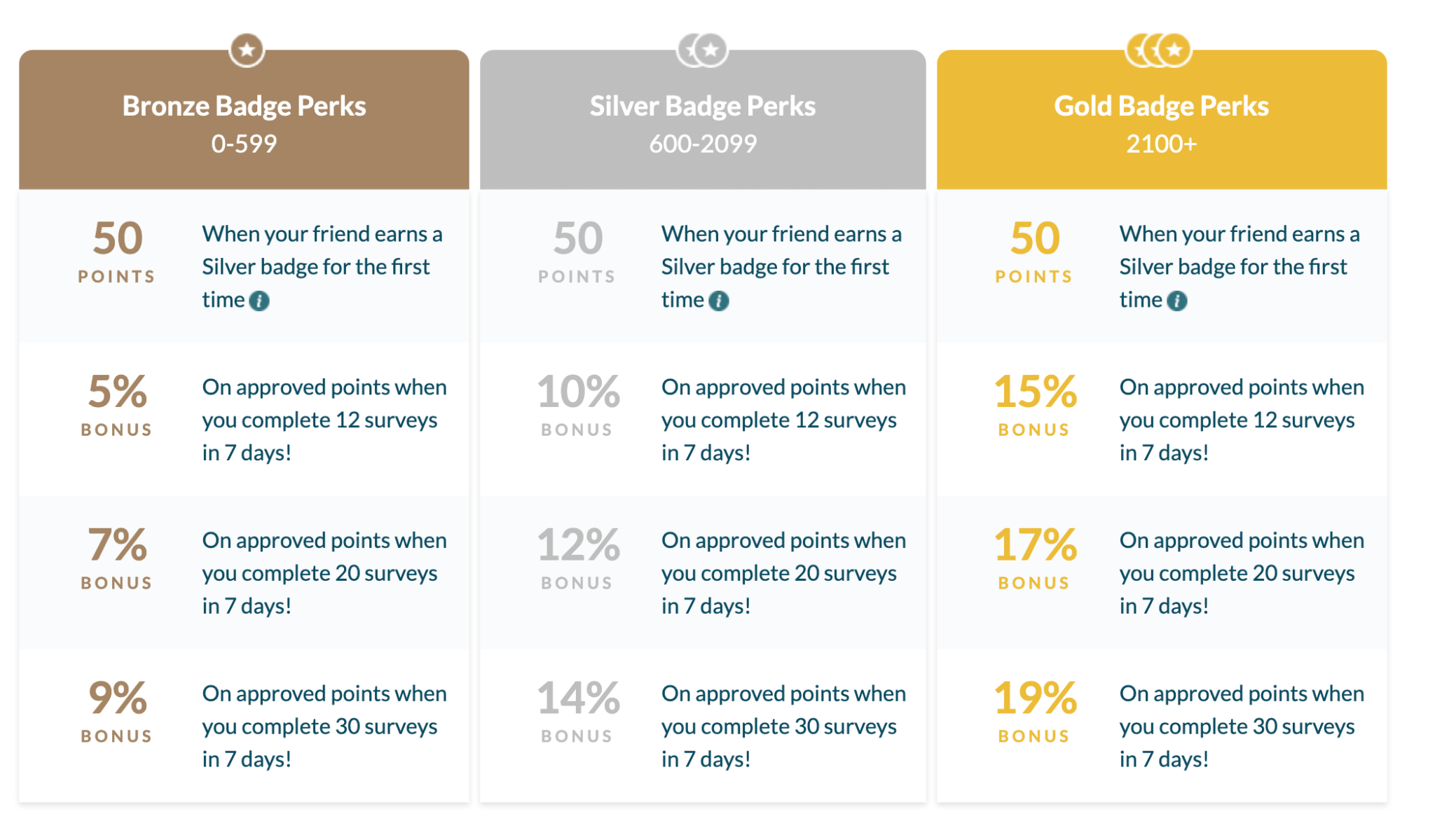 Branded Surveys has a rewards program called Branded Elite for the most active survey takers. You automatically qualify for Branded Elite rewards when you reach certain monthly survey milestones. Perks include higher pay surveys, entry into sweepstakes, and more.
This bonus program is divided into three levels. There is the Bronze, Silver, and Gold Badge Perks. The Bronze Perk is for users with 0-599 points, while the Silver one is for those with 600-2099.
The highest level is the Gold Perk, and you must have at least 2100+ points to qualify. Each level comes with better perks for activities and tasks.
4. Referring Friends
With Branded Surveys, you can earn a 50-point bonus for each friend you refer who signs up and completes their first paid survey. You also get 50 points when your referrals reach the silver level and an additional 50 once they achieve the Gold Badge Perk.
Since there is no limit on how much you can earn through referrals, you can refer as many friends as you want. This only helps you to maximize your referral bonuses.
5. Leader Board Bonuses
Branded Surveys has a monthly leaderboard comparing top survey takers. If you manage to complete the most surveys, you have a chance to win up to 1,000 points.
Even better, you automatically enter into a draw that gives you a chance to win more points. The leaderboard is an incentive for users to take more surveys daily, as it offers bonus points.
6. Completing Daily Polls
Branded Surveys also offers quick daily poll surveys that take just 1-2 minutes. These polls help you to add at least 5 points every time to your account.
7. Survey Streak Rewards
The longer your "survey streak" of consecutive days taking paid surveys, the bigger your bonuses. For example, if you can complete 12 surveys in a week (7 days), as a bronze member, you get 5% bonus points. If you complete 30 of them within the same period, you get up to 14% bonus points.
Tips on How to Maximize Your Earnings on Branded Surveys
If you want to make more money on Branded Surveys, check out these tips:
Take lots of surveys: The more consistent you are in taking surveys, the more money you can make. Surveys range from 5-20 minutes.
Provide accurate information: Always provide honest, accurate answers. Don't rush through surveys. Higher quality data leads to more survey offers.
Update your profile: Keep your profile up to date with your most current personal information to get the most relevant surveys.
Check for new surveys daily: New surveys are added daily, so log in often to find the most options. Set email alerts for new survey notifications.
Aim for bonuses: Some surveys provide bonuses for quick completion or referrals, so watch for those.
With some consistent effort, you can easily make $25 to $75 monthly in cash rewards with Branded Surveys. The most active users can earn up to $300 in a month.
Getting Paid with Branded Surveys
When you complete surveys with Branded Surveys, your rewards get credited to your account balance. To redeem your rewards, you have several options, including:
PayPal: Have your rewards sent instantly to your PayPal account once you reach the $5 minimum payout.
Bank Transfer: It is also a fast option as you receive the money in your account within 48 hours. However, this is only available for US residents.
Visa® Prepaid Card: Convert your rewards to a Visa debit card that can be used online or in stores.
Gift Cards: Trade in your rewards for instant online gift cards from popular retailers like Amazon, Starbucks, Walmart, and Target. Typically, $5 minimum.
Charitable Donations: You can choose to donate your rewards to charities like the Huntsman Cancer Foundation, National Park Foundation, or the American Cancer Society. No minimum amount.
Payout methods may have small fees associated with them, detailed on the Branded Surveys site. Be sure to cash out your rewards once you meet a minimum rather than letting them accumulate too high.
How Much Can You Make with Branded Surveys?

Your potential earnings with Branded Surveys depends on several factors:
Number of surveys: Expect to earn $0.50 to $5 per survey. More surveys completed means more earnings.
Survey length: Longer surveys (20+ minutes) tend to pay more than quick 5-minute surveys.
Quality of responses: Thoughtful, accurate responses lead to more survey offers over time.
Demographics: Your age, gender, location, and other traits impact the surveys available to you.
Activity level: The more active you are on the site, the more you can earn monthly.
Many reviewers report earning around $25 to $75 per month in rewards with steady participation in Branded Surveys. Active users who devote time to taking multiple surveys daily tend to earn more rewards, even up to $300. Just checking in and taking a few surveys periodically will yield lower monthly earnings.
In general, Branded Surveys is an ideal platform for earning a little extra pocket money each month. Online surveys should be considered more of a side hobby than a full-time job. Be realistic in your earnings expectations.
See Related: Branded Surveys Review
Who is Branded Surveys For?
Branded Surveys is suited for a few different types of users who can benefit from paid surveys. For example:
Stay-at-home parents: Parents at home with kids can take surveys during naptime or free moments for extra income.
Students: High school or college students can earn cash for incidental expenses without commitment.
Retirees: Retirees and seniors can use paid surveys as a low-effort way to supplement retirement funds.
Anyone looking for extra money: Surveys provide an easy, flexible way for anyone to earn a little extra money from home in their free time.
Market research enthusiasts: Those interested in providing their opinions to influence products may enjoy the survey process.
As long as you are over 13 years old and eligible to work for paid surveys, Branded Surveys is worth considering. However, you must also be a resident of the US, UK, or Canada.
The platform helps you earn some extra money on the side. Just don't expect it to replace a full-time income.
Pros and Cons of Branded Surveys
Here are the pros and cons of using Branded Surveys:
Pros
Easy to join and get started
There is a welcome bonus
There is a wide variety of survey topics to choose from
Surveys are short and take just 5-20 minutes
User's ability to control the number of email notifications they get
Multiple rewards redeeming options, including PayPal, bank transfers, Visa, and gift cards.
Low minimum payout thresholds of just $5.
Cons
Inconsistent survey availability depending on demographics
It is easy to get disqualified from surveys after starting
Instances of account closure without warning
Some surveys might take too long and for a low-pay
Sometimes, PayPal withdrawals may take quite a long time – up to three weeks.
Branded Surveys is one of the better survey sites in terms of trustworthiness, ease of use, and survey availability. However, the pay is not as lucrative as with some other paid survey sites. If you want more money from surveys, you can combine Branded Surveys with other legit survey platforms like Survey Junkie or Swagbucks.
One thing to note, though, is don't try to make paid surveys your main income source. Use it as a supplementary source to add to your primary source. Otherwise, you might get frustrated.
Related Resources