I'm a big fan of saving time and money. These apps will do both. Here is a list of the best apps for real estate investors for both Android and iOS.
Real estate investing can be challenging. You need to find a way to get an edge in what is becoming an ever-competitive market.
As a real estate investor myself, I'm focused on maximizing my income while reducing my time as much as possible. I like setting up many automated processes that reduce friction and increase optimization.
As such, I created a free investment property Excel spreadsheet to help you invest smarter in real estate.
Not harder.
You can download the calculator by clicking the button below.
It only takes 5 seconds to download and get started.

Apps have already saved me significant time managing my finances and portfolio values.
For instance, I use Personal Capital to link all my real estate home values and mortgage payments. It's an easy way to track the intrinsic value of my real estate business for free. And in less than 20 minutes per month.
Personal Capital will allow you to track your home's Zestimate (Zillow Estimate) value. It's another reason why this app is one of my favorite financial resources.
Outside of that, there are plenty of options for you to focus directly on real estate, whether finding a home, renting one, or even selling a home.
There are plenty of pros to real estate investing. With that also come disadvantages, and I've found that technology can help mitigate those disadvantages.
How to Make Money with Real Estate Investing
Real estate is a dynamic asset class that opens the doors to millions of ways to make money.
I suggest you focus on a few areas in real estate investing. It's better to get very good at two things than be okay with ten ways to invest in real estate.
Here are a few of the top ways to make money with real estate investing:
Own operating single-family real estate
Buy land positions for speculative development
Invest in commercial real estate
Invest in distressed single-family or commercial real estate
Acquire, rehab & flip residential real estate for profit
Build, own, and operate single-family or commercial real estate
As you can see, the options go on and on, and really the risk curve depends on your risk appetite. Obviously, the higher risk means higher reward potential. Choose wisely and continue learning with a particular strategy that works best for your financial goals.
See Related: Real Estate Crowdfunding: What Is It and How It Works
Why you Need Mobile Applications for Real Estate Investing
We live hectic lives. Not only that…
Real estate investing requires you to be on the go, especially if you are doing it at scale. Some examples of how apps can be helpful during your real estate processes include:
Setting up real estate investment property alerts on your iPad while flying
Using one centralized app to manage all your accounting, rental income, and taxes
Check rental comps while you are physically in a prospective real estate investment opportunity
Save money by not using a management company and manage your tenants on the go
These are just a handful of ways apps can make your life easier in real estate investing.
List of Top Apps for Real Estate Investors
I believe that transaction costs associated with real estate transactions are far too high. These apps for real estate investors will help you invest smarter, save money and close more deals.
Let's get into the best real estate apps I usually use to be a better investor.
1. Fundrise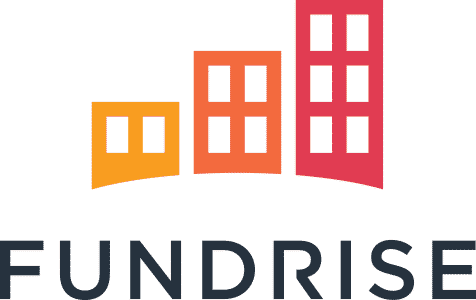 Fundrise is an obvious choice. If you want exposure to real estate crowdfunding and eREITs either as an accredited or a non-accredited investor, you have a single platform to do so.
Plus, Fundrise offers affordable investment account minimums of only $500. You can become a real estate investor overnight. Fundrise has been and continues to be the market leader for finding new investment opportunities online.
If you are a single-family home investor, you can diversify by entering commercial real estate, like investing in industrial real estate or a completely different market from your local market.
Features
2. Rentometer Express

Rentometer is the ultimate tool for single-family home real estate investors. I believe the most critical variable or way to extract value from a new investment opportunity is through rent pricing.
More often than not, market-based rents are not reflected in the current tenant's rental rate. Rentometer bridges that gap and will help you find a reasonable rate to charge.
You simply input the address and bedrooms. Then, you will start seeing actual lease comps within the area. It's an absolute must-have app among the best apps for real estate investors.
Features
Actual rental comps for your desired location
Premium on-the-go screening of properties
3. Personal Capital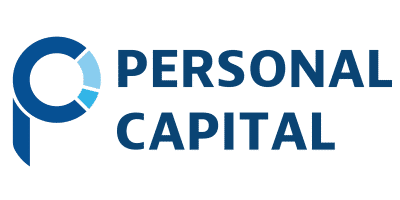 Personal Capital is a personal finance app that tracks all your income, cash flow, and net worth. It's an entirely free app that includes a retirement planner and more. It's not just for personal finance anymore.
Personal Capital is fantastic for real estate investors now. You can link your real estate assets and properties. When adding assets, simply link your real estate and choose monitor value using Zestimate from Zillow.
It should look something like this: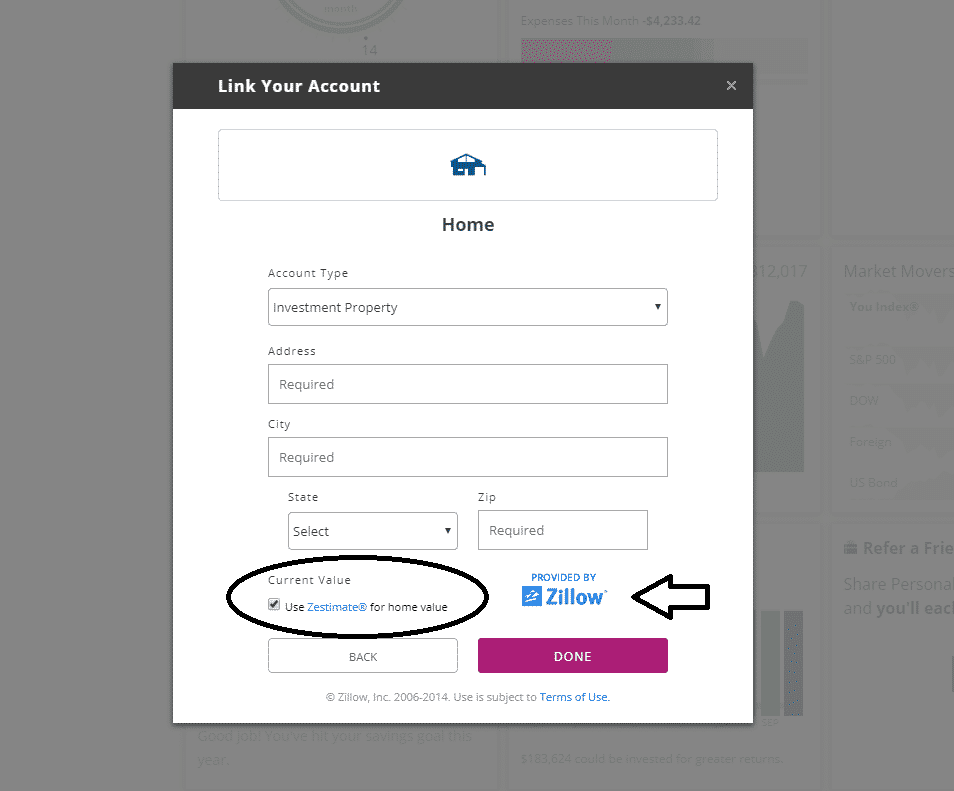 Want to keep your real estate investing business and personal net worth tracking separate? Why not create a separate account on Personal Capital?
This can be a great way to track cash flow, income, and net worth with real estate. Read more about the app in our full Personal Capital review.
Features
Completely free to use
It comes with an automated net worth tracker and a retirement planner
Fully integrated with Zillow home price estimates
See Related: Personal Capital Review: Pros, Cons and Benefits
4. Landlord Studio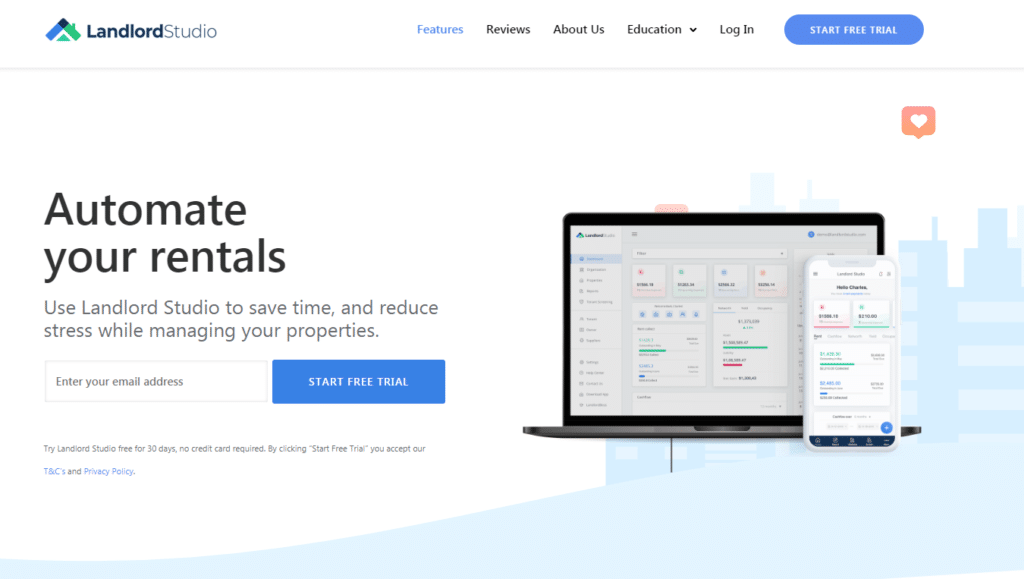 Landlord Studio is one of the most all-encompassing real estate investment management apps. You can automate all essential tasks to set reminders, secure cloud storage, financial reporting, and management of contractors.
From an accounting perspective, you can get all your tax-related information in one place. For instance,
Securely import transactions from your bank account
Track and reconcile rent payments and expenses
Create professional reports for tax time
Record your mileage
The app offers a great way to help you find the right tenants upfront. As a real estate investor, I can't stress this enough. Read more about the app in this Landlord Studio review.
You must make the right decisions from day one to avoid disaster down the road. Landlord Studio is a competitor to the online software called Cozy.
See Related: Pros and Cons of Renting vs Selling Your Home
5. DealCheck: Analyze Real Estate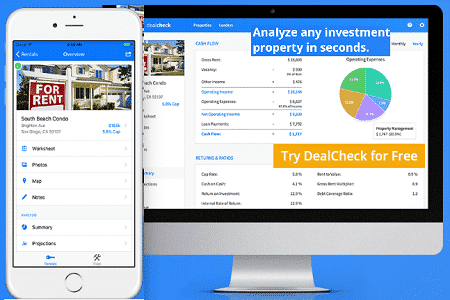 DealCheck is an app that will help you evaluate new real estate investment opportunities. It's a one-stop shop to get the answers you need to assess whether or not a property is a good investment opportunity.
As you gain more experience, you will know what to look for and have an intuitive instinct for what will work best. It never hurts to get that "gut check" on your investment thesis, and DealCheck can help you do that.
If you want to use it, I suggest you run your analysis independently. Then, use DealCheck to analyze your investment property through a different lens that might offer you a different perspective.
If you are a novice investor, this is one of the best apps.
6. Auction.com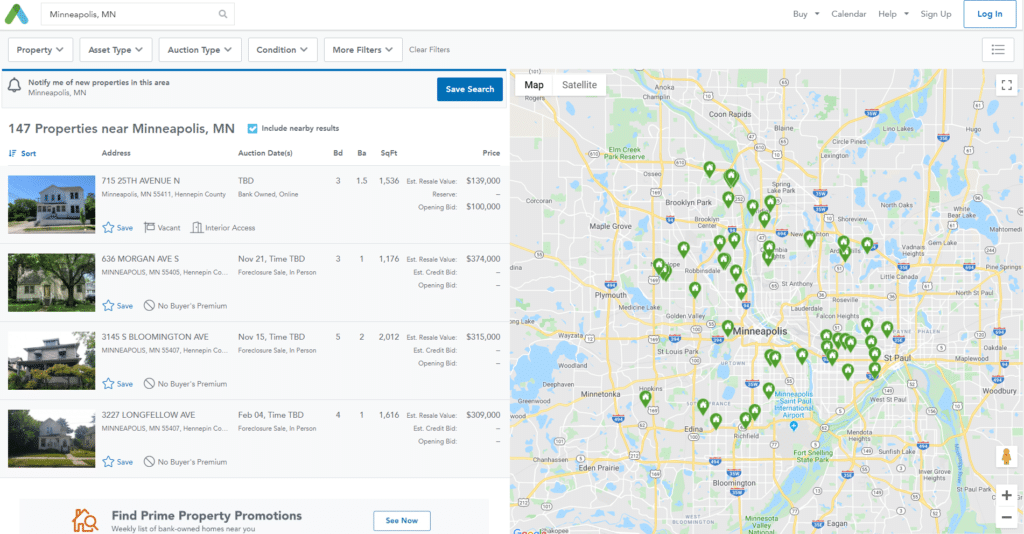 There are many pros and cons to real estate investing. However, to me, the pros outweigh the cons.
Using Auction.com's app, you can find flip investment opportunities to make money with real estate. It is the best place to find foreclosure and bank-owned properties. The desktop view shows a snapshot of the Minneapolis, Minnesota foreclosure market above.
Even better, Auction.com has a mobile app that will help you find properties on the go and get alerts of new auctions and listings.
If you like the strategy of buying distressed assets, then the Auction.com mobile app is the one for you.
See Related: Fidelity Vs. Robinhood: Which Platform Best Suits You
7. Zillow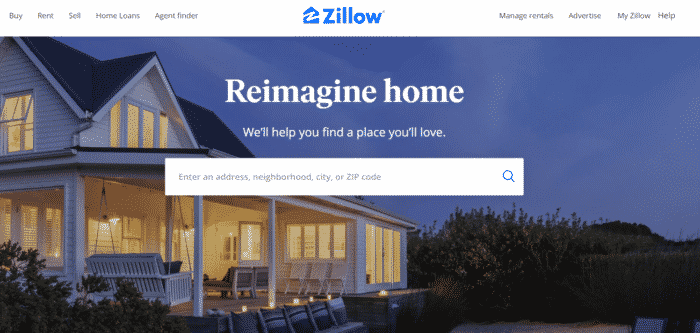 Yeah, Zillow. You've probably heard of it. It remains to be a great mobile app to use. I used Zillow to create a listing when I rented my house without a real estate agent.
With the Zillow app, you can find rental rates in a particular area or even find an estimated home value using their "Zestimate."
You can also use the app to create alerts for particular neighborhoods, streets, bedroom counts, and more. Just type in your property info to get started.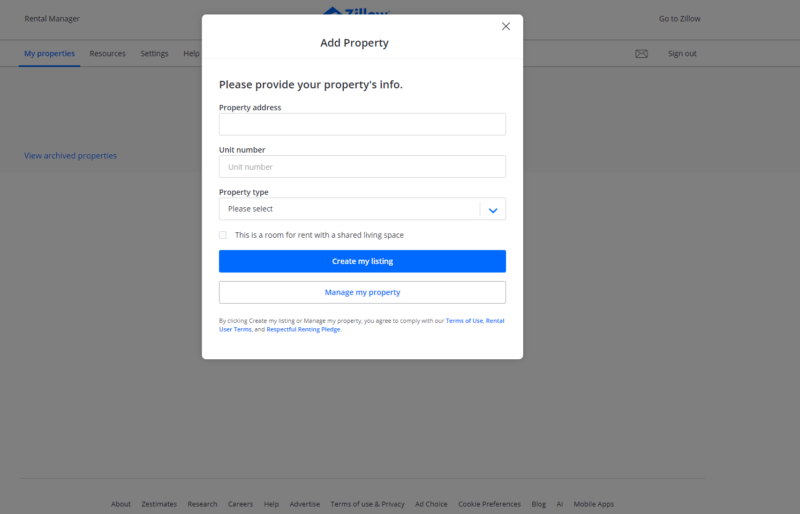 In the above, you can see a web desktop version of creating a listing and managing the process. You just need to type in your property address, and you'll be ready to rent or sell your property in no time.
See Related: Important Pros and Cons of a NNN Lease
8. USHUD Foreclosure Home Search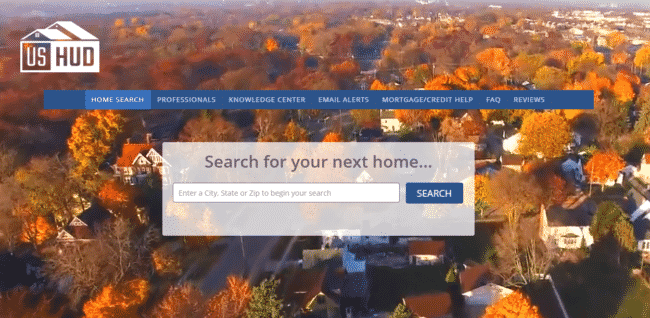 Looking to find foreclosed homes without a realtor? Use the USHUD app to find a full listing and database of luxury, middle-class, condos, etc., foreclosed on or bank-owned.
If you are on a desktop or mobile browser, another great option is the ViewHUDForeclosures database. It's super easy to sign up and start viewing foreclosed homes in whatever area you are looking for.
Like Auction.com, you can use USHUD to find properties that are in foreclosure. This is more of an accurate search as it comes directly from the United States Department of Housing and Urban Development.
You'll be able to find new opportunities to buy and sell for a profit in a matter of minutes.
See Related: How to Invest Small Amounts of Money (Step-by-Step Guide)
9. Redfin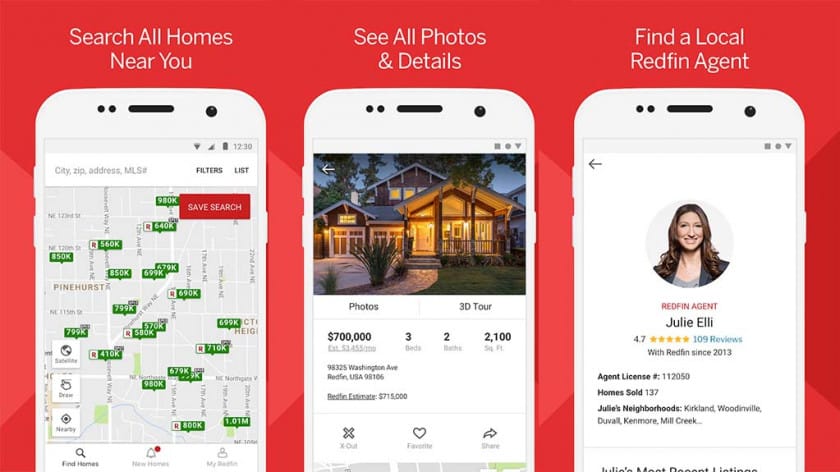 Redfin, like Zillow, offers an amazing database of houses and information that can help you make smarter investment decisions. But Redfin takes things a step further than Zillow for renting out your place.
You can actually sell or rent out your home by using Redfin. They have their own listing and for-sale signs that will be placed at your home.
I love that model. They are truly taking steps to trim down transaction costs on real estate transactions and investing.
See Related: How to Leverage Credit Cards to Build Wealth
10. DealMachine for Real Estate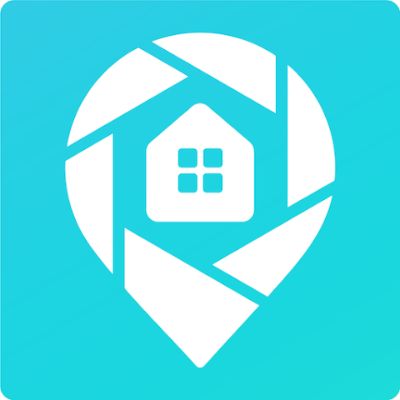 Need to gain a competitive edge in real estate? DealMachine is exactly like the name. You can cold email properties to purchase them as an investment.
This is a great alternative to drum up investment opportunities outside the typical "free market" system. You can go directly into investing in particular properties.
You might not have a super high hit rate of success, but this is how you can extract some real value. And you can make this as a way to make money solely off this strategy.
It's one of the best apps for real estate investors since it allows you to nearly create a new investment strategy from scratch.
See Related: How to Make Money on Robinhood
11. Real Estate Dictionary App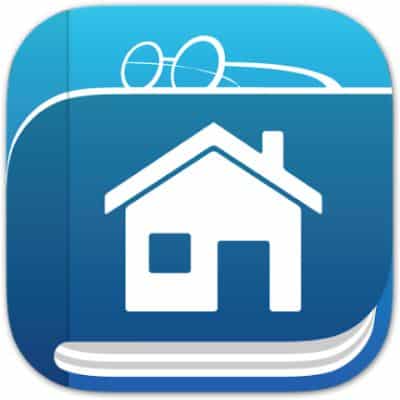 Real estate is full of jargon and terminology. Think you know it all? You likely don't. You can use the real estate dictionary app to learn terms, legal jargon, and buzzwords on the go.
The Real Estate Dictionary App is a great way to learn more and continue pushing the envelope on your real estate knowledge. It allows you to search thousands of terms from real estate, mortgage, and financial dictionaries to obtain in-depth definitions on the following topics:
Mortgages
Property law
Closing costs
Down payments
Commissions
Taxes
Real estate organizations
Property types
Use a dictionary to push your limits and become a better investor daily.
See Related: Highly Liquid Investments: Keep Cash On Hand While Invested
12. Real Estate License Exam Prep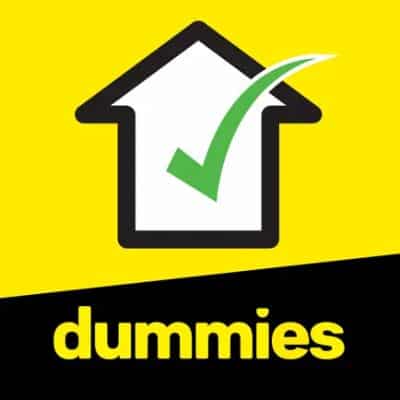 Serious real estate investors usually also have their real estate licenses. With your real estate license, you can simply transact at a lower cost, saving you money and increasing your investment returns.
A handful of awesome apps will help you prepare for your real estate license virtually and on the go. Here are a few of the better real estate license exam prep apps to help you ace your exam:
Real Estate Exam Practice Test
Real Estate Exam Prep & Review by Dearborn Practice Test
Why not practice on the go, like during your commute? Use these real estate exam prep apps to become a better investor.
Conclusion on Real Estate Investing Apps
These real estate investing apps will save you time and money. But don't feel obligated to use all or most of them. Use the ones that best help you make money and save on time.
Real estate investing is about staying in your comfort zone and mastering a few skills. For me, I use the following real estate investing apps to find success:
What do you think are the best apps for real estate investors?
Related Reviews
Related Resources