Finding the best investment app to start your investment journey isn't always easy. If you are contemplating between Fidelity vs Robinhood micron-investing apps, here is some help.
Fidelity and Robinhood are similar in many ways. The two online brokerage trading platforms are meant to serve beginner investors looking for a simple and easy way to trade. They are known for offering commission-free investment and are also popular for their wide variety of investment options.
Fidelity was established in 1946, but online trading began in 1995. Robinhood is a fairly new company that was started in 2013. Both companies are located in the United States and allow investors in the United States to trade in their markets.
But, which of the two platforms best fits you as an investor – Fidelity vs Robinhood? Let's dig deeper to find out.
Fidelity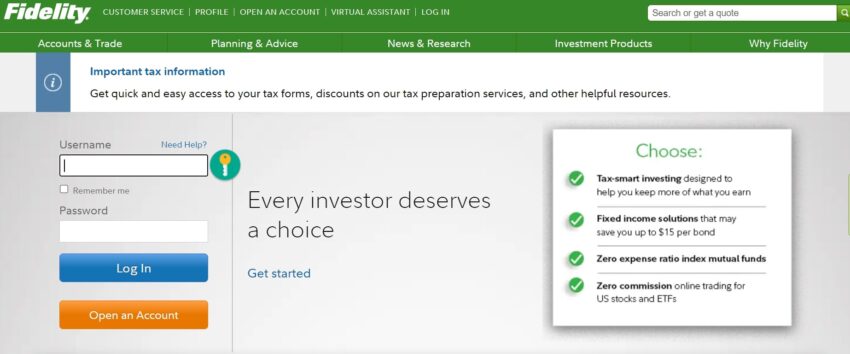 Fidelity is an American financial services firm popularly known for trading mutual funds. It also offers traders an excellent chance to trade stocks and ETFs.
Fidelity is available as a mobile app that is simple to use for beginners and advanced traders. The platform prides itself on offering commission-free trading for stocks and ETFs.
And apart from being an online platform, it has physical stores in the United States, so you can always walk to one of their locations.
Fidelity investments offer various services, including:
A brokerage platform
Management of mutual funds
Retirement services
Cryptocurrency
Index funds
Securities
Wealth management, etc.
If you want to start investing and grow your wealth, Fidelity is one of the best platforms to help you achieve that. The platform allows you to trade in over 7,000 US stocks, ETFs, etc.
Upsides
No trading commissions – you are not charged any commissions for trading stocks, ETFs, and mutual funds. This is a good thing because you can keep all the profits you earn from trading. Commission-free trading is important if you are a beginner as you learn how to trade.
Zero charges on accounts transfer – for bank wires, account transfers, and insufficient funds, you are not charged any money.
Trade internationally – only a few online brokerage apps offer international trading. With Fidelity, you can trade with up to 25 markets internationally. You also get a chance to exchange money across 16 currencies.
User-friendly app – Fidelity's user-friendly app makes it easy to trade without worrying about the technical aspect of trading. You can check user reviews for Android and iPhone users to confirm the rating. On both, the app is rated above four stars.
Fractional investing – this is a great feature as it allows investors who cannot afford expensive stocks to still invest by buying a fraction of the shares. Traders can buy up to a minimum of $1 per stock.
Downside
No trading of futures or forex – these are important when trading, and not having them might be a challenge for the active trader.
High fees for broker-assisted trading – you will be required to pay as high as $32.95 when you choose broker-assisted trading.
High contract fees – the contracts fees can be as high as $0.65 per contract, and although the commission fees are zero, this can be discouraging to traders.
High margin rates – trading on the margin with Fidelity is not a smart idea due to the high margin rates.
Who is the App Made For?
Fidelity is made for beginner traders looking for a platform with research data. Frequent traders will also love this app, especially for day trading.
Fidelity is also a great app for investors who want retirement planning assistance.
See related: Robinhood vs. E-Trade
Robinhood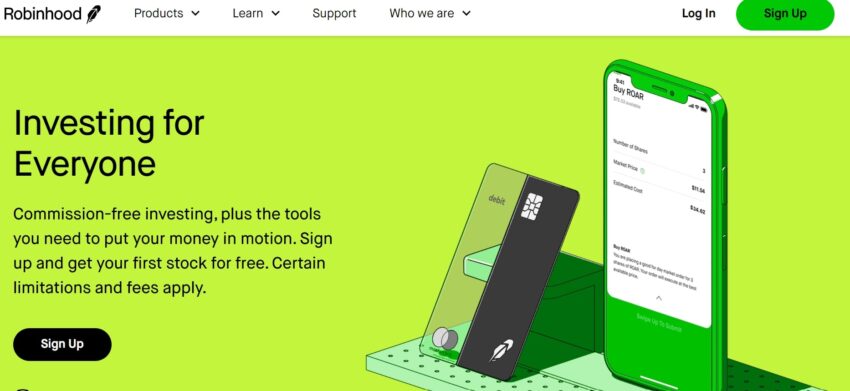 Robinhood was founded in 2013 but launched in 2015. It is one of the new players in the online brokerage trading platforms but one that has made immense strides in those few years.
Since it started the trend of zero-commission trading, the platform is still known for that to date. It is ideal for beginner investors who are looking for one application to trade stocks, ETFs, and crypto.
Robinhood is known as the millennial app and has managed to introduce young people to trade, with the average user being 31 years. And with over 31 million users and counting, Robinhood doesn't seem to slow down. It's one of the online brokerage apps with great growth potential.
You can open your account today with Robinhood here and start trading.
Upsides
Commission-free trading –Robinhood is the pioneer for commission-free trading. They started with the trend, and other platforms followed suit. They are known for taking zero commission from traders, although they have a monthly fee.
Fractional investing – fractional investing is one of the main benefits of using Robinhood. For the expensive shares that are worth hundreds of dollars, you can invest with just $1. The ability to invest as low as you want is important so that you can try out different shares without being limited by money.
Investing cryptocurrency – cryptocurrency is a relatively new investment frontier, and many people are now considering including it in their portfolio. If you are using Robinhood, you do not have to worry because you can trade coins such as Dogecoin, Bitcoin, and Ethereum. It offers access to seven of the major coins in the market.
Smooth cash management– with Robinhood, you can be sure that your money is safe. They have a smooth cash management system. You can withdraw amounts below $1000 the same day, making it very efficient. The best thing is that you do not need to own a bank account to have a Robinhood account.
Premium version available –apart from the standard Robinhood app, they also have a Gold trading option for investors who need more. In the gold version, investors have access to extra features such as learning resources. Investors can also get access to interest-free margin trading.
Downside
No learning resources – due to the simplicity of the platform, it does not have many learning resources. It is made to be a place where investors can buy and sell, so they have not made much effort to provide learning resources. However, when using the Gold option, you'll have access to some of these resources.
Does not support mutual funds – you can invest in a variety of securities using Robinhood. Unfortunately, the platform does not support mutual funds and fixed-income investments. If these are your area of expertise or interest, this might not be the right platform for you.
Crypto limitations – there are still some limitations for crypto traders since it is still in the infancy stage. For instance, there are a limited number of coins for traders. Also, traders cannot use the coins from Robinhood's account to trade elsewhere.
Who is the App Made For?
Robinhood is made for beginner investors looking for simplicity and ease of trading. The platform is easy to use, and mobile users will enjoy the convenience. Investors can buy and sell trades at the click of a button.
In addition, Robinhood is made for millennials, meaning that many investors will love it. However, after learning how to trade, most investors might find the app too limiting, prompting them to seek more sophisticated apps.
Fidelity vs Robinhood: Comparison
1. Commission-free Trading
Both of the platforms offer investors commission-free trading. Although Robinhood started the trend, Fidelity has adapted and offers their clients trading without paying any fees.
The apps, however, have other fees like contract fees charged by Fidelity or the Gold platform fee charged by Robinhood. They do not charge commissions but using the apps is not entirely free.
2. Target Users
Robinhood is meant to solve the needs of beginners. It is easy to use and gives a straightforward, easy way to trade.
Fidelity, on the other hand, is easy to use and also meant to solve the needs of beginners. However, advanced users say that Fidelity is also good for experienced users. This means that Fidelity is ideal for both beginners and experienced users.
3. Regulation and Safety
Both Robinhood and Fidelity are regulated by reputable bodies such as FINRA. Regulation is important because it keeps the clients' money safe.
No matter the platform you choose, you can be sure that your money will be safe. The regulatory bodies ensure that you will be compensated in case money is lost in dubious ways when trading.
4. Types of Accounts
Fidelity offers Robo advising services for their clients. Operating the account is free as long as the account does not exceed $10,000. They also offer retirement accounts that have tax benefits as well as custodial accounts.
Robinhood offers margin trading accounts for margin trading, but you have to be a Gold member to access them.
5. Investments Available
Robinhood offers a variety of investments, including cryptocurrency but does not have mutual funds. On the other hand, Fidelity does not offer futures and forex but has a variety of different investment options to choose from.
6. Trading Markets
With Fidelity, you can trade in the United States markets and other 25 select markets. And apart from trading, the traders can also access 16 foreign currencies.
In contrast, Robinhood only gives trading access in the United States market.
7. Learning Resources
Fidelity is dedicated to offering learning materials to investors. They have a variety of free learning resources for their members.
Robinhood is a simple platform that is all about trading, so they do not have many learning resources. Only Gold members get access to learning resources.
Verdict
Fidelity and Robinhood are similar in many ways. They are both ideal for beginners because of the simple platforms that are easy to use.
The two platforms allow investors to invest small amounts of money through fractional investing. And they are both accessible for mobile users.
For investors who are interested in learning, Fidelity has the right resources to make investors make the right decision. On the other hand, Robinhood focuses on offering a simple platform that will be easy to use for everyone.
While the choice between Fidelity vs Robinhood might be tricky, I hope that this guide has shed more light. Pick the one that appeals to your needs more, and start investing.
Related Resources