What micro-investing app is best – Robinhood vs. E-Trade? If you can't choose between the two, go through this guide to see what makes each app unique. This way, you can know which one best suits your needs.
Becoming a good investor is mostly about having the correct information. You might want to invest in the stock market, have done your research, but you are stuck in deciding which micro-investing app is best.
This is because there is too much information out there, some of which might not be factual, confusing you even more. But no need to worry. This article is about to give a detailed overview of two incredible investing apps – Robinhood and E-Trade.
So, if you are stuck choosing between Robinhood vs. E-Trade, this piece might be all you need.
Micro-investing apps are a game-changer and have transformed the investment industry. You don't have to be an expert broker to trade and invest. Just install an app on your phone and start earning profits from your small investments.
Sounds easy, right?
Actually, the apps are simple to use, and you only need to find one that works best for you. Robinhood and E-trade are currently trending as the most popular platforms because of their attractive offers.
Read on to learn more about Robinhood vs. E-Trade and how to choose the right platform for you.
Understanding Micro-Investing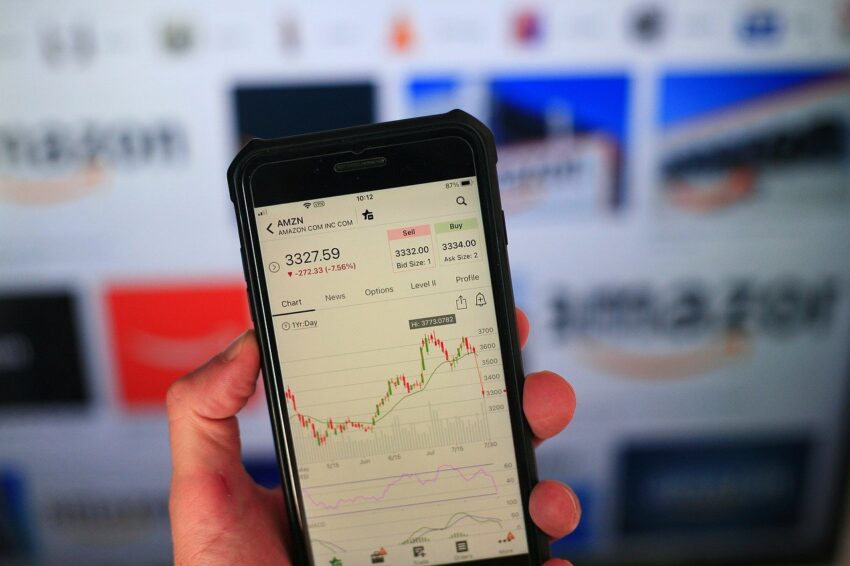 Do you want to save money without feeling the pinch? Then, Micro-investing is a modern solution for you.
Micro-investing is the current craze because it has made it easy to save and invest money. You can start saving and investing the little money you have without having to wait to acquire huge capital.
Micro-investing offers you a smart way to start your investment journey within your budget, regardless of your current financial situation.
Robinhood and E-Trade are commission-free micro-investing platforms that can help you venture into the investing world. However, these apps are strong competitors, and it might be hard for you to choose between them.
The apps have several things in common. For instance, they both offer commission-free trades. You don't need to stress about the commission or brokerage fee. Just imagine registering with a minimum of $1 per month and being able to trade.
Furthermore, you don't need years of savings to invest in a bond, single stock, or mutual funds. Instead, your daily deposits make enough savings to start investments.
Though Robinhood and E-Trade are tough contenders, they also work differently. And understanding how each of them works and what they offer can make your choice significantly easier.
Let's explore these two apps and see;
What is Robinhood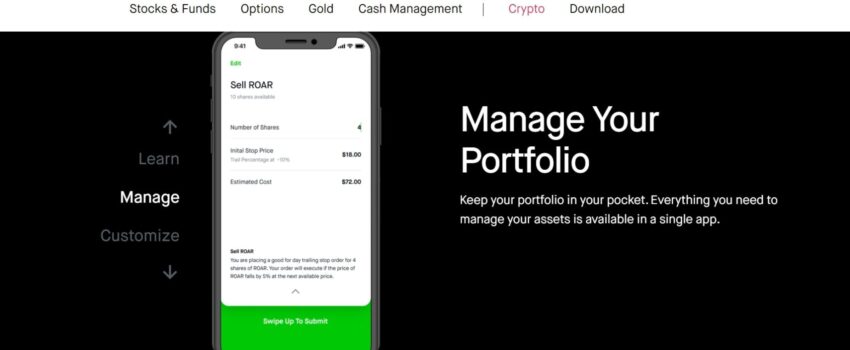 Robinhood allows you to start your micro-investing journey without any hassles. You don't have to make any significant financial changes. Not only does Robinhood offers you free trade stocks, but it also charges zero fees.
As one of the most attractive and popular apps, with a current company value of $32 billion, Robinhood has won a large following and continues to grow in value.
This app is suitable for small traders, millennials, smartphone users, and anyone who wants to start to invest and secure a stable financial future.
The app hosts millions of users who enjoy free perks that include savings and checking accounts that offer 3% interest on savings with no fees.
What Robinhood Offers
Robinhood has exceptional and valuable features, e.g., day trade tracking, options trading, stock trading, but users are raving about crypto trading. Crypto trading is the in thing, and Robinhood lets you buy and sell cryptocurrencies such as Litecoin, Bitcoin, Ethereum, and four others.
Robinhood gives you access to the major cryptocurrencies, whether you're actively trading or not. On top of that, it is one of the few apps that have the fraction shares feature that allows you to invest as little as one dollar and build a portfolio from what you've accumulated.
The app is easy to navigate, and the search bar effortlessly guides you to the different features.
Pros of Robinhood
No minimum deposit or balance is needed

Crypto trading lets you buy and sell cryptocurrencies

Simple to use

Free to transfer stock trades

You get free stock by just signing up
Cons of Robinhood
Robinhood doesn't offer advanced options if you want to diversify

This service doesn't support mutual Bonds and Funds.

There is only an individual taxable account.

Some of the features are only exclusively available for the users

Although Robinhood doesn't charge fees for the app, there may be long-term consequences
What is E-Trade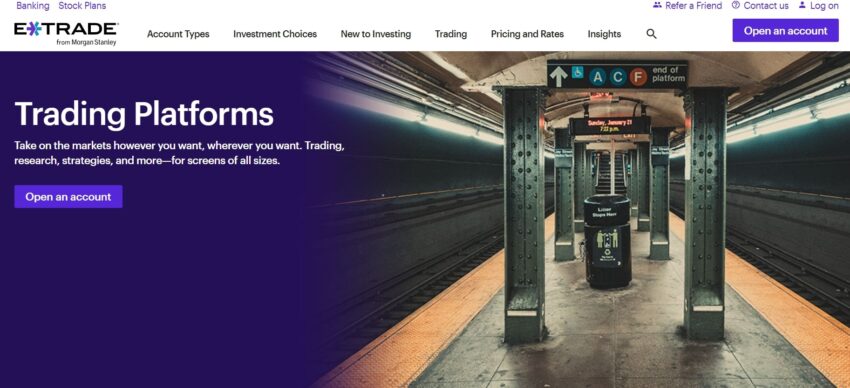 E-Trade is one of the oldest brokerage firms in the US and a pioneer in online trading. Established in 1982, Etrade is safe and reliable due to its long-standing track record of highly skilled services in mutual funds.
The app is suitable for both new and intermediate investors because they can access trading specialists, financial consultants, and comprehensive research and educational platforms.
On the other hand, experienced investors enjoy options strategies, charting tools, and risk metrics. Etrade provides a wealth of informational resources for all levels of traders to learn from. It is one of the best Robinhood alternatives.
What E-Trade Offers
Etrade provides investors with a wide range of assets such as bonds, funds, and commodities. Even though you can't trade forex on the platform, E-Trade is also one of the few firms that offer futures trading.
The app has no account minimum amount and charges zero fees on ETFs, trade stocks, and mutual funds, not to mention, the heavy investment in financial education. E-Trade has in-depth study materials covering taxes, retirement planning, ETFs, stocks, mutual funds, and bonds.
Additionally, the platform has heavily invested in sophisticated trading and mobile technology to ensure that investors have a seamless time connecting with markets. And it offers real-time market updates.
Pros of E-Trade
Free ETF and stock trading

Doesn't have minimum account investment

Offers free trading advice from financial consultants

No charges on selected bonds and mutual funds

Multiple and advanced trading platforms

Offers a comprehensive portfolio of trading assets

Low fees on non-trading
Cons of E-Trade
No forex trading

High margin rates

It doesn't offer paper trading
See related: Acorns vs. Robinhood: Which One is Best
Robinhood vs. E-Trade: Comparisons
It is not surprising how micro-investing is booming these days, and innovative platforms such as Robinhood and E-Trade are becoming a success.
Nevertheless, the two platforms have different features and benefits for their investors. Robinhood and Etrade are free, but E-Trade offers a more extensive investment and trading assets portfolio.
Here's a comparative analysis of Robinhood vs. E-Trade:
Features and Services
Robinhood emphasizes easy access to services for its users and offers fewer innovative investment options such as fractional shares. Fractional shares help you invest in the most prominent brands with any amount. Additionally, you can trade in cryptocurrencies, a service that few brokerage firms offer.
Unlike Robinhood, E-Trade offers an extensive range of investment options to investors. Apart from ETFs and stocks, E-Trade has thousands of commission-free mutual funds. For this reason, E-Trade is one of the best mutual funds brokers. In addition, investors can diversify their portfolios by buying bonds and CDs.
Choosing between Robinhood and E-Trade depends on the type of investment that interests you. Robinhood is a good bet for fractional shares, options, and crypto, while E-Trade is the best choice for mutual funds, futures, bonds, and CDs.
Fees and Commissions
Both Robinhood and Etrade charge low brokerage fees for investors who specifically trade in ETFs and stocks. Robinhood initiated charging zero commission on trading on ETFs and stocks and continues to push the agenda of no commission on options and cryptocurrency. Coupled with zero maintenance fees, Robinhood is a low-cost broker.
In contrast, E-Trade charges the industry average of $0.65 on options and $19.99 commission on specific mutual funds. Most importantly, not all mutual funds attract commission, and E-Trade still charges no commissions on ETF and stock trading.
Online and Mobile Platforms
There are fundamental differences when evaluating online and mobile apps. If you value a sleek mobile platform without complications, then Robinhood is the best choice. E-Trade offers a sophisticated desktop suite for investors.
Nonetheless, Robinhood ranks as the best trading app. Robinhood is an accessible platform with no-frills and just enough portfolio information. Besides, they have launched a desktop version similar to the mobile app.
Just like Robinhood, E-Trade has easy and simple-to-navigate desktop and mobile apps. It has a polished dashboard and tools for analysis. However, the platform is a bit complex, and you need to learn how to use it for complicated trades.
Types of Available Accounts
Robinhood offers only one type of taxable account specifically for trading. But you can still access margin accounts by paying a monthly fee of $5 and becoming a Gold member.
Etrade has a wide variety of accounts beyond the taxable account. Robo-advisor services, retirement, and banking are some of E-Trade's accounts. If you're looking to have all your investments under one roof, E-Trade savings, checking, and credit accounts may interest you.
Choosing the Right App for You
The comparison between Robinhood vs. E-Trade largely depends on the priorities and needs of the investors. Both apps charge low fees and are user-friendly but have different goals.
Robinhood provides a highly accessible mobile platform with no commission in trading. It has continued to advance by offering cryptocurrency investment. If you are looking for a simple investment with minimum complications, Robinhood is a suitable choice for you.
On the contrary, E-Trade is an established brokerage and offers a broad portfolio of investments. If you're looking for more than trading and options, E-Trade is a good choice for you. Have a look at what E-Trade has to offer if you're planning to invest in bonds, mutual funds, futures, and CDs.
Related Resources