You can consider promoting food affiliate programs if you love the culinary world and everything related. Want to know the best programs to join today? Here is our list.
If you're looking for a way to make extra money, why not promote food products and culinary items? There are tons of great food affiliate programs out there. And each one offers the potential to earn you some serious cash.
This is a comprehensive list of 15 of the best affiliate programs related to food and cuisine. So whether you're a big fan of cooking or love eating, there's sure to be a program here that's perfect for you.
And if you want to promote more than just food products, check out our review on the best affiliate programs that can really earn you good cash.
Let's get started!
What are Food Affiliate Programs, and How Do They Work?
Food affiliate programs are an exciting opportunity for food bloggers and content creators to join forces with their favorite food companies. Food content creators can monetize their blogs and websites through affiliate links with these programs.
If you're a food blogger, you've likely seen some great affiliate programs for foodies, food bloggers, and product review gurus.
Food affiliates can create unique links from the food product website and share them with others. If someone clicks on the link and makes a purchase, the food company pays a small commission for each sale.
By joining an affiliate program, food bloggers can monetize their blogs and make some extra money. So if you're looking for an exciting new way to turn your passion for food into an income-generating venture – food affiliate programs may be just what you need.
See Related: Best Blogging Courses to Build Your Brand
The Top 15 Food Affiliate Programs to Join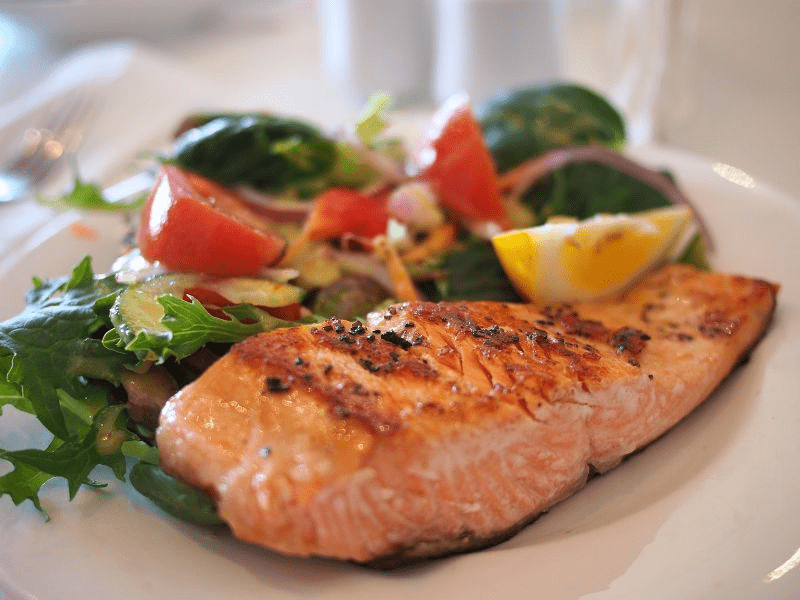 Food affiliate programs are among the perfect ways to make money as an affiliate marketer or a food blogger. But with so many out there, how do you decide which food affiliate program is right for you?
There's a wide range of food affiliate programs to choose from, such as organic food-affiliated programs and best food-affiliated programs per sale. And to help narrow down your choice, look at these top 15 food affiliate programs.
This should make it effortless to get started and enjoy maximum monetary gains from food blogs, food bloggers, food affiliates, and other affiliate networks within the food industry.
1. Eat Your Coffee Affiliate Program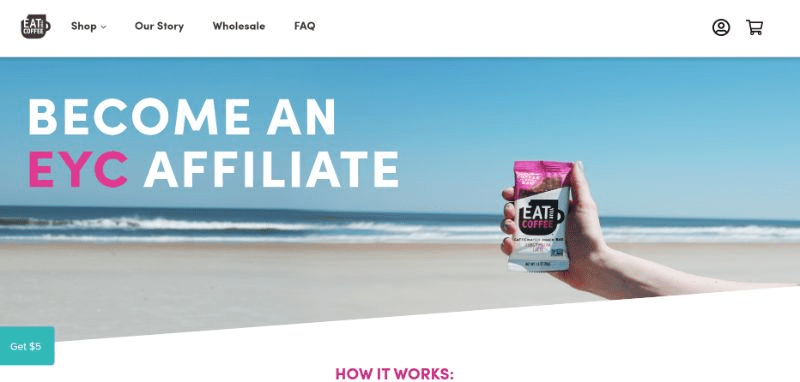 The Eat Your Coffee Affiliate Program is a great choice for food bloggers looking to make extra cash. With this program, food bloggers, brands, hospitality professionals, and other bloggers can earn commissions on sales of their delicious coffee snacks.
The best thing here is that the program is easy to join and pays quite well. For instance, you must register on their official site and get an affiliate link. The link will be sent via your email once your application is approved.
From here, all that's required of you is to share the link through different platforms, such as your website and social media, and let the program's software monitor your sales. You will get 15% of your sales through your link. Now, this can be good money, depending on how many sales you manage to generate.
See Related: How to Start Dropshipping
2. Amazon Associates Affiliate Program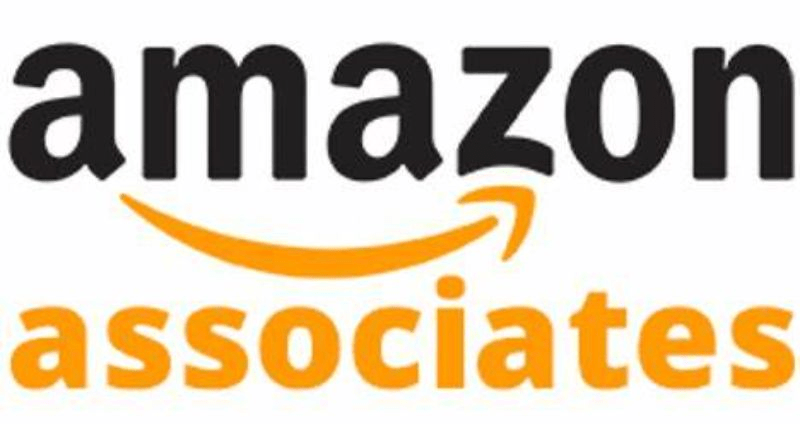 If you want to make money with one of the world's biggest affiliate programs, Amazon fits the bill. With this program, content creators, bloggers, and publishers can easily monetize their traffic by promoting millions of products on Amazon, including food products.
Amazon Associates offers limitless options for making money through affiliate marketing.
Once you register and have your affiliate link, you can create a review post for any food products on the platform and make money. This can include anything from utensils such as pans, pots, forks, and knives, to cooking appliances.
The only drawback is that their commission for food products is quite meager, at 3%. However, you can promote millions of products, making it easier for you to make more money.
In addition, Amazon has a cookie program, which pays you for any products your readers buy, even without the affiliate link. Now, that's easy free money.
See Related: How to Make Money with Merch by Amazon
3. ButcherBox
Do you love quality beef? ButcherBox is the number one producer of grass-fed beef. But did you know you could also make money through their affiliate program?
ButcherBox has a food affiliate program on the Shareasale Affiliate Network that allows you to earn money promoting their products. That way, even as you enjoy the delicious beef or the quality seafood they offer, you can make some money promoting these same products.
The good thing about this program is that many people love good meat. Therefore, selling here isn't as difficult as in other food affiliate programs.
Once your application is approved, your main task is to promote the products on various platforms through your blogs, social media, or YouTube channels. And for every purchase made through your link, you get even up $20. But this is only possible if a person clicks your link and buys that product within 30 days.
Registering for the ButcherBox affiliate program is easy. Visit their site and create an account to get started.
Once you are a member, the program will offer you the necessary pack of banners, an affiliate link, and other promotional material to help make your marketing efforts easier.
According to their website, ButcherBox has a conversion rate of at least 5.5%, making it an excellent affiliate program for those who want to make easy money. If you've never promoted a meat company, this might be your best chance to do it.
See Related: How to Make Money on YouTube without Making Videos
4. Food52 Affiliate Program
While Food52 is popular for its incredible recipes, it also boasts a vast online shop where you can buy home and kitchen items. Its affiliate program allows you to make money promoting its home and kitchen products. These include appliances like food processors, chefs' knives, food storage containers, etc.
You can also promote their ingredients and recipes to make good money. And the best part? You don't need much traffic to begin making money from this program.
Signing up for their program is free; you must fill in the application form with your website address or blog. Once approved, you will enjoy a 9% baseline commission on every sale made through your link. And they have a seven-day cookie.
So if you are looking for an easy way to make money while promoting food-related products, Food52's affiliate program could be just what you need.
See Related: Simple Ways to Make Instant Money Online Absolutely Free
5. Thrive Market Affiliate Program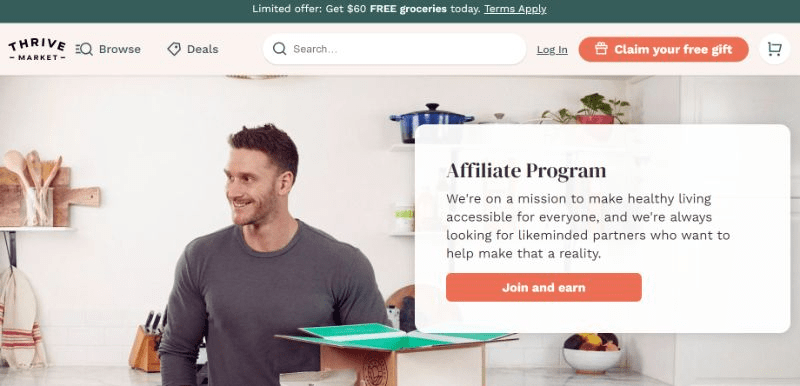 With the increased global sensitization on taking care of our environment, eating healthy, and leading sustainable lives, Thrive Market is an excellent place to start your affiliate endeavors. It is an online marketplace offering organic food, supplements, and other health products for people looking to live a better life.
Their affiliate program depends on the membership package you buy. For instance, if you pick a monthly package, you earn $5 for every sale that comes through your link. However, you will receive $40 per sale if you pick a one-year membership.
One thing you should note, however, is that the program has quite a short cookie duration of just 24 hours. Here's why that matters: If someone clicks your link today and purchases something within the next 24 hours, you get paid commissions. If this time lapses, you don't receive any commissions.
Once approved as their food affiliate partner, you will receive promotional materials like banners and special offers that help boost sales through your links. They're also very keen on ensuring high conversion rates on their platform. Registration is via CJ affiliates.
See Related: Free Gas Hacks: Best Ways to Get Free Gasoline
6. HelloFresh
Just as the name implies, HelloFresh focuses on delivering fresh and quality food ingredients. The food delivery company has grown significantly in the past few years and adds to the long list of great affiliate programs for food bloggers and enthusiasts.
HelloFresh offers you a chance to make money by recommending them to a friend or getting your friends to sign up for their meal subscription packages. Depending on the package they choose, you can earn up to $20 commission per sale.
The food affiliate program also allows you to take advantage of its promotional banners and links on your blog or website. Plus, they have a 14-day cookie duration that gives you enough time since customers might not buy food items daily.
The best thing about this affiliate program is that it is not only available in the US, like most other affiliate programs. Whether in Europe, Canada, Australia, or the US, you can enjoy making money through the HelloFresh affiliate program.
See Related: Best Delivery Apps – What is Best to Earn Money With
7. Punch of Yum
How about joining one of the best-paying food affiliate programs? Punch of Yum offers just the best opportunity for this. It is an exclusive affiliate program ideal for health-minded people who want to promote healthy living.
This might be the best affiliate program to promote if you have a health or food blog. With a generous 50% commission for every sale, Punch of Yum can easily make you good money. Plus, its cookie duration surpasses most affiliate programs, reaching up to 6 months.
But what will you be promoting here? Well, this is an affiliate program for an ebook – Tasty Food Photography. Every ebook bought through your link earns you a 50% commission. Isn't that an impressive way to earn passive income?
And while it seems like a highly specific niche, online reviews show that affiliate partners make good sales here. So if you have a food blog or website related to health and wellness, joining Punch of Yum's food affiliate program is an excellent choice.
See Related: Blogging as a Profession: Is It a Viable Full-Time Career?
8. Snake River Farms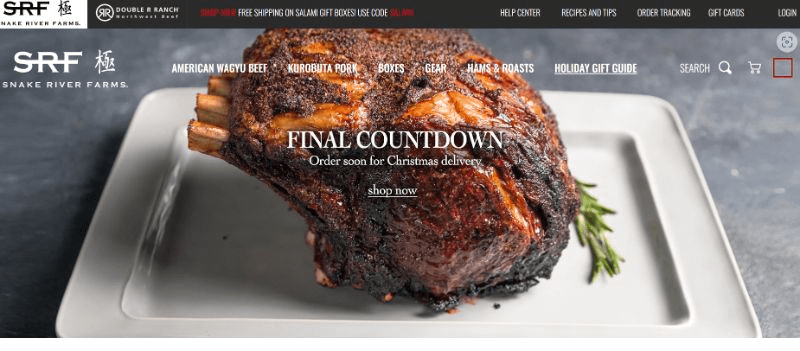 If you've tasted or heard of the American Wagyu beef, then Snake River Farms is the pioneer. And what if I tell you that it offers an attractive affiliate program?
Snake River Farms is one of the best affiliate programs to consider if you are looking for a food affiliate program that can create an excellent source of passive income. With a 10% commission for all paid orders, you can easily make good money promoting their products.
The best thing here is that Snake River Farms' products are well known, and it won't require much effort to promote them. This affiliate program offers an amazing choice from the sweet bites of American Wagyu Beef, Double R Ranch, and Kurobuta Pork.
Once you register and get your affiliate link, you can promote it however you want, whether on your blog, email, or social media platforms and get people to buy.
And if you want to maximize your income, holidays offer the best time to promote the products. You could earn up to $225 monthly if you make one daily sale.
See Related: How to Make Money on TikTok: Can You Earn Legit Money
9. Daily Harvest
While it started as a simple delivery service for frozen smoothies, Daily Harvest has grown tremendously. The company now includes delivering numerous meals, snacks, and fruits that meet customers' health and diet needs.
In fact, the company's menu comprises over 100 plant-based items, from smoothies, soups, breakfast bowls, and harvest bowls.
Even better, Daily Harvest has an affiliate program where you can make money promoting their products. Registration for the affiliate program is via ShareASale Network, and you can earn up to 10% of your sales.
When it comes to cookie length, Daily Harvest boasts a 60-day duration, which is more than most other affiliate marketing programs offer. Their conversion rate is estimated at around 3 to 4%.
Therefore, besides enjoying their healthy, fruit and vegetable-based smoothies, their affiliate program is certainly an added benefit.
See Related: How to Make Money as an Attractive Female: Best Options
10. Beer Drop
Beer Drop will serve you perfectly for affiliate marketers who want to join beer affiliate programs. Beer is one of the most bought products in the world, which means promoting it won't be an uphill task.
Generally, Beer Drop prides itself on delivering a monthly beer subscription box of highly-rated handcrafted beer from the top five brewers in the country. It not only saves customers time, but it also saves them money. Plus, you get some of the best craft beer at your doorstep.
Their affiliate program pays 10% for each subscription box sale, with a cookie duration of 90 days. This way, besides enjoying a personalized box of your favorite beer every month, you can refer it to your friends, family, and followers and make money from it. It is one of the highest-paying beer affiliate programs you can join.
See Related: How to Make Money Online for Beginners
11. Home Bistro Affiliate Program
Are you looking for a great food affiliate program in the US? Home Bistro fits the description. It is an online food provider that offers premium fresh ingredients and meals that are ready to cook.
The food affiliate program pays a 15% commission for all sales made through your unique link. Plus, there's a 30-day cookie duration as well. Home Bistro also has an extensive selection of food, so you can pick the type of food you want to promote.
Home Bistro covers almost everything on its menu, whether healthy food options such as grass-fed steak or seafood products or comfort food such as mac n cheese or burgers. Also, Home Bistro delivers nationwide so that the food can reach customers anywhere in the US.
If you have an audience looking for gourmet or healthy meals, paleo, diabetic or vegetarian foods, this is the company to promote. Even better, you don't need to buy any membership or subscription to promote the products.
See Related: Best Uber Eats Alternatives to Earn Money
12. GrubHub Affiliate Program

Food delivery companies offer some of the best-paying and most reliable affiliate programs. And GrubHub is among the top platforms here.
GrubHub is available for US residents, delivering takeaway meals from top restaurants around the country. The first way to earn with GrubHub is by being a driver, where you can make between 10 and $20 an hour delivering food orders.
But if you want a more passive source of income, the platform's affiliate program is an incredible choice. For instance, anyone who signs up through your unique GrubHub referral link takes home $10. That's good cash, especially if you can direct huge traffic to the platform.
Even better, you can combine being a driver and promoting the platform. That way, while making money delivering food during your free time, you also make passive money through the referral program.
13. PeaPod Affiliate Program
Does your audience mostly include people who shop online? PeaPod is a platform that makes it easier for shoppers to make all their grocery purchases online.
Through the platform, your audience can enjoy the convenience of shopping online and having all their groceries delivered to their doorsteps. Whether someone is shopping for a single day's groceries or doing an entire week's shopping, PeaPod.com is an excellent site.
Additionally, you give your audience the widest choice of products. They can shop for all food products, from meats to organic and baby foods. The order arrives safely in a climate-controlled package, ensuring the freshest products.
Sign up for Peapod affiliates today and start making easy money online. $20 per sale is a good start.
14. Three Avocados
Are you running a coffee-related or sustainable food blog? Three Avocados affiliate program can be an excellent way to make some extra cash.
It is a non-profit company delivering coffee sourced from small-time coffee farmers. And their proceeds help propel projects that provide clean drinking water to different needy communities around the globe.
Joining this program ensures you an 8% commission for every sale that comes through your link. Plus, they have a 90 days cookie, which is quite favorable for affiliate marketers.
Sign up here if you want to make money while promoting small farmers and giving communities worldwide a chance to drink clean water.
Why Joining a Food Affiliate Program is a Smart Move
Starting your own food blogging business can be exciting. But, without a smart strategy to drive more sales and promote your brand, things can get overwhelming quickly.
Joining a food affiliate program is the perfect way for food bloggers to generate more interest in their content and monetize their organic traffic. Not only does an affiliate program provide the opportunity to increase followers, but it also helps food bloggers profit from their promotional efforts.
From organic food affiliate programs to some of the best food affiliate programs, food bloggers have seemingly endless options for building up their food blogging empire. It's a great way for any food blogger to level up their blogging game.
FAQs
How much money do food bloggers make?
Food bloggers can make up to $100,000 a month, depending on their blog's size. The amount will also depend on the type of food and products they promote.
Can I combine food delivery with food blogging?
Yes, it is possible to combine food delivery with food blogging. For instance, you can use food delivery services such as GrubHub or Postmates to promote your blog while making money at the same time.
How many affiliate programs can I join?
There is no specific number of food affiliate programs you should join. You need to choose the ones that suit your food blog's niche. That way, you will make more money as you gain confidence from your audience, which results in more sales.
Related Resources