In the ever-changing investments world, which micro-investing app is best – Stash vs Robinhood? If you want to start investing through any of these apps, this comprehensive comparison of the two apps will help make your choice easier.
Every day, new investment opportunities emerge. And, so do easier and more efficient ways of investing. Currently, most investors conduct their investment activities on phones, something that was impossible a few years ago.
Stash and Robinhood are some of the apps that have revolutionized the investing world, bringing a new era of making money online. However, each appeals differently to clients and users.
Generally, these two have a lot in common. Firstly, they are both ideal for beginners and offer secure investing. Also, both platforms are known for zero commission investing and fractional investing.
So, Stash vs Robinhood, what differentiates them? What makes someone choose Robinhood over Stash and vice versa?
Let's get down to each platform's details and find out:
Stash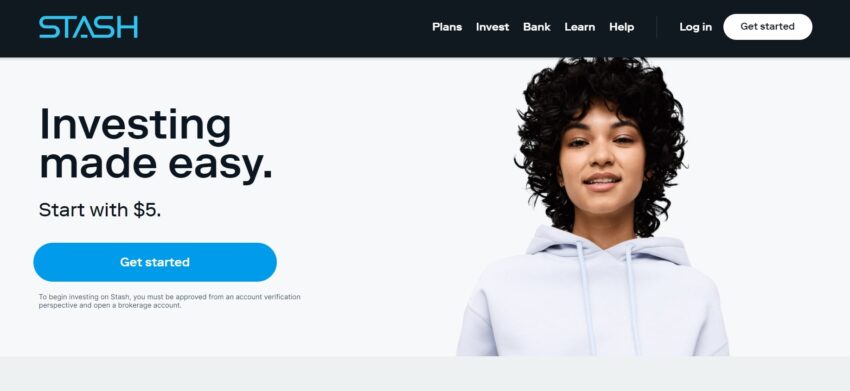 Stash is not just an online trading app. It is a place where investors can save, invest and plan for retirement. The platform prides itself on being an automatic saving and investing platform. Investors can take a hands-off approach when investing, based on their risk appetite.
Stash is a good place to start for beginners, as well as for advanced investors who also enjoy the diverse Stash features. Fortunately, Stash has a variety of investment packages depending on the investor's needs.
Reasons to Join Stash
Automatic investing – for busy investors, automatic investing helps them to manage their investment portfolio hands-off. The application uses proven financial research principles and the investor's risk appetite to invest automatically.
Ideal for beginners – beginners, can start investing with as little as $1 per month. A commission-free feature is also a good option for beginners. It means that new investors do not have to deal with commissions when learning how to trade.
Learning resources – the app has a lot of learning resources for investors to help them understand different kinds of investments. It is a good place for beginners with no prior knowledge of investing as well as seasoned investors looking to diversify their investment portfolio.
Good for portfolio building – since Stash has a variety of investment options, it is an excellent app for investors to build their portfolios. Investors get fun features like milestones to help them diversify their investments. The goal-setting features are also helpful to manage all the investments from one application.
Banking and retirement accounts – Stash is one of the few online brokerage platforms that have banking and retirement accounts. It is possible to save money through their banking account and get access to online banking. Their retirement account can also help you to start planning your retirement.
Safe and secure – your money is safe and secure with Stash. The SIPC has the protection of up to $500,000 so customer money can be reimbursed in case something happens during the transaction.
Offers cryptocurrency trading – as of 20th January 2022, the Stash app announced the introduction of crypto investment. The new feature allows users to easily trade in what is currently seen as the future of investing- crypto.
Reasons Not to Join Stash
Can be expensive – Stash offers investment opportunities to clients, costing from $1 per month. However, this is the minimum, and clients looking for more features can pay up to $9 a month. The cost of investing might end up being too expensive.
Slow customer care – contacting the customer care desk can be challenging. They always prompt you to an autoresponder unless you contact them through e-mail and wait.
Is It Worth Trying?
Stash is worth joining for both beginners and advanced users. It has learning resources a variety of investment options, and it is safe for everyone.
Even better, the platform has introduced crypto trading. This will be part of their fully managed account known as Smart Portfolio, designed to make crypto trading easy and accessible to the millions of investors on the platform.
See related: Fidelity vs Robinhood: Which Platform Best Suits You
Robinhood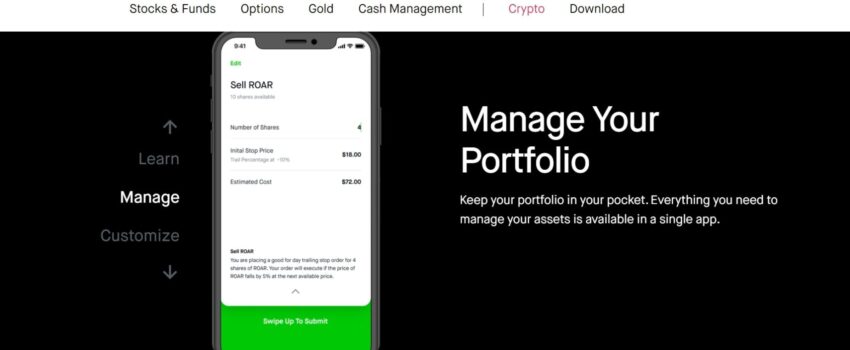 Robinhood is an easy-to-use and affordable online brokerage app. It is specifically made for beginner mobile users, and the first thing you will notice is an easy-to-use mobile design.
Robinhood's primary focus is to make investing easy through its one-click investment feature. Its commission-free trades and low fees (around $5 per month) make it ideal for beginners. And it has a variety of investment options, including cryptocurrency, making it a great place to grow your portfolio.
Reasons to Join Robinhood
Easy to use – Robinhood is specifically made for mobile users. It is easy to use, making investment available at your fingertips. The app is user-friendly, and you only need one click to invest. Even if you are not tech-savvy, you will find the app easy to use.
Affordable investing – investing with Robinhood is affordable due to the low fees. You only need $5 per month and a total of $60 per year. There are no commissions, and it also charges zero fees for contracts.
Fractional investing – fractional investing makes it easy for investors to invest low amounts. If you want to buy an expensive share but you do not have the whole amount to invest, you can invest as low as $1 with fractional investing. This is good for investors who want to try out different stocks.
Crypto trading – investors love Robinhood's crypto investing option since many online brokerage apps do not offer this option. Here, investors can try crypto investing when expanding their investment portfolio. They have some of the popular coins available for investors to invest in.
Excellent cash management – Robinhood's cash management is rated high. While it's not a bank, it has all the features that you expect from a bank. Some of the features include a debit card and a savings account.
Safe and secure – your money is safe with Robinhood since it is regulated by FDIC insurance. In case your money gets lost for any reason, you can get reimbursement.
Reasons Not to Join Robinhood
Limited learning resources – their learning resources are limited compared to other online trading apps. They offer newsletters to keep traders in the loop, but this is not sufficient compared to what other apps are offering.
It might not be ideal for advanced traders – advanced traders and investors do not find Robinhood ideal. It is mainly designed for beginners, meaning that investors do not find it useful after learning how to trade and invest.
Is Robinhood Worth It?
Robinhood app is worth it for beginners. They will appreciate the simple way of investing, and it is encouraging for investors who have never done any trading. The app is easy to use and seamless for beginners, so there is no stress when investing.
Their crypto investing option is attractive for millennials who want to try something new. However, they have poor customer care limited learning resources, and advanced investors might not find it very helpful.
Stash vs Robinhood: Main Differences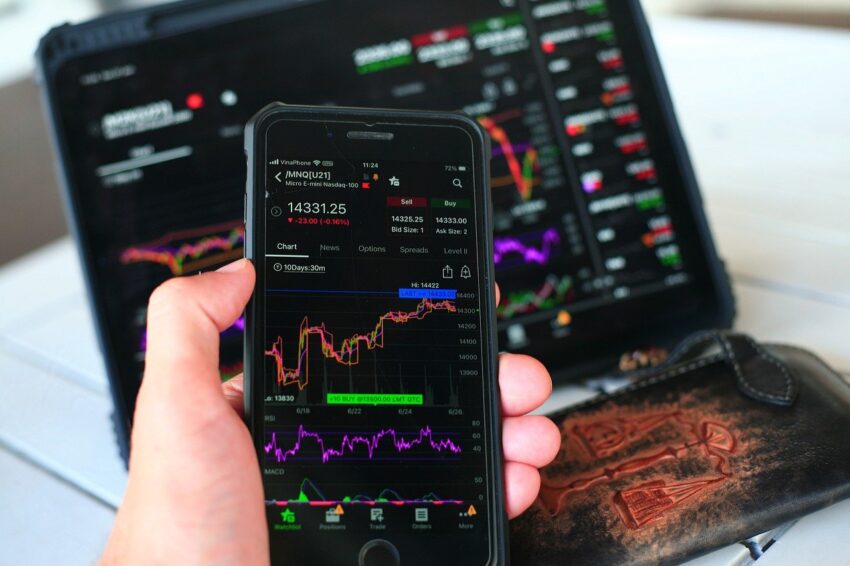 1. Fees
Both platforms offer commission-free trading, and thus the difference comes in the monthly fees. Robinhood has a gold package that is $5 per month.
On the other hand, Stash has a variety of packages starting with $1 per month for beginners, $3 for growth, and $9 for stash plus.
2. Trading Automation
Stash has the trading automation option for traders who want to do hands-off trading. The trading is done automatically based on research and risk level.
Robinhood, on the other hand, does not offer any form of automation. Traders have to trade manually based on their knowledge.
3. Learning Resources
When trading on Stash, you have access to a variety of learning resources. This can be great for traders and investors with no prior trading knowledge. The wealth of knowledge is massive and sufficient to help make informed trading decisions.
Robinhood has limited learning resources, although they offer newsletters and regular updates to keep the investors informed on investment decisions.
4. Types of Accounts
Stash gives investors options to choose different types of trading accounts depending on their needs. Some of the accounts available for stash users include taxable, IRA, and Roth accounts.
In contrast, Robinhood only offers its clients taxable accounts.
5. Ideal Users
Robinhood is ideally made for beginners who want to start investing. It targets mobile users who are looking for an easy way to invest. Their mobile app is highly rated for ease of use.
Stash is made for beginners, although it can work for every type of investor. There are investment options for beginners and also advanced traders.
Both platforms are a great choice for those seeking to invest in the booming crypto market.
6. Asset Management
Both Robinhood and Stash were launched around the same time. However, Robinhood has been able to grow its assets to unimaginable amounts. It is known as the app for millennial trading and now manages about $80 billion in assets.
This is a huge difference from the $530 million held by Stash. Therefore, Robinhood is bigger when we consider the number of assets under their management.
7. Customer Support
Robinhood has always been a let-down due to its poor customer service. You have to request a call before you can talk to an agent. Fortunately, they have e-mail support, and you can reach them through that.
Stash accepts phone calls, and you can also reach them an e-mail through e-mail.
Verdict: Stash vs Robinhood
Both of these platforms are great in their own way. If you are looking for a beginner platform, it is advisable to consider Robinhood. It is also good if you want to trade modern investments like crypto.
On the other hand, if you are looking for a platform that will allow you to grow over the years and also gain knowledge, you need to consider Stash. This app gives you enough learning resources to help you expand your trading knowledge and skills. And, it recently introduced a crypto trading feature for its over 6 million users.
Related Resources